Netanyahu's Real Legacy and Goal: Making and Keeping Israel a Superpower | Opinion
At the height of political wheeling and dealing, certain politicians in Israel have used the occasion to smear the legacy and motivations of one of the most consequential world leaders of the last century.
At the age of 71, Israeli Prime Minister Benjamin Netanyahu still has the drive of the combat soldier and national hero who served for five years in the Israel Defense Forces' Sayeret Matkal elite special forces unit, where he was shot in the shoulder releasing hostages on the hijacked Sabena Flight 571 and nearly lost his life during a special forces raid in the Suez Canal during the 1973 Yom Kippur War.
For the past two years, I've had an upfront seat to witness the almost-superhuman phenomenon that is Prime Minister Netanyahu. Netanyahu works on behalf of Israel almost nonstop from the minute he wakes up until he walks up the stairs of the prime minister's residence to go to bed, usually after 1:00 AM—and even then, he is often occupied with critical phone calls.
Pfizer CEO Albert Bourla revealed Netanyahu's calls to him at 3:00 AM Jerusalem time to inquire about obtaining vaccines, the latest information on COVID-19 mutations and other issues of critical importance for Israelis. But that is only a tiny sampling of the prime minister's exemplary work ethic.
It is no exaggeration to say that I've never seen Netanyahu take a break from working for Israel. Not even once. When he is in the car, he's on the phone working the entire drive. He eats his meals, usually in under three minutes, while he is in work meetings or on the phone working. He rebuffs anyone who attempts to give him some time or privacy to eat. He even simultaneously works during the few minutes he occasionally spends browsing the news. Many of his aides, one-third his age, struggle to keep up with him.
Netanyahu's personal philosophy is that when it comes to securing the state of Israel, not a minute can be wasted. And that philosophy has paid massive dividends for Israel, with Netanyahu already solidifying a legacy that has made the Jewish state one of the world's most powerful nations.
This past year alone, Netanyahu not only navigated the COVID-19 pandemic, but turned the Jewish state into a global model that was highlighted by other world leaders and the international media for having the world's most successful vaccine drive.
Under Netanyahu's leadership, Israel became the first country to emerge from the pandemic. It is still leading the way, with its revolutionary green passport and this week's lifting of almost all COVID-related restrictions. Israel is routinely rated among the top four countries to live in during the pandemic by Bloomberg's COVID-19 Resilience Ranking.
To be sure, this was a difficult and trying year in Israel, just as it was around the world. Still, besides Israel's earliest exit from coronavirus, Netanyahu took other decisions that helped to secure the Israeli economy while other countries unfortunately saw major economic losses. Israel's shekel soared to new heights. Israel's high credit ratings have been maintained, and its GDP losses during the pandemic were half that of much of Europe. Tax revenue, credit card spending and other key indicators show the Israeli economy quickly bouncing back.
Also this past year, Netanyahu signed four historic peace deals with Arab countries that have redefined Middle East peacemaking. The deals with the UAE, Bahrain, Morocco and Sudan exemplify the Netanyahu Doctrine of peace through strength and peace in exchange for peace—as opposed to the tried and failed paradigm of unilateral Israeli territorial concessions for empty promises of peace.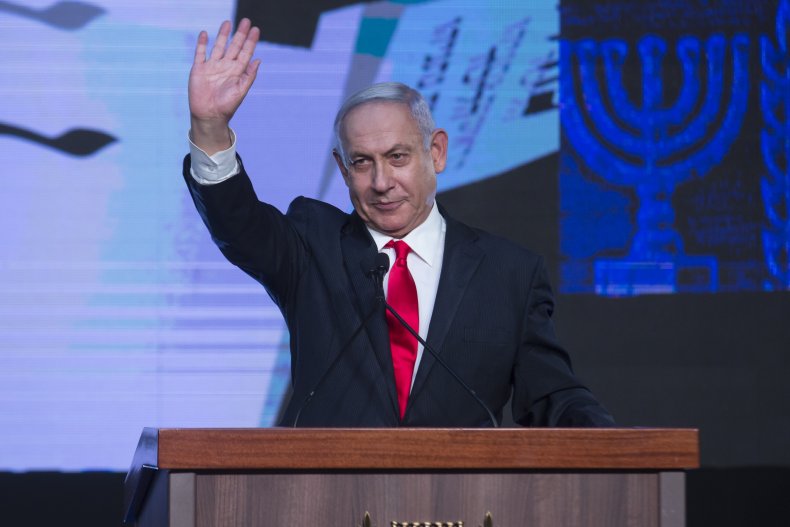 The peace deals were signed because of mutual interests in many fields, such as defense, science, energy and technology. But the agreements also have their genesis in Gulf nations witnessing Netanyahu stand on the world stage, at times alone, to resist Iran's nuclear ambitions and regional aggression.
Netanyahu did this with his 2015 address before a joint session of the U.S. Congress, in which he sounded the alarm about the Iran nuclear deal, and with his decision to order the Mossad's daring January 2018 raid on Iran's secret nuclear archive, which exposed the extent of Iran's illicit nuclear project.
If it were not for Netanyahu's bold actions and leadership, Iran would likely already possess nuclear weapons. Netanyahu continues to stand against Iran with an iron fist, protecting not only Israel but also the greater Middle East and beyond.
Besides Arab states, Netanyahu led the way in cultivating new Israeli relations with dozens of countries in Latin America, Africa, Asia and Eastern Europe, often as the first sitting Israeli prime minister to visit those nations.
His foresight in building a barrier along the entire Egypt-Israel border has kept out scores of terrorists, as well as a potentially untold number of illegal infiltrators from Africa. The wall helped reduce the number of infiltrators into Israel to a staggering zero.
The world just witnessed the fruits of the construction of an underground wall along the Israel-Gaza border—the wall stopped Gazan terrorists from being able to penetrate Israel via tunnel during last month's Hamas-instigated violence.
On matters of personal safety for citizens, Netanyahu took Israel from an era of exploding buses and restaurants to the best security decade that Israel has ever experienced.
As prime minister and finance minister, Netanyahu revolutionized Israel's economy with free-market reforms that transformed the Jewish state into a global technological powerhouse. He brought Israel to its position as a world leader in cyber, developed Israel's gas reserves and turned Israel into a net energy exporter.
It is a wonder that Netanyahu has been able to achieve any of these things against the constant stream of venomous lies lobbed his way by opportunist politicians and left-wing media.
Ironically, some of those same politicians are now betraying promises to voters to create an unhinged, ideologically incomprehensible government that even its champions fully admit is driven by personal hatred of one man. Such a government will be rendered nearly incapacitated on day one due to a lack of consensus on any serious issue affecting the Jewish state.
Meanwhile, it is precisely Netanyahu's legacy of protecting Israel that propels him to move forward to finish the career arc that started as a soldier before moving on to deputy chief of mission at the Israeli embassy in Washington, D.C., Israel's UN ambassador, minister of finance, minister of foreign affairs, defense minister and ultimately prime minister.
His leadership and experience are required to successfully complete the immediate, critical work of ensuring that Iran does not obtain nuclear weapons, securing the Jewish state from other outside threats, defending against the scandalous antisemitic charges from the International Criminal Court and pursuing the Netanyahu Doctrine to bring peace deals with more Arab nations. These are fitting accomplishments and goals for a great leader of Israel.
Aaron Klein is senior adviser to Prime Minister Benjamin Netanyahu.
The views expressed in this article are the writer's own