Netflix CEO Defends Leaving Chappelle Special Up for Streaming: 'Doesn't Cross the Line'
Netflix co-CEO Ted Sarandos defended leaving up Dave Chappelle's latest stand-up special on the streaming platform amid backlash for transphobic jokes, saying he does not believe Chappelle crossed a line.
He wrote in an internal email to employees obtained by The Verge that Netflix does not allow shows or films designed to "incite hate or violence."
"We don't believe The Closer crosses that line," he wrote. "I recognize, however, that distinguishing behavior between commentary and harm is hard, especially with stand-up comedy which exists."
He added, "Some people find the art of stand-up to be mean spirited but our members enjoy it, and it's an important part of our content offering."
The Verge also reported that Netflix allegedly suspended a transgender employee—whose criticism of the company went viral last week—for trying to attend a director-level meeting with two other employees that they were not invited to.
"It is absolutely untrue to say that we have suspended any employee for tweeting about this show," Netflix told the outlet in a statement.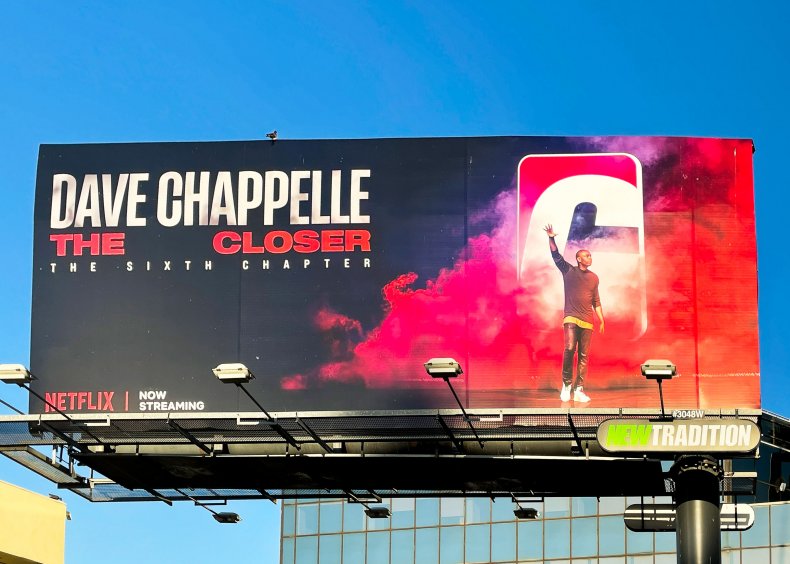 Chappelle has received criticism from many LGBTQ+ advocates over his latest special, The Closer. The comedian, whose sixth and final comedy special for the streaming platform was released last Wednesday, weighed in on the controversy surrounding author J.K. Rowling, who has been branded a "TERF"—an acronym for trans-exclusionary radical feminist.
After insisting that he had never made any explicitly anti-transgender jokes in his past specials, Chappelle defended Rowling as he said: "I'm team TERF!"
"Gender is a fact," he said in the special. "Every human being in this room, every human being on earth, had to pass through the legs of a woman to be on earth. That is a fact."
"Now, I am not saying that to say trans women aren't women, I am just saying that those p****** that they got... you know what I mean? I'm not saying it's not p****, but it's Beyond P**** or Impossible P****. It tastes like p****, but that's not quite what it is, is it? That's not blood. That's beet juice," he said.
Chappelle received backlash for the remarks on Twitter.A Twitter user, @taylor_ashbrook, who is transgender, wrote, "As a trans woman, I have usually defended Dave Chappelle's specials because I think they're hilarious and his jokes about trans women never felt intentionally malicious."
"The Closer changed my mind on that. That special felt so lazy and disingenuous and I'm really disappointed," she added.
Jaclyn Moore, a writer and co-showrunner of the Netflix show Dear White People who is a transgender woman, announced Wednesday she would no longer work with the company, saying she was hurt by several of the jokes in the special.
Newsweek reached out to Netflix for comment Monday afternoon but had not heard back by publication.