Netflix's 'Narco-Saints' Ending Explained: Why Season 2 Could Happen
Netflix's latest K-drama, Narco-Saints, starring Squid Game and Money Heist: Korea - Joint Economic Area actor Park Hae-soo, sees a nail-biting sting operation unfold in an engrossing series about a Korean drug lord who worked with Colombia's Cali Cartel, which was founded by three brothers who broke away from Pablo Escobar's drug ring.
The gripping drama has quickly gained traction in the U.S., ranking fifth among Netflix's top 10 television shows in the country just three days since its release on September 9, according to FlixPatrol, the streaming analytics company.
The new series is based on the story of a real-life Korean drug kingpin who ran a drug cartel in Suriname, the South American country, in the late 1990s.
The show sees a Korean small business owner named In-gu (played by Ha Jung-woo) get embroiled in a clandestine operation led by South Korea's National Intelligence Service (NIS) after traveling to Suriname to launch a skate shipping business.
**Spoiler alert: From this point onwards, this article contains several spoilers for Narco-Saints.
In-gu's fish business is later threatened by Chen Jin, a Chinese gangster operating the methamphetamine drug trade in Suriname (played by Chang Chen, the lead actor from the Oscar-winning film Crouching Tiger, Hidden Dragon).
The Chinese mob leader demands that In-gu pay a fee to run his skate business, claiming he "owns the fish" in the surrounding seas of Suriname. In-gu manages to avoid payments after a mysterious and charismatic Korean Christian pastor in Suriname named Yo-hwan (played by Hwang Jung-min) steps in, offering to protect In-gu's business from Chen Jin's threats.
But Yo-hwan is later discovered to be the formidable leader of a cocaine drug ring in Suriname when In-gu is suddenly thrown into jail after cocaine was found hidden inside one of his skate shipments at the airport.
Informed by Chang-ho, a team leader from the NIS (played by Squid Game's Park Hae-soo), In-gu learns that Yo-hwan plotted the cocaine scheme in a bid to test out a possible new drug trade route to South Korea via In-gu's fish deliveries.
But Yo-hwan remains untouchable due to his various connections in Suriname, including the country's president who provides the drug lord with military protection and other cover-ups as needed.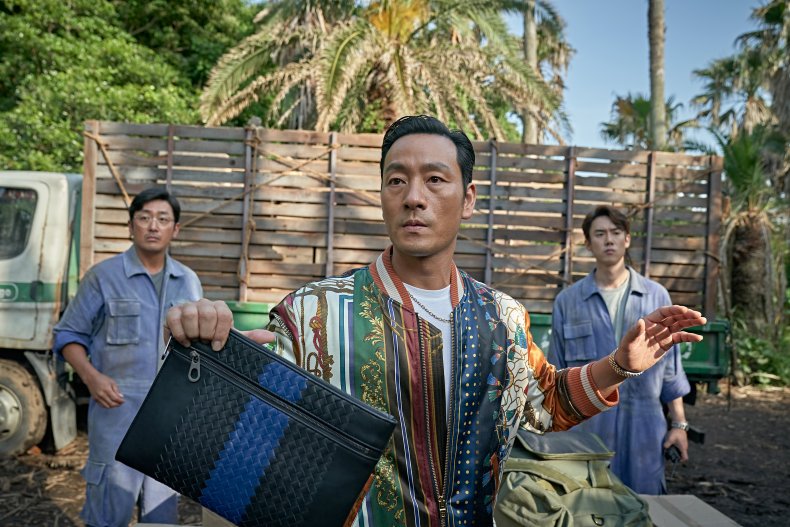 Narco-Saints Ending Explained
In-gu later decides to help the NIS in their plot to capture Yo-hwan once and for all by pretending to arrange a major drug deal for Yo-hwan in a bid to get him to make a shipment to Puerto Rico, where he can be seized by the U.S. Drug Enforcement Administration (DEA).
Following a host of pulsating chases, explosive shootouts, backstabbing twists and hairy moments of covers being blown, the intriguing series finale sees Yo-hwan at the mercy of the DEA and NIS after his drug shipment to Puerto Rico is intercepted by the joint police force.
Months after the dramatic showdown that dismantled Yo-hwan's cocaine empire, In-gu is back in South Korea with his wife and two kids, running his auto repair shop. He is visited at the shop by Chang-ho, who reveals that Yo-hwan (who is imprisoned) had told the NIS chief about a baseball signed by the real-life retired Korean baseball player Park Chan-ho that he'd given to In-gu, and the businessman gave to his kids to play catch.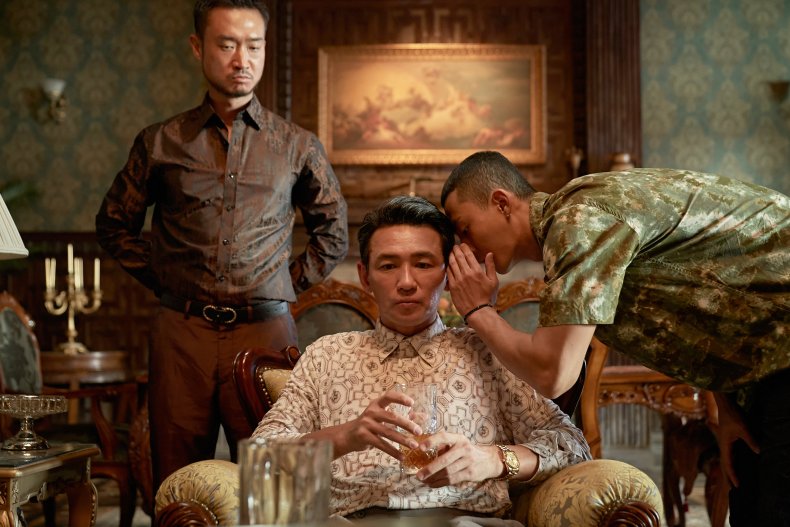 Yo-hwan had said he'd like to get the ball back, saying it was "the only authentic thing he owned," which leaves In-gu surprised, as the drug lord was known for giving fake signed souvenirs to different people during his drug trades.
Getting his son to fetch him the ball, In-gu asks: "This is authentic?," to which Chang-ho replies: "I don't know. He said so...but who knows?"
The scene then ends with In-gu staring at that baseball in his hand, leaving viewers to question what else the drug lord had said until this point was actually true or not true. Could Yo-hwan's message to In-gu about that baseball mean that he's going to take back what he's lost and is hatching a plan of revenge?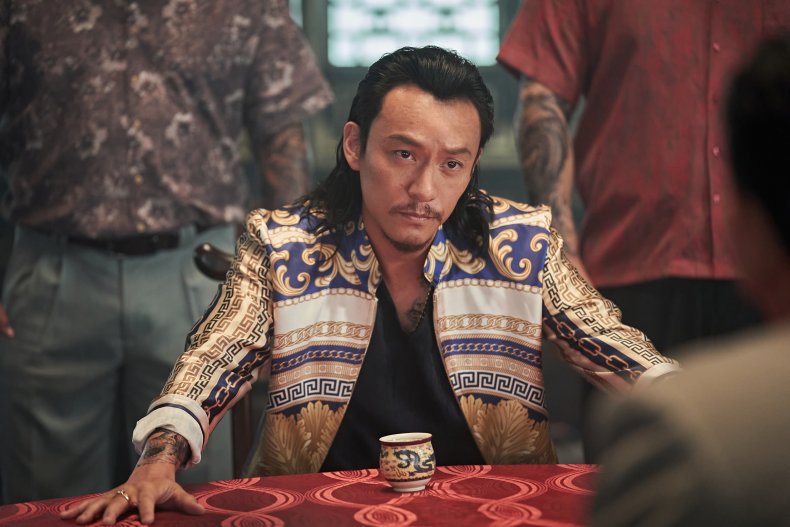 Could There Be a Narco-Saints Season 2?
The story of the real-life Korean drug lord upon which the show is based also currently has an open-ended feel, which may lend itself to continuing in a second season.
According to South Korea's Chosunilbo and other Korean media, the real-life Korean drug lord (named Cho Bong-haeng, born in 1952), was arrested by Brazilian federal police at an airport in São Paulo and in 2011, the 29th Criminal Division of the Seoul Central District Court sentenced him to 10 years in prison.
His whereabouts since his arrest and imprisonment are reportedly a mystery, with Financial News, the South Korean daily, reporting the 70-year-old was rumored to have returned to Suriname following his release from prison.
Other mysteries from the K-drama remain, including what has become of an off-grid vast field of coca plants that Yo-hwan revealed to In-gu, which was protected and sealed off as a military zone by the Suriname president. Who else knows about this field? Could the pastor have been managing the field from within the prison cell for him to restart his cocaine business upon his release?
Questions remain also about what happened to a mysterious group of Yo-hwan's church followers who were spotted a few times by In-gu in a sequestered area on the premises of the drug kingpin's home.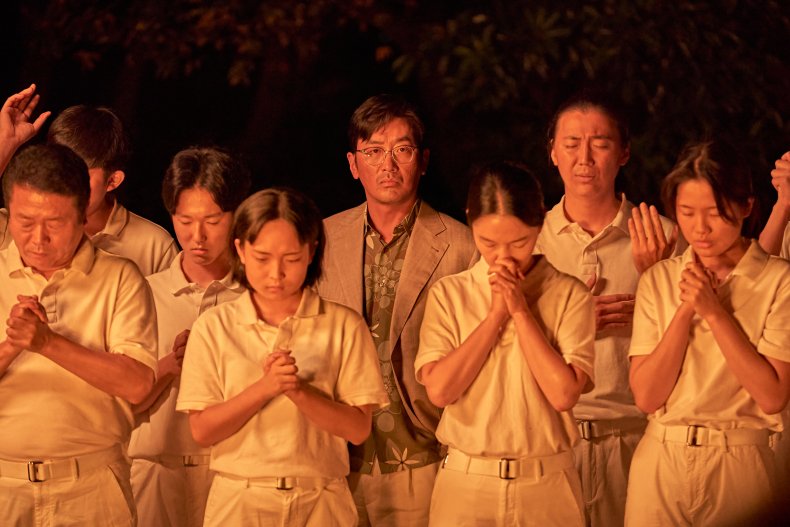 Eerily dressed in all white, these followers, who worked as drug distributors, were regularly given a drug cocktail to drink in a bid to keep them loyal to the pastor.
But at one point, In-gu spots a young girl from the group standing alone, who pleads with him to rescue her, before other followers discover her and drag her back to the group. In-gu notified the police about these followers, but they are never mentioned again in the series.
Where could these followers have gone following Yo-hwan's arrest? Could one or more of them have been in touch with the pastor while in prison and could he have been planning his return to that vast cocaine field? Hopefully this, and other burning questions, will be answered in a second season of Narco-Saints. But so far, a subsequent season hasn't been confirmed.
Narco-Saints is available to stream now on Netflix.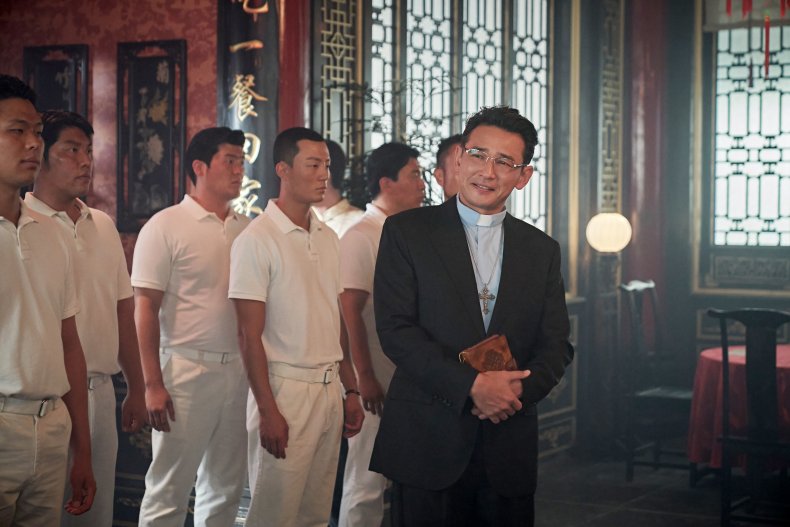 Update 09/13/22, 8:39 a.m. ET: This article was updated with the show's official trailer and additional information.