'The Nilsen Tapes': The Chilling True Story of London's Infamous Serial Killer
Netflix's latest true crime documentary Memories of a Murderer: The Nilsen Tapes explores the atrocities of serial killer, Dennis Nilsen.
Between 1978 and 1983, Nilsen murdered at least 12 men and boys at his two north London addresses, becoming known as the 'Muswell Hill murderer'. Despite his crimes occurring over 30 years ago, they still hold a great deal of significance today.
When the documentary's director Michael Harte received access to 7000 pages and 250 hours of cassette records by Nilsen, he felt compelled to explore how the infamous killer got away with these crimes for so long, and to give a voice to the victims.
Speaking to Newsweek, Harte discussed how the documentary aimed to show how "destructive" prejudice could be in society.
"Nilsen's story has been told from many different points of view but I was very keen to tell a story that wasn't just about Nilsen" he said.
"We used the tapes and we used Nilsen as a way into something else and that something else was the question 'Why did he get away with this for so long and how did he manage to kill and kill again? What were the circumstances?'"
He added: " For me, the thing that draws me towards a true story, especially in Nilsen's case, is that it does hold up a mirror to society. There are things that we can learn from the years.
"There's a school of thought that we should take these cases and put them in a box and not talk about them at all, ignore them. I think there is a way you can tell a story and tell it in the wrong way, then it should be put away. But, if you try and learn from these things as we should, I think we're obligated to, when something like this happens, to learn from it and understand from it and comprehend it and most importantly, try and let that happen again."
Here, we take a closer look at the crimes of Dennis Nilsen and how the chilling events unfolded.
The Chilling True Story of London's Infamous Serial Killer Dennis Nilsen
Dennis Nilsen's Early life
Nilsen was born on November 23, 1945, to parents Elizabeth Duthie Whyte and Olav Magnus Moksheim, a Norwegian soldier. He was the youngest of two siblings.
In 1948, Nilsen's parents divorced and he was raised by his mother and grandparents.
As heard in Memories of a Murderer: The Nilsen Tapes, Nilsen was particularly close with his grandfather and was left devastated by his death in 1951.
However, Nilsen also recalls in his audio tapes how his grandfather sexually abused him at a young age, describing him as a "pedophile". The incident would have a huge impact on Nilsen, according to his tapes.
Harte described Nilsen to Newsweek as an "unreliable narrator", explaining some of Nilsen's accounts of childhood may be fabricated as an excuse to explain his behavior.
"It became clear, pretty early in the process that what we had here was an unreliable narrator. He's lying to himself, creating an image because he does not want to take responsibility for what he did and that I wanted to explore that."
He continued: "There are huge questions marks over his childhood. I was very careful about how we shot those scenes, I wanted to make sure it didn't feel too real. This is Nilsen's version of what happened, whether that's true or not, I don't know. But for me, it was clear that I knew that I couldn't present this as the truth because, for me, it didn't seem to be the case."
At age 14, Nilsen joined the Army Cadet Force and in September 1961, he began training with the Army Catering Corps at St. Omer Barracks in Aldershot. He went on to serve in West Germany, Norway, Cyprus, and Scotland.
Nilsen left the army in October 1972, when he achieved the rank of corporal and later joined the Metropolitan Police, moving to London in December 1972 to begin training.
However, he did not last long in the police, leaving the force within a year.
After he resigned, he worked as a security guard before becoming a civil servant to help find employment for unskilled laborers, working as a civil servant up until his arrest in 1983.
The Killings
Nilsen committed his murders at two North London addresses between 1978 and 1983. He is known to have killed at least 12 men and boys, but the number is expected to be much higher.
As heard in Memories of a Murderer: The Nilsen Tapes, Nilsen confessed to Detective Chief Inspector Peter Jay immediately following his arrest there could be "15 or 16" victims, after Jay asked him where "the rest of the body" was upon entering Nilsen's apartment and smelling the odor of decomposing bodies.
Nilsen would often meet his victims in a bar in north or central London, luring them back to his property where he would kill them by strangulation and sometimes drowning.
Following the killings, Nilsen would bathe and dress the victim, keeping the body for an extended period of time, often under the floorboards. Nilsen would then dissect the body of the victims and dispose of the remains by burning them.
When he moved to 23 Cranley Gardens in mid-1981, Nilsen had no access to a garden so resorted to flushing the remains of his victims down the toilet and disposing of body parts with household waste.
Nilsen was able to evade detection, suspicion, and arrest for five years. Not only was this down to being a former policeman, but Nilsen also chose his victims carefully. They were vulnerable young men, often runaways, outcasts of society, and many with no fixed address.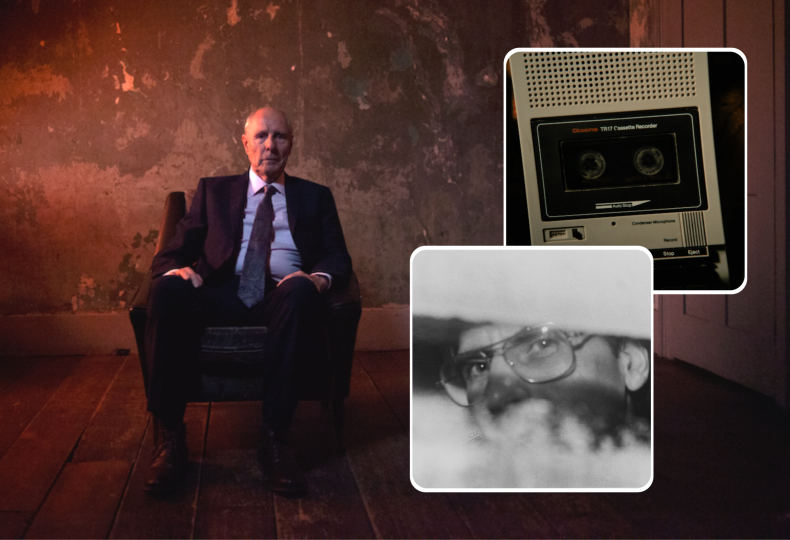 Harte explained: "What I realized over the course of those tentative weeks [of research] is that Nilsen would describe himself or picture himself very much as an outsider, as someone living on the fringes of society due to various factors like his sexuality, economic status, and his family. I mean he talks about it a lot. He would pity himself, almost like a victim of society but then I realized what was happening was the way he was painting himself, he was describing some of his victims who were on the fringes of society.
"This isn't actually a film about why Nilsen did the things that he did, this is actually a film about why did he get away with his for as long as he did. I wanted to explore that question of 'what were the circumstances that allow you to get away with this time and time and time and time again?' and I thought the tapes provided us with a unique opportunity to explore that."
Only eight of Nilsen's 12 victims could be identified. They were:
Stephen Dean Holmes, 14
Kenneth James Ockenden, 23
Martyn Brandon Duffey, 16
William David Sutherland, 26.
Malcolm Stanley Barlow, 23
John Peter Howlett, 23.
Archibald Graham Allen, 27
Stephen Neil Sinclair, 20
Dennis Nilsen's arrest
Nilsen was eventually caught when he, alongside other tenants living at Cranley Gardens, complained to the landlord about drain blockages.
A Dyno-Rod employee (a London-based plumbing company), Michael Cattran, responded to the complaints on February 8, 1983, where he uncovered flesh-like substances in the drains and small bones. He returned with his supervisor, Gary Wheeler the next morning to find the drains had been cleared, apart from some scraps of flesh and four bones from a pipe which was connected to the top flat of the house—Nilsen's apartment.
Detective Chief Inspector Peter Jay and two colleagues waited for Nilsen to return from work that evening so they could enquire about his drains. When inside the apartment, they could smell the odor of bodies decomposing.
On February 10, Nilsen confessed there were other human remains in his flat and even named some of his victims. He also made police aware of the remains at his former home, 195 Melrose Avenue.
On February 11, 1983, he was formally charged with the murder of 20-year-old Stephen Sinclair, his final victim, and was transferred to Brixton Prison where he was held before his trial.
Dennis Nilsen's Trial and Conviction
Nilsen's highly-anticipated trial began on October 24, 1983, at the Old Bailey in London.
Before his trial, it was revealed three bodies were found at his Cranley Gardens address, and bones from eight victims had been uncovered at his address in Melrose, Cricklewood, northwest London.
Nilsen was charged with six counts of murder and two of attempted murder, all of which he pleaded not guilty.
While the prosecution argued Nilsen was sane and had killed with premeditation, Nilsen's defense argued he should be convicted of manslaughter on the grounds of diminished responsibility.
He was sentenced to life on November 4, 1983, with a recommendation he served a minimum of 25 years. In 1994, this was changed to a whole life sentence.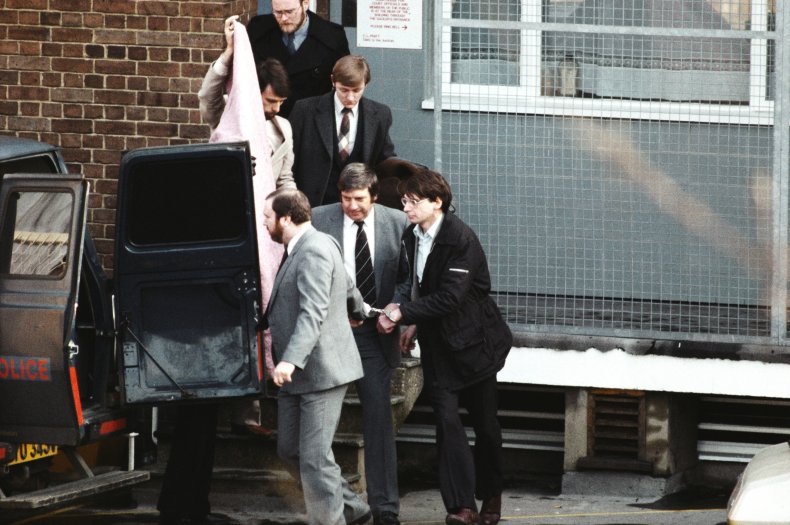 Nilsen's Death
Nilsen served the majority of his sentence at HMP Sutton in York, until his death in May 2018.
On May 10, 2018, Nilsen was taken to hospital complaining of severe stomach pains.
He was found to have a ruptured abdominal aortic aneurysm, which was repaired, but he later suffered a blood clot as a complication of the stomach surgery.
Nilsen died two days later on May 12, 2018, having served 34 years of his full-life sentence. He was 72-years-old at the time of his death.
The post-mortem report detailed Nilsen's cause of death as a pulmonary embolism and retroperitoneal hemorrhage.
Memories of a Murder: The Nilsen Tapes is streaming on Netflix now.