Netflix's 'The Harder They Fall' Ending Explained and Sequel Rumors
After much anticipation, The Harder They Fall is available to watch on Netflix now—but is there more to come from the world writer and director Jeymes Samuel created?
With a gritty story, stylish visuals and a catchy soundtrack, Netflix viewers and critics are raving about the Western. Created by first time feature filmmaker Samuel, the story follows Nat Love's gang as they seek revenge against a rival gang.
Once the dust settles towards the end of the movie, viewers will be intrigued to see that not all is at it seems. Spoiler warning from here on out as we look at the ending of The Harder They Fall on Netflix.
What happens in the ending of The Harder They Fall?
The final act of The Harder They Fall ends as any good Western should—with a shootout.
Nat Love and his gang arrive back in Redwood with $35,000 to give to Rufus Buck's gang. Both sides are anticipating violence, and once the money explodes, both sides lose members in the ensuing shootout.
Wiley Escoe (Deon Cole) is blown up by dynamite, Jim Beckwourth (RJ Cyler) and Bill Pickett (Edi Gathegi) are shot by Cherokee Bill (LaKeith Stanfield) who is then shot by Cuffee (Danielle Deadwyler). In an emotional confrontation, Rufus Buck (Idris Elba) reveals to Nat Love (Jonathan Majors) that they are half brothers. Despite the news, Love shoots Buck as retribution for killing his mother and their father.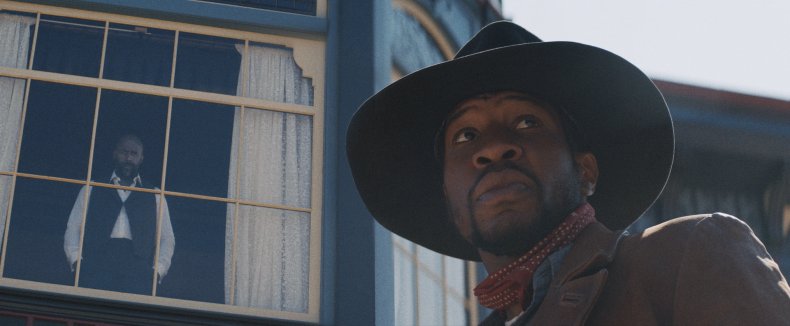 Victorious but depleted, Nat Love, Stagecoach Mary, Cuffee and Bass Reeves skip town and bury their dead. As they go their separate ways, we see the unmistakable figure of Gertrude "Treacherous Trudy" Smith watching them ride away.
The last time we saw Trudy was in a fight with Mary. Mary landed the knockout blow on Trudy, hitting her with the butt of her gun and screaming at her. Unlike all of the other members of Rufus Buck's gang, we never saw Trudy die.
Will there be a sequel to The Harder They Fall?
There has been no confirmation from Netflix or from the filmmakers behind The Harder They Fall, but Samuel has spoken about a potential sequel.
In an interview with Esquire, he discussed the final fight between Mary and Trudy, and explained why we never saw her die. he said: "To me there's a much bigger reason why she didn't meet her demise, so to speak.
"Mary is smart, she's not about to just kill anyone, and Trudy's also smart. While all the men are doing gun play, the women throw down their guns and go at it with fists. They square it out, and men don't do that in this film," he said.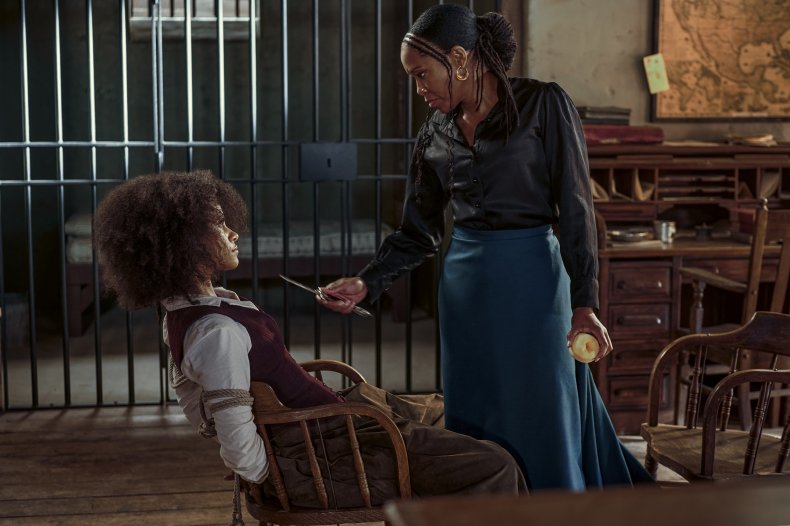 The cliff hanger ending revealing Trudy survived implies there are more stories to tell, and Samuel agrees. He explained how he left the ending open deliberately for a sequel, "Wide, open. Wide, wide, wide open. I'm going back to do multiple films in what I call the CCU: the Cowboy Cinematic Universe.
"For me, the only thing better than Trudy Smith is more Trudy Smith, you know what I mean? I'm always going to dive back into the Old West," Samuel said.
The Harder They Fall is available to watch on Netflix now while the Motion Picture Soundtrack is available to buy, download and stream now.