Netflix 'Love and Leashes' Release Date, Cast Starring Seohyun, Trailer and S&M Plot
Featuring flashes of a red-tinted room with dog collars, handcuffs and whips, Netflix's upcoming S&M-themed film Love and Leashes, the official trailer for which was unveiled Thursday, is a kinky Korean romantic comedy.
The new Netflix movie sees two seemingly ordinary office workers embark on a "special" relationship after one of them accidentally learns about the "secret peculiarities" of the other, according to the streamer.
Here's everything we know so far about the racy new Netflix rom-com.
Love and Leashes Release Date
Love and Leashes will be unveiled on Netflix on February 11, 2022.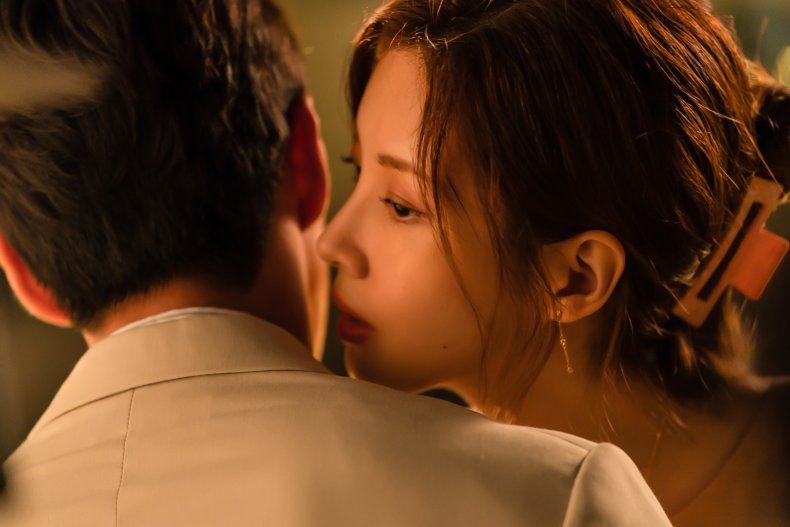 Love and Leashes Cast
The latest film sees Seohyun, the Korean actress and singer from K-pop group Girls' Generation, in the role of Ji-woo—a competent public relations worker, according to South Korea's Sports Today.
Love and Leashes marks Seohyun's film debut although she was seen recently as a shapeshifting swindler in Netflix's Private Lives K-drama series in 2020.
Playing opposite Seohyun is Lee Jun-young, who plays Ji-hoo, a seemingly "perfect man with a unique sexual taste," Netflix says.
Lee was recently seen as an AWOL soldier in Netflix's gripping military K-drama D.P., which was picked up for a second season in December 2021, the same month it was selected among The New York Times Best International Shows of 2021.
Korean actress Baek Hyun-joo will play Ji-woo's mother, who will be portrayed as more like a friend than a parent to Ji-woo, always rooting for her daughter, according to Sports Today.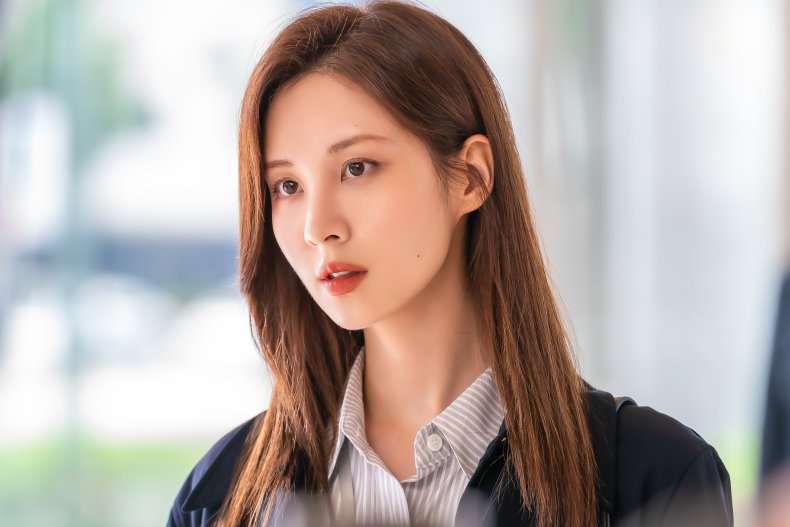 Love and Leashes Plot
A dizzying "different kind of romance" unfolds between Ji-woo and Ji-hoo, who are introduced as colleagues in an office.
Drama ensues when a delivery meant for Ji-hoo is accidentally sent to Ji-woo, due to their names being similar, according to South Korea's iNews24.
Upon opening the package, Ji-woo is shocked to find a dog collar adorned with spikes bearing a label reading "Miho", which Ji-hoo claims is his for three-year-old poodle at home, according to the trailer.
The video later shows a distraught-looking Ji-hoo asking Ji-woo: "I'm wondering…would you be my master?" before cutting to a red-tinted room adorned with various racy lingerie outfits, S&M-themed devices and Ji-woo holding a whip.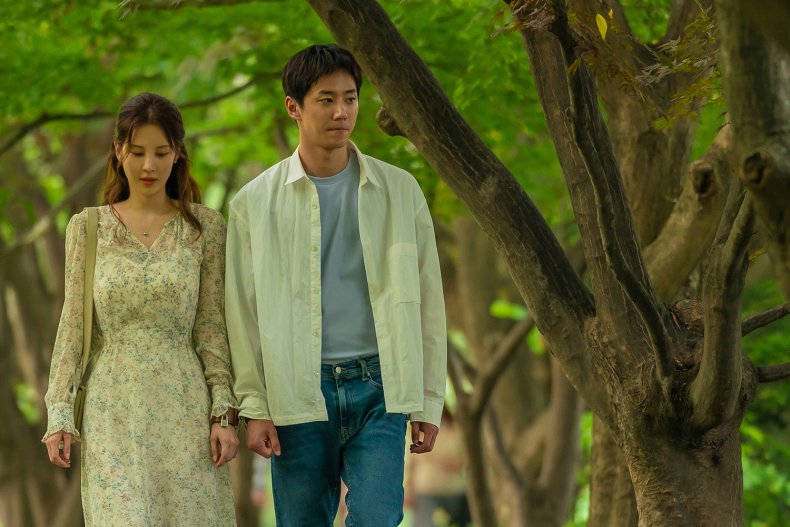 "I'm not sure exactly what you want from me," Ji-woo says, "but I can learn things pretty quickly."
The video concludes with Ji-hoo kneeling over Ji-woo's feet and saying: "They're so gorgeous," to which she replies: "Then…would you like me to step on you?"
It has yet to be seen how the pair will navigate their "taste-respecting" relationship, which begins with a three-month contract, according to Netflix.
But things may get complicated as Ji-woo suggests: "Rather than being partners, let's date for real."
Love and Leashes will be released exclusively on Netflix.