Netflix's 'The Sea Beast' Release Date, Cast and Trailer
Netflix is set to delight viewers across the world with its new animated film The Sea Beast.
Directed by Chris Williams, who previously directed Big Hero 6 and worked on Moana, the swashbuckling adventure promises to be fun for the whole family.
Here is everything you need to know about the animated film.
What Will 'The Sea Beast' Be About?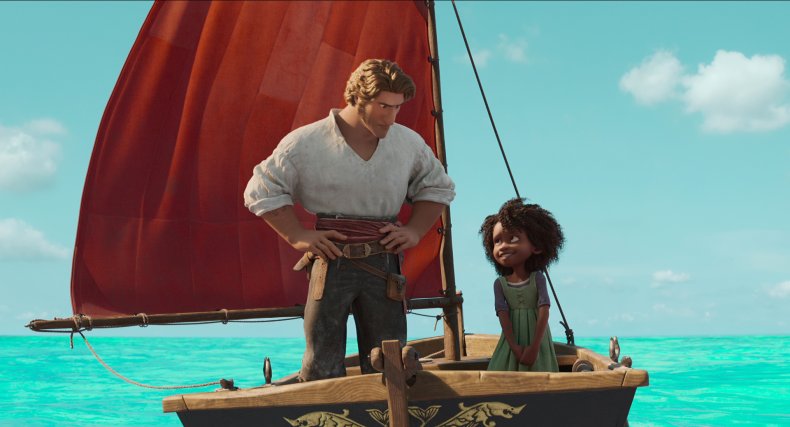 The Sea Beast follows a young girl named Maisie Brumble who stows away on the ship of legendary sea monster hunter Jacob Holland and Captain Crow in a bid to learn from the best.
In the world of the animated feature film, enormous sea monsters roam the Earth and it is up to people like Jacob to stop them and protect humanity as they know it.
Captain Crow, Jacob and his crew are tasked with the challenge of facing the infamous Red Bluster, but when they set out to do so they realize that Maisie has managed to stow away with them.
Though she is seen as a burden to Jacob at first, Maisie and her would-be teacher end up on an unexpected adventure of their own.
When Will 'The Sea Beast' Be Out?
The Sea Beast is a Netflix original film so it will be available to stream exclusively on the platform from Friday, July 8.
The animated film was released prior to its debut on Netflix in select theaters across the US on June 24.
Who Will Star in 'The Sea Beast'?
As might be expected of an animated film, The Sea Beast features an A-list cast that viewers may well recognize from elsewhere.
Karl Urban takes on the role of Jacob and he is joined by Zaris-Angel Hator, who voices Maisie, and Jared Harris who plays Jacob's mentor and surrogate father Captain Crow.
Marianne Jean-Baptiste portrays officer Sarah Sharpe, Dan Stevens plays Admiral Hornagold, Doon Mackichan is The Queen and Jim Carter is The King.
Speaking in a press release about the animated film, The Boys star Urban said of what he liked: "The crew of the Inevitable is a family and they look out for each other and they care for each other. They've got each other's backs."
He added: "I think probably one of the qualities that I like most about Jacob is that he's morally centered. He knows right from wrong and he is not afraid to stand up for what he believes in and to fight for those who don't have a voice or who aren't able to fight for themselves.
"So he's a character of great honor and integrity. And it was a lot of fun to play."
Is There A Trailer for 'The Sea Beast'?
Yes, a teaser trailer for The Sea Beast was released on March 30 before a full-length trailer came out on Tuesday, June 7.