'The Boys' Star Jack Quaid on Hughie's Powers Having 'Embarrassing Twist'
The Boys have well and truly leveled the playing field against The Seven in the show's third season, as both Billy Butcher (Karl Urban) and Hughie Campbell (Jack Quaid) have given themselves temporary superpowers.
Using a performance enhancing drug called Temp V to give them the abilities, Butcher's powers consist of heat vision, super strength, and durability—but Hughie's are very different.
As revealed in Episode 4, Hughie's use of Temp V gives him the ability to teleport, only he ends up completely naked when he does so.
'The Boys' Stars Jack Quaid and Karl Urban on Their Characters' Superpowers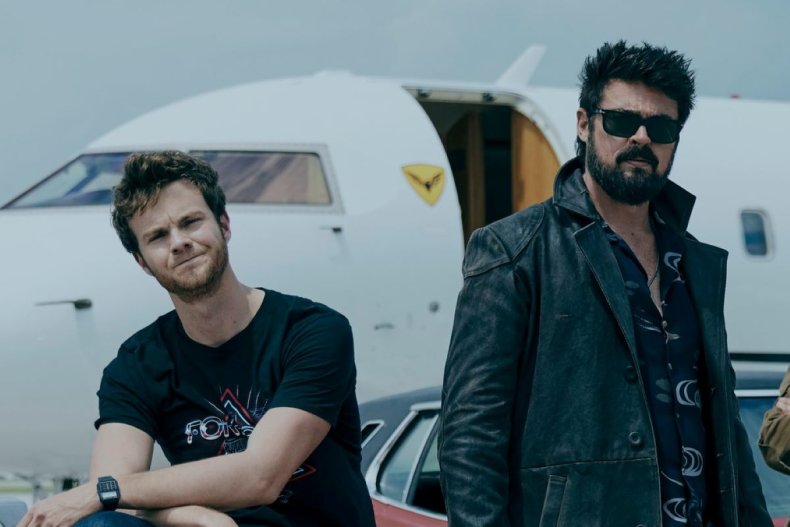 Quaid told Newsweek he loved the fact that his character's temporary powers have an "embarrassing twist" to it, because it works so well with his personality.
"I have a lot of thoughts on my powers," Quaid admitted. "I don't know, the kid in me was just really excited to get to have super powers, even though they came with such a weird cost.
"I just thought it was really fun that Hughie, once he finally gets powers... it has this embarrassing twist to it, it was very appropriate for the character.
"But I like what it did to him on a character level as well, like he becomes addicted to that power, and it brings out sides of him that aren't altogether likable, which I thought was really cool for a character that we've only really seen be very virtuous and morally upright.
"So that was fascinating on both the character level and just like, you know, I get to be a superhero level, it was just really, really cool."
Urban also spoke about Butcher's powers, which were first teased in the show's official trailer, and he was seen using during its three-episode premiere.
"I really enjoyed the opportunity of exploring new elements with Butcher, and imbuing the character with these superpowers was was a fun challenge to play with," Urban said of his character.
"And I liked how the writers dealt with it in terms of once Butcher crosses that moral boundary, you know, showing that there's a cost and also posing that question to every other [character].
"It's like, 'how far are you willing to go in order to defeat the monster?' You know? And in Butchers case, he decides to turn himself into the monster and it has massive ramifications, and it was a lot of fun to play."
On Working With Jensen Ackles
Episode 4 of The Boys Season 3, which premiered on Friday, June 10, also saw Butcher, Hughie and the rest of The Boys come into contact with Jensen Ackles' Soldier Boy for the first time.
While their encounter with the Super at a Russian facility was anything but friendly, the two actors told Newsweek they loved welcoming Ackles on board.
Urban said: "That was great. We were sort of, I guess, briefed by [showrunner Eric] Kripke about Jensen, and he turned up and was immediately such a wonderful addition to the cast.
"He really, I think, helped everybody elevate the game, and in a wonderful way. He obviously brings a lot of experience to the table and I just love what he did to carve out this new territory and new space in a sea of other superheroes.
"He came in and really defined himself and the character in such a wonderful, unique way, and he was an absolute pleasure to work with."
Quaid also said of the Supernatural alum: "Yeah, it felt like he had been part of our cast for years, like it really didn't feel like 'oh, this is the new guy,' like none of that [happened] he fit in so well.
"And he's just a great energy to have on set. Truly, he made every day even better."
The Boys Season 3 airs Fridays on Prime Video