Netflix's Defense of Dave Chappelle Stirs Hope on the Right of End of 'Cancel Era'
In a surprising alliance, many conservatives suddenly find themselves fans of Netflix. The normally progressive company earned right-wing props for resisting calls to "cancel" comedian Dave Chappelle for jokes that demean the trans and LGBTQ communities.
"Conservatives today want to underline that the woke crowd is out to crush any comedy that mocks the marginalized," said Tim Graham, the executive director of NewsBusters, a conservative outlet. "They also want to underline that anyone can be targeted by the cancel culture-mob, and it doesn't matter if it's woke whites taking down a Black comedian."
Conservatives have a long list of gripes against Netflix, including its striking of a lucrative deal with Barack and Michelle Obama, naming former Obama official Susan Rice to its board of directors (she resigned to join President Joe Biden's administration) and allegedly shunning conservative documentaries while paying large sums for liberal ones. Former California gubernatorial candidate Larry Elder, for example, was rebuffed when he tried to get his film about Black conservatives, Uncle Tom, on Netflix, he tells Newsweek; the film is instead on iTunes and Amazon Prime.
In a New York Post piece headlined, "Hooray for Netflix for standing up to the cancel culture mob," Kyle Smith wrote: "Netflix this week has provided the rest of the culture with a simple example of what to do when the woke mob comes demanding human sacrifice and ritualized electronic humiliation: Just say, 'Nah.'"
In several comedy specials on Netflix, Chappelle criticizes LGBTQ activists as thin-skinned people piggybacking on the Civil Rights movement of the 1960s. He also mock-praised them—in the voice of Dr. Martin Luther King Jr.—for effecting change quicker. "If slaves had oil and booty shorts on, we might have been free 100 years sooner," he says.
Chapelle criticizes Glamour magazine's decision to make Caitlyn Jenner its "Woman of the Year" in 2015, "her first year as a woman. Ain't that something?" And he allies himself with J.K. Rowling, author of the Harry Potter books, for insisting that gender is a fact.
Even when he gets serious in his latest show, The Closer, about his friend Daphne Dorman, a transwoman comedian who took her own life two years ago, he turns tragedy into comedy, saying he looks forward to telling Dorman's daughter that her "father" was "a hell of woman."
"Chappelle's latest comedy special on Netflix does not disappoint," wrote Matt Vespa on the conservative Townhall.com. "The man does not cave. He knows he has haters in the LGBT community—and he doesn't care." The Closer is so good, it's "un-cancellable," Vespa wrote. "Even Netflix is standing by the comic, saying that not only is his act artistic expression—it's just simply too popular."
GLAAD and other activists are calling on Netflix to cancel its relationship with Chappelle. The streaming giant is also being slammed by some of its own employees. Dear White People writer-showrunner Jaclyn Moore publicly declined to partner with the streaming giant in the future.
"After the Chappelle special, I can't do this anymore," she wrote on social media. "I won't work for @Netflix again as long as they keep promoting and profiting from dangerous transphobic content."
Netflix trans employees and supporters are planning a walkout on October 20 to protest their employer's decision to stick by Chappelle. Many were enraged by an email from Netflix co-CEO Ted Sarandos, disclosed by Variety, bragging that one of Chappelle's shows is "our most watched, stickiest and most award winning stand-up specials to date."
"We don't allow titles on Netflix that are designed to incite hate or violence, and we don't believe The Closer crosses that line," Sarandos says in the email to employees. The executive also notes that Netflix has withstood earlier controversies, as when Christians and conservatives complained about Cuties (saying it glorified pedophilia) and about 13 Reasons Why (for allegedly glorifying drugs and suicide). In another email regarding Chappelle, Sarandos reportedly wrote that "content on screen doesn't directly translate to real-world harm."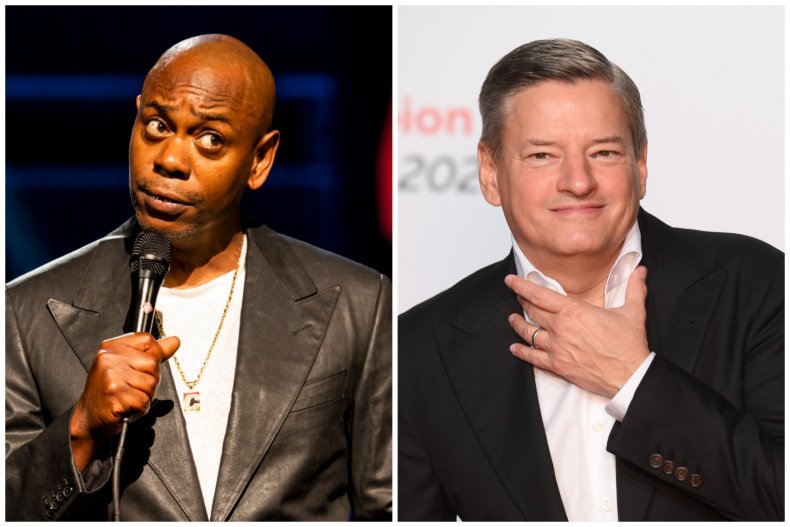 Lucas Miles, author of The Christian Left, which excoriates political correctness in churches, told Newsweek that the right is warming to Netflix because "the network's defense of the comic gives conservatives some hope that perhaps we are starting to exit this current season of cancel culture."
"Netflix and Chappelle arise as anti-heroes," Miles said, "cultural vigilantes willing to buck the system and stand against the insanity of left-wing cancel culture. It's as if Netflix is saying symbolically through their support of Chappelle: 'That's it. Enough already' ... My hope is that resistance only continues to grow."
John Nolte, the film and TV reviewer at Breitbart News, tells Newsweek that "the tide is finally turning on the Woke Gestapo," saying that "even Democrats are tired of this fascism. Sarandos is always in touch with artists. He wants to please them because he needs them ... and note how no one in Hollywood followed that Dear White People showrunner/McCarthyite in calling for a boycott of Netflix. We still have a long way to go, but we are finally at the beginning of the end of this crap."
The conservative embrace of Netflix goes only so far. Larry Elder, the media personality who recently tried to unseat California Gov. Gavin Newsom, tweeted Thursday: "@netflix stands by Dave Chapelle despite leftwing criticism because '(t)these are hard and uncomfortable issues.' During the recall, I brought up hard & uncomfortable issues—rising crime, rising homelessness, poor urban schools—but Netflix's Co-CEO donated $3 million to save Newsom."
And Ben Shapiro, founder of the conservative Daily Wire, told Newsweek, "It'll matter an awful lot more to me when they stand up against the mob on behalf of something that isn't one of their biggest properties. If this is principle, great, If it's about the cash, I'm glad they're resisting anyway, but I remain skeptical."
Chappelle, who once called President Donald Trump "a racist, hilarious son of a bitch" and supported Democrat Andrew Yang's presidential run, didn't respond to Newsweek's request for comment. He doesn't seem to be bothered by the growing controversy and mostly negative publicity. "If this is what being canceled is like; I love it!" he said to cheers at an appearance at The Hollywood Bowl last week.