Nevada GOP Legislator Stripped of Voting, Speaking Privileges After Refusing to Wear Mask
Nevada Republican Assemblywoman Annie Black was stripped of her voting and speaking privileges in the state legislature this week because she violated a mask rule.
On Tuesday, Black pulled off her mask on the assembly floor and declared that the Centers for Disease Control and Prevention (CDC) has said they're no longer needed, according to the Las Vegas Review Journal. The stunt came days after the CDC announced that people who are fully vaccinated against COVID-19 can stop wearing masks and social distancing, both indoors and outdoors.
But Black has refused to disclose whether she's fully vaccinated. In a recent newsletter, the assemblywoman accused President Joe Biden and the CDC of "setting up a trap to usher in 'vaccine passports.'"
Legislative Counsel Bureau Director Brenda Erdoes on Wednesday unveiled new rules that mandated mask use for unvaccinated lawmakers and allowed those who were fully vaccinated to opt out.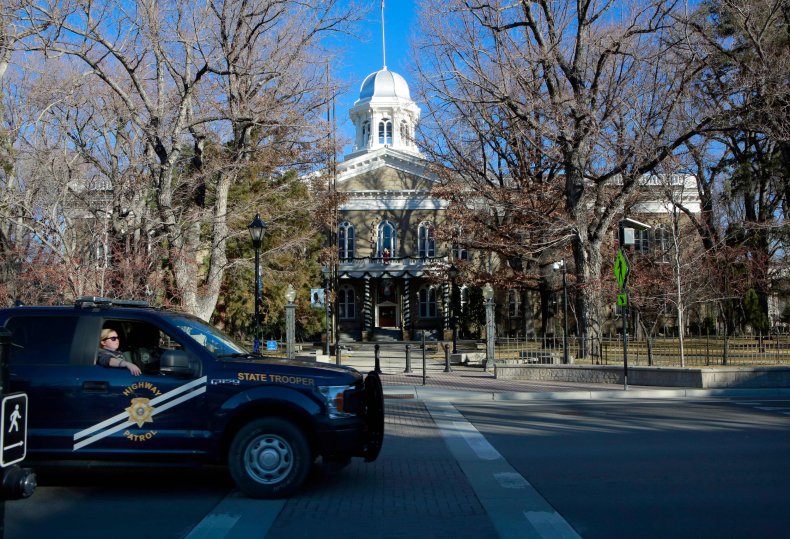 Black gathered on the assembly floor without a mask a day later, prompting Democratic Majority Leader Teresa Benitez-Thompson to accuse her of violating the rule.
The floor then voted along party lines to block Black from voting and speaking, according to the Review Journal.
After the vote, Black said, "I was basically blindsided yesterday... I don't think I did anything wrong."
"I think that they jumped the gun. They wanted to shut me up," she added. "It's not that they want to keep people safe, or they're worried that I'm making people unsafe. It feels like revenge."
In a tweet on Friday, Black said "I REFUSED to wear a mask on the floor of the Nevada State Assembly. Yesterday, I was permanently BARRED unless I apologize to the body. I will not back down, but I need patriots like you to spread the word."
Newsweek reached out to Annie Black for further comment. This story will be updated with any response.
In a tweet Thursday, Nevada Republican Assemblywoman Jill Dickson said she was "escorted off Assembly floor 4 not wearing a mask even after CDC guidelines change. I refuse to share my private med info, particularly with politicians. No vaccine passports in US or NV except the people's house. Ridiculous! It's time to stop making COVID a political issue!!"
The CDC's new mask guidelines constituted a drastic reversal of the agency's earlier guidelines. Over the past year, Republicans have routinely condemned the CDC for issuing pandemic guidance that they considered too conservative.
Last week, House Minority Leader Kevin McCarthy accused the CDC of revising their guidance on masks to distract the country from rising gas prices. "You know the only reason why they changed not wearing the mask? Because gasoline went to $7. There was gasoline lines. They wanted to change the news," McCarthy said.