Nevada's Democratic Governor Steve Sisolak on Wednesday condemned Las Vegas Mayor Carolyn Goodman's push to reopen her city and asserted that the state is "clearly not ready to open."
Goodman, an independent, made a series of cable news appearances this week, during which she called for the city to "get our people back to work." In an interview with MSNBC on Tuesday, the mayor said Las Vegas is "ready to get back in business." One day later, she told CNN host Anderson Cooper that she'd "love everything open because I think we've had viruses for years that have been here."
After Goodman noted that the city had only seen 150 deaths from coronavirus, Cooper asked her if the relatively low death toll could be because of the state's stay-at-home order. "How do you know until you have a control group? We offer to be a control group," Goodman responded.
Sisolak disagreed with Goodman later on Wednesday during his own appearance on CNN. "We are clearly not ready to open," the governor said. "We have, sadly, since you did that interview, we now have 187 deaths in the state of Nevada, but over 4,100 positive cases."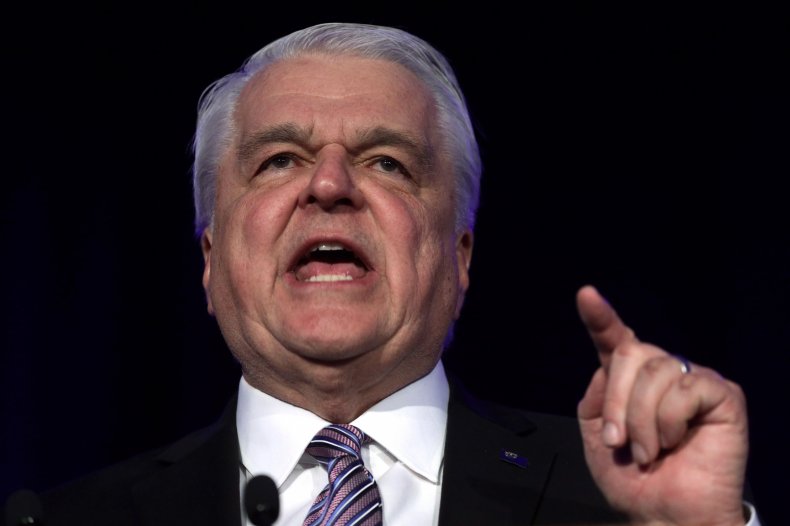 He also vowed never to allow Goodman's offer to have Las Vegas be a control group by relaxing Covid-19 mitigation restrictions in the city. "I will not allow the citizens of Nevada, our Nevadans to be used as a control group, placebo, whatever she wants to call that," he said. "I will not allow that."
Sisolak noted that Las Vegas' largest trade union, the Culinary Workers Union, had lost 11 members to the novel virus, before saying he'll do everything in his power to ensure they don't lose 11 more. The Culinary Workers Union also rebuked Goodman in a statement released Wednesday, calling her remarks "outrageous." The group said they support Sisolak's "plan to protect Nevadans" and "encourage listening to health experts and scientists."
When asked by Cooper about his approach to reopening, Sisolak said the state needs a "phased-in approach."
"I've got an enormous amount of cooperation from the vast majority of our citizens," the mayor said. "Now there are clearly some who don't see things my way and they've resisted. But most elected officials, the mayor of Reno, Hillary Schieve, chair of the Clark County Commission, Marilyn Kirkpatrick, did nothing but help me to expand our testing and expand our tracing and to open, open at the proper time."
Newsweek reached out to Goodman for comment.
As of April 22, more than 842,100 individuals had tested positive for coronavirus in the U.S, with over 47,100 deaths caused by the new disease and 83,600 recoveries.
The graphic below, provided by Statista, shows the total number of novel coronavirus cases nationwide as of April 22.