#NeverWarren Trends After Feud With Bernie Sanders Continues at Democratic Debate
The hashtag #NeverWarren trended on Wednesday morning after the ongoing feud between Elizabeth Warren and Bernie Sanders was taken up a notch during Tuesday night's Democratic primary debate.
Posts under the #NeverWarren hashtag contained a mixture of criticism directed at the Massachusetts senator, largely from supporters of her Congressional colleague, as well as interventions from high-profile figures unhappy with the slogan.
The hashtag began trending after footage of Warren refusing to shake Sanders' hand at the end of the first televised primary debate of 2020 went viral.
A tense conversation between the senators followed the failed handshake, dragging on a spat between the primary rivals that began when Politico published details of a script provided to volunteers on the Sanders campaign.
The campaign script appeared to encourage the Vermont senator's supporters to tell others that Warren was "bringing no new bases into the Democratic Party," and suggested the Massachusetts senator was supported by "highly educated, more affluent" voters.
Warren responded to the script by accusing Sanders of "sending his volunteers out to trash me," and claiming that he told her in a private meeting that a woman couldn't beat President Donald Trump at the 2020 election.
Sen. Sanders has denied the accusation first reported by CNN, describing it as "ludicrous" and saying: "It's sad that, three weeks before the Iowa caucus and a year after that private conversation, staff who weren't in the room are lying about what happened."
He went on to tell CNN that he had actually said President Trump was a "sexist" and argued that he would "weaponize whatever he could" in the November election. "Do I believe a woman can win in 2020? Of course!" he added.
The Vermont independent further denied the claim at the Iowa debate last night when a CNN moderator asked if he was saying he never told Warren a woman could not win the election.
But the Massachusetts Democrat doubled-down on her accusation on stage, telling the moderator she "disagreed" with him over the alleged remark.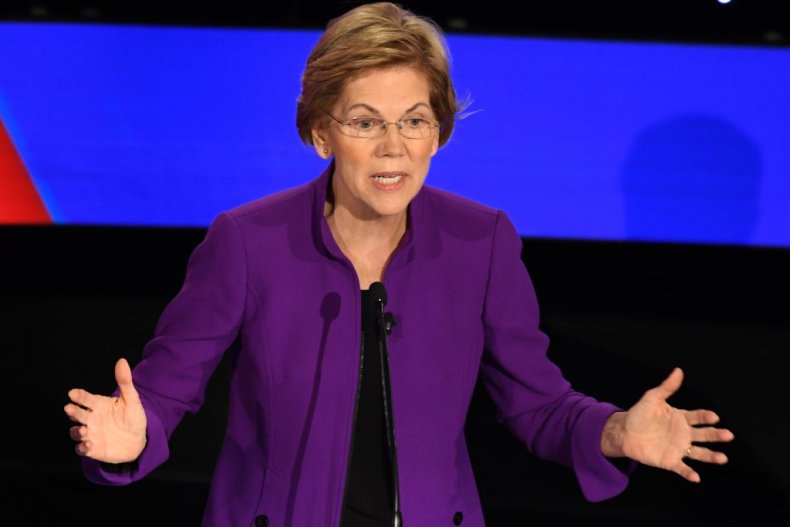 "Warren is now the biggest threat to the progressive movement, the biggest possibility of a Biden nominee, & the biggest chance of four more years of Trump," Bernie volunteer Ben Hauck tweeted in response to Warren's debate performance. "I went from loving her, to being cautious of her, to being #NeverWarren."
Bernie Sanders supporter and Twitter user Katie Artigli posted: "Elizabeth Warren will never get my vote. I don't care if she's the nominee. Warren is weaponizing her identity just like Hillary did and it's disgusting. #WarrenIsASnake #NeverWarren"
Twitter user BernItUpOrBurnItDown added: "Better he realize she is not his friend now. She is an opportunist who will throw him—or anyone else she needs to —under the proverbial bus to get ahead. #NeverWarren Ever."
Responding to the post-debate criticism of Sen. Warren, Boyhood actress Patricia Arquette questioned the #NeverWarren hashtag.
She tweeted: "I really believe if Bernie were not in this race that he himself would vote for Warren out of these candidates."
"Seeing #neverwarren trend is giving me flashbacks to 2016," former Congresswoman Katie Hill said. "Can we just... not?"
The musician Mikel Jollett added: "Wait does #NeverWarren actually mean you'd support Trump over Warren because that is the absolute dumbest s**t I've ever heard."
"I have respect for both Sanders and Warren," the author and marketer Frederick Joseph said. "I'm supporting Warren because her policies focused on Black women early.
"Bernie at one point pushed her to run for President. So this #NeverWarren nonsense needs to stop. We should happily vote for either one who gets the nod."
Newsweek has contacted the Warren campaign for comment and will update this article with any response.
The hashtag #NeverWarren was second in the U.S. trending charts on Twitter at the time of writing, with 26,400 tweets using the phrase.