New $2.2 Trillion Stimulus Includes Hundreds of Millions for Things That Have Nothing to Do With Stimulating Economy
The House of Representatives passed a new $2.2 trillion stimulus bill last week that Republicans have described as a Democrat "wish list" because of its high cost and items that have nothing to do with the coronavirus pandemic.
House Speaker Nancy Pelosi acknowledged that the bill included items unrelated to the pandemic while speaking on the House floor in support of the bill on October 1.
"We can't do everything in a bill that is corona-focused, coronavirus-focused," Pelosi said. "We have challenges in our country that we must address in a bigger way, but what we have here is coronavirus-centric."
Senate Majority Leader Mitch McConnell indicated shortly after the bill was introduced that it had little chance of making it to a vote in the Senate. Speaking with reporters on Capitol Hill on September 30, McConnell said that the bill's estimated cost was "outlandish" and that Republicans and Democrats were "very, very far apart" in agreeing on a deal.
An earlier version of the bill, known as the Health and Economic Recovery Omnibus Emergency Solutions Act, passed the House in May, with an even larger price tag of $3.4 trillion. The updated version, known as the HEROES Act 2.0, passed in a 214-207 vote on October 1, with at least 18 Democrats voting against it.
The bill includes another round of $1,200 direct payments to Americans and an extension of the federal unemployment benefit that ended in July. It also includes updates to the Paycheck Protection Program and other assistance for small businesses, emergency funds for state and local governments, and money for schools.
House Democrats pushed the bill through even though talks were still ongoing between Pelosi and Treasury Secretary Steven Mnuchin. On Tuesday, President Donald Trump said he was instructing his administration's officials to halt the negotiations, then appeared to change his mind by Wednesday, posting encouragement on Twitter for the House and Senate to reach a deal.
Regardless of whether a new deal will be signed before Election Day, it is unlikely that the relief legislation will closely resemble the House's HEROES Act 2.0. Below are a few of the bill's components that are not specifically tied to stimulating the U.S. economy or combating the pandemic.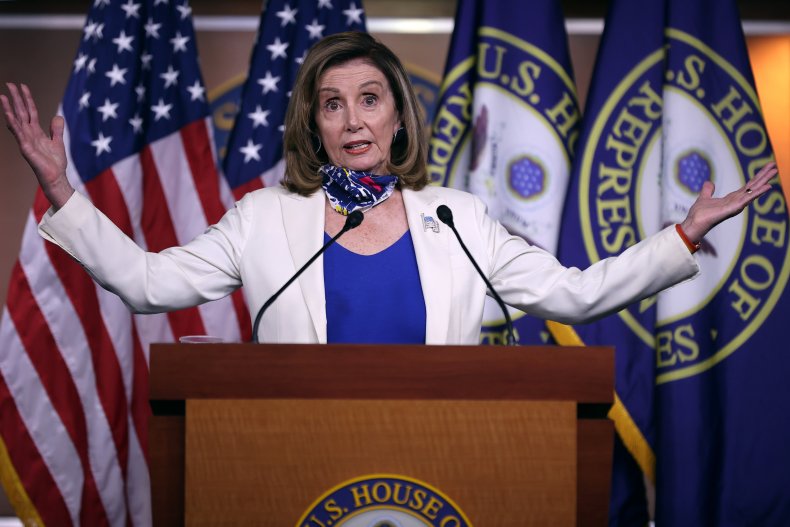 $375 Million for Violence Against Women Act
The bill allocates $375 million to support programs related to the 1994 Violence Against Women Act, including grants for transitional housing, outreach and assistance for victims, as well as culturally specific help for those victims.
Expanding Banking and Insurance for Legal Cannabis
This portion of the bill proposes expanding the banking and insurance services that legal cannabis businesses have access to and seeks to identify the problems that minority-owned cannabis businesses encounter when trying to start up or when seeking support from financial institutions.
$325 Million for Child Abuse Prevention Grants
Of the $3.7 billion that the bill allocates for children and family services programs to assist with preparing for and responding to the pandemic, $100 million would be set aside for state grants funded through the 1974 Child Abuse Prevention and Treatment Act, and $225 million would go to Community-Based Child Abuse Prevention grants. Beyond the pandemic, the bill calls upon the secretary of health and human services to create standards applicable across the country for monitoring and reporting children who have died or been seriously injured as a result of child abuse.
$200 Million for Preventing and Prosecuting Elder Abuse
The bill proposes funding efforts to prevent, investigate and prosecute elder abuse and neglect. This would include at least $14 million, intended for the 2021 fiscal year, to train employees at long-term-care facilities and at least $100 million directed toward grant programs that would bolster investigative efforts by adult protective services officials. It also would include $5 million to be used during the 2021 fiscal year to create and run elder abuse forensic centers and $10 million for the Department of Health and Human Services to create a National Training Institute for Surveyors to train those tasked with investigating elder abuse and neglect.
Creating a Report on Minority, Women and Rural Lending
If passed, the bill would require the Small Business Administration to create a report within 90 days about the access that minority, women and rural communities have to capital programs and offer a list of recommendations for how access could be improved.
Eliminate Income Tax for First Responders' Volunteer Incentives
The bill proposes permanently allowing volunteer firefighters and emergency medical services personnel to accept recruitment incentives without having those count as taxable income.
Establish the Giving Retirement Options to Workers Act
The GROW Act would update existing pension systems by creating a "composite plan," which would include elements of traditional employer-provided benefits and of 401(k) plans.
Create a National Aviation Preparedness Plan
The bill calls upon the Department of Transportation to assist with making a national aviation plan to better prepare the country if another epidemic or pandemic breaks out. The bill does not include an amount allocated for the creation of this plan but contains other funds to support the airline industry during the pandemic (including $300 billion for cargo airlines, $25 billion for passenger airlines and $3 billion for industry contractors).
Require an Explanation for Vacant Inspector General Positions
If passed, the president would be required to provide Congress with an explanation if an inspector general position is not filled within 210 days after the seat is vacated. The bill also establishes specific requirements for an inspector general's removal, such as negligence, felony conviction, mismanagement of the office and abuse of authority.
Establish the No HATE Act to Offer Grants to Communities That Collect Hate Crime Data
This portion of the bill—officially titled the Jabara-Heyer National Opposition to Hate, Assault and Threats to Equality Act of 2019—proposes enabling the U.S. attorney general to offer grants to local communities and states that make efforts to collect hate crime data and report their findings to the Department of Justice. The bill does not specify what the value of those grants should be or how many should be offered, but it said the attorney general should be the one to determine how and where they are distributed.