New, Electric Volvo EX90 SUV Is a 'Computer on Wheels'
Volvo's electric evolution has arrived. The debut today of the 2024 Volvo EX90 signals the true start of forward progress of the brand, which has promised to reveal one new all-electric model per year. The Swedish automaker says that its fleet will be all electric vehicles by 2030.
The EX90 is Volvo's new flagship SUV. It takes the status from the gasoline- and hybrid-powered XC90 SUV, which is sticking around in the U.S. market for a bit longer.
"The Volvo EX90 is a statement for where we are, and where we are going," said Jim Rowan, Volvo's chief executive. "It's fully electric with a range of up to 300 miles on a single charge, designed to further raise our safety standards, the first Volvo car to be truly defined by its software and part of a wider ecosystem, connecting to your home and your other devices. The Volvo EX90 is the start of something new for Volvo Cars in many ways."
Volvo has made the EX90 of recycled materials, playing into its pledge of working within the confines of a more circular production model. It features approximately 15 percent recycled steel, 25 percent of recycled aluminum and 15 percent (over 105 pounds) of recycled plastics and bio-based materials. The percentage of total plastics in the car is the highest level of any Volvo car to date.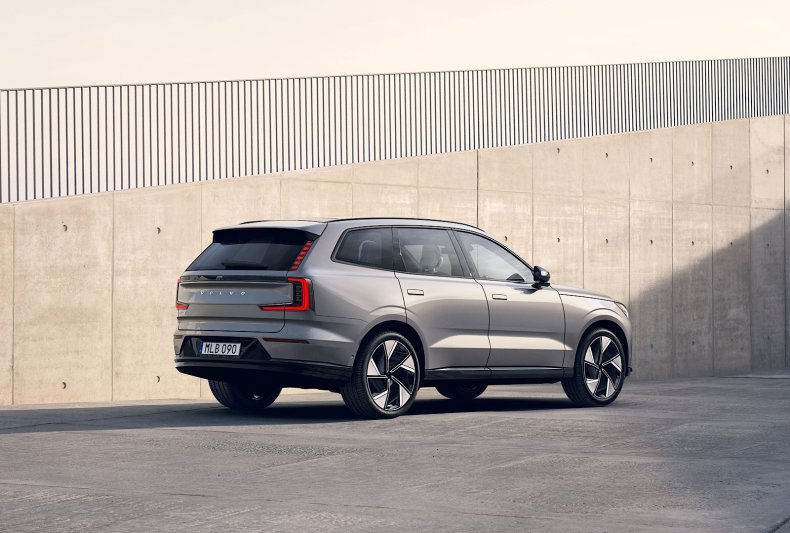 Technology is front and center on the new EX90, with Volvo calling the SUV a "computer on wheels". The software that comes on the model initially will be able to be updated over the air to keep the SUV fresh, even as it ages, just like a smartphone.
Cameras, radar and lidar work in harmony to provide a "shield of safety" and a real-time 360-degree view of the world surrounding the model.
That same technology enables new Pilot Assist driver assistance technology functions including steering support while changing lanes. Other automakers like Mercedes-Benz, BMW, Cadillac and GMC already offer similar technology in their vehicles.
Inside the car, the technology monitors driver attentiveness. Should a driver fall asleep or fall ill while behind the wheel, the EX90's technology is designed to slow the SUV to a stop and call for help.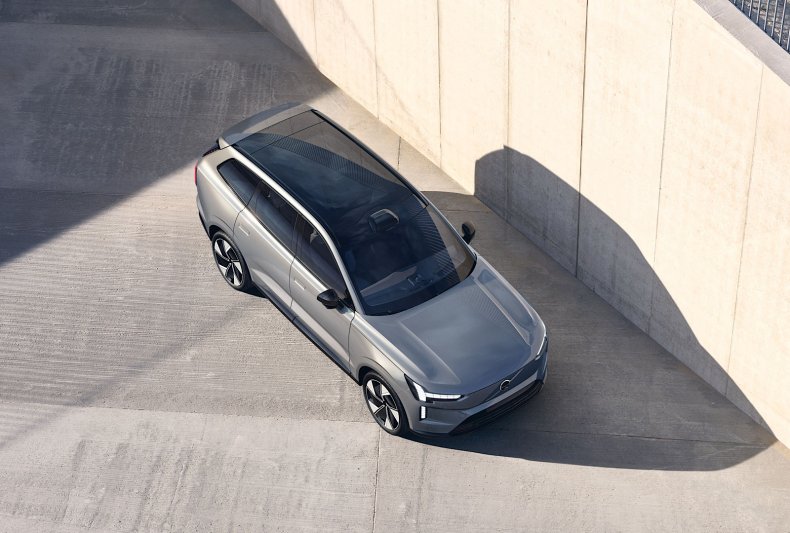 "The EX90 builds on Volvo's inroads of offering safe, premium, and well-appointed vehicles throughout its history by bringing new levels of advanced software, safety technologies, and connectivity," Paul Waatti, manager of industry analysis at AutoPacific told Newsweek.
"Volvo has been known for safety, and EX90's highly advanced driver assist software and hardware suite sets a new standard that should enable safer roads and provide a less stressful user experience while behind the wheel."
Epic Games' Unreal Engine human-machine interface, which is already installed in the GMC Hummer EV, offers lightning-fast computing power and allows for intricate graphics to be shown on the car's screens and head-up display.
At the center of the dashboard is the EX90's 14.5-inch infotainment screen with Google built in. Google apps and services including Google Assistant, Google Maps and Google Play are offered on the system. The system is compatible with wireless Apple CarPlay.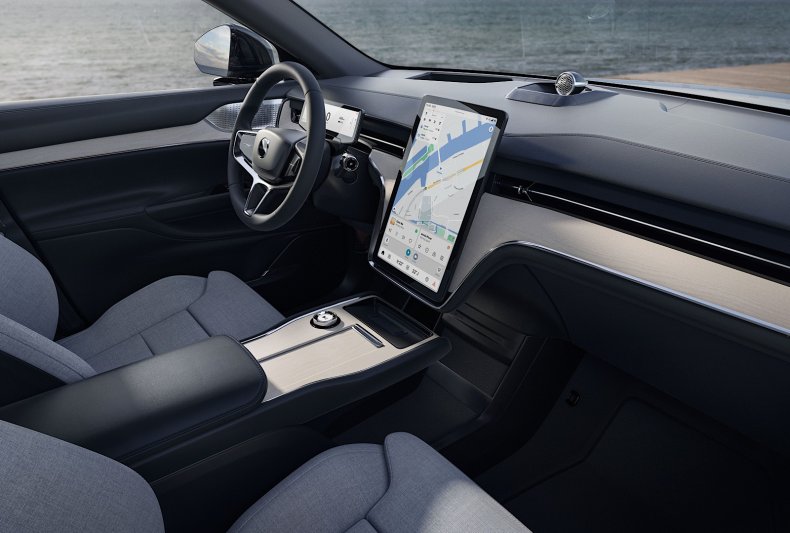 Like today's smartphones, the EX90 will be capable of connecting to the 5G network, allowing for more timely navigation prompts and the ability to stream music through the SUV's Bowers & Wilkins audio system, which features Dolby Atmos. Integrated headrest speakers deliver immersive sound.
Phone as key technology, popularized by Tesla, BMW, and Hyundai Motor Group, will be standard on the new Volvo. This technology allows owners to use their smartphone to enter and start a vehicle rather than having to carry a fob with them. The same technology saves user preferences with the vehicle automatically adjusting to a user when they connect with the model.
Volvo is matching the advanced technology in the EX90 with what it calls "one of the most pleasant and elegant car interiors on the market". The automaker says that it is "full of natural and responsibly-sourced materials" it did not give details about materials at the debut.
The new EX90 was shown with fresh seat design, a minimalistic dashboard and center console design, and panoramic glass roof at its debut.
"Volvo has, in many ways, become a benchmark for elegant interior design and execution, with simple, uncluttered layouts and easily digestible navigation of in-vehicle controls. The material choices are modern and sustainably sourced and offer an appealing mix of textures and premium surfaces for a unique and upscale presentation," Waatti said.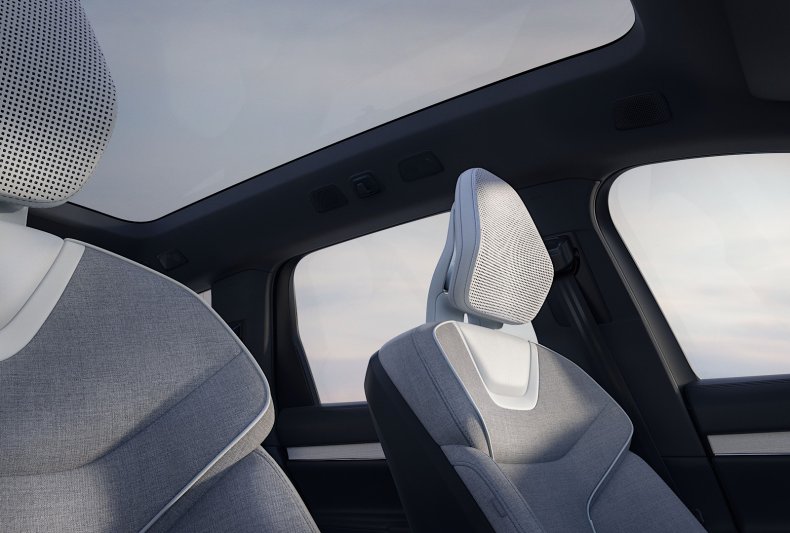 Riding on Volvo's new architecture, the EX90 offered at launch will be powered by a twin-motor setup linked with a 111-kilowatt-hour (kWh) battery. All-wheel drive comes standard.
The SUV is capable giving drivers 496 horsepower and 671 pound-feet of torque to make use of.
Volvo expects the car's battery to be good for up to 300 miles of all-electric range, which is on par with the range of other large electric SUVs like the Mercedes-Benz EQS SUV. It will be able to charge from 10 to 80 percent in 30 minutes, slower than the Hyundai Ioniq 5 and Kia EV6.
Bi-directional charging, which allows an electric vehicle to charge other electric devices (including other cars) will be available in select markets. The Ford F-150 Lightning already offers similar capability.
Volvo will build the 2024 EX90 in the United States and China.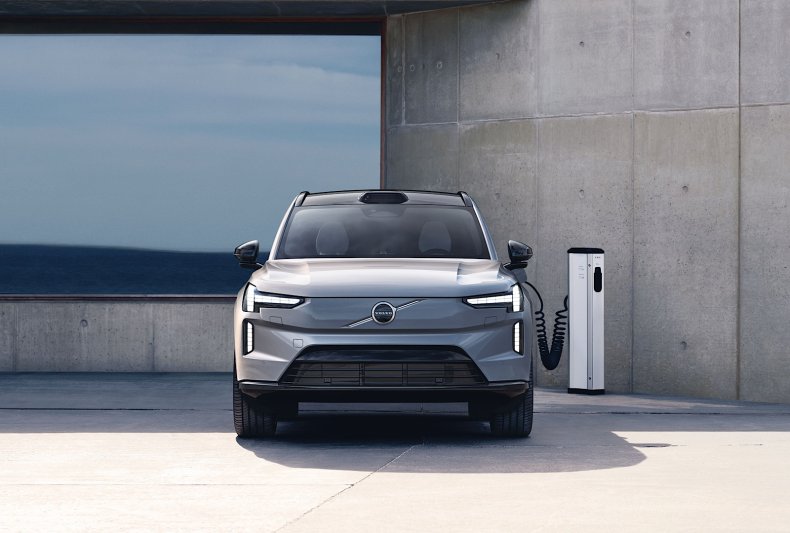 "The EX90 will be in a select group of only a handful of three-row EV crossovers on the market when it launches, and it's positioned competitively in the market with specs and feature sets that rival more expensive offerings from luxury brands," Waatti said.
Pricing for the model has yet to be released. Volvo says that the seven-seater version of the EX90 will be "well-equipped at under $80,000".
It is currently available for pre-order online. Reservation holders will be asked to configure their vehicle in Fall 2023. Deliveries are slated to begin in early 2024.