A Chinese streaming service has started carrying the 1999 cult film favorite Fight Club—but with a very different ending to the surprise of viewers.
While Edward Norton's character is seen at the end of the original version watching buildings explode after killing off Tyler Durden, his imaginary alter ego played by Brad Pitt, the version on Tencent Video fades to black before the explosions begin and displays a brief message.
"Through the clue provided by Tyler, the police rapidly figured out the whole plan and arrested all criminals, successfully preventing the bomb from exploding. After the trial, Tyler was sent to lunatic asylum receiving psychological treatment. He was discharged from the hospital in 2012," the message read.
Directed by David Fincher, the film stars Norton, Pitt and Helena Bonham Carter, with Jared Leto and the late Meat Loaf making appearances in smaller roles.
Norton plays the film's narrator and goes without a name for the majority of the film because—unbeknownst to him—he and Pitt's Durden are the same person. Frequent fights between the two characters eventually catch the attention of other men, spurring the formation of the titular Fight Club, which evolves into an anti-materialist and anti-corporate organization, according to IMDb.
Its original ending sees the group triumph in their mission with the successful detonation of the bombs. However, the version on Tencent Video sees the police and state victorious in stopping them.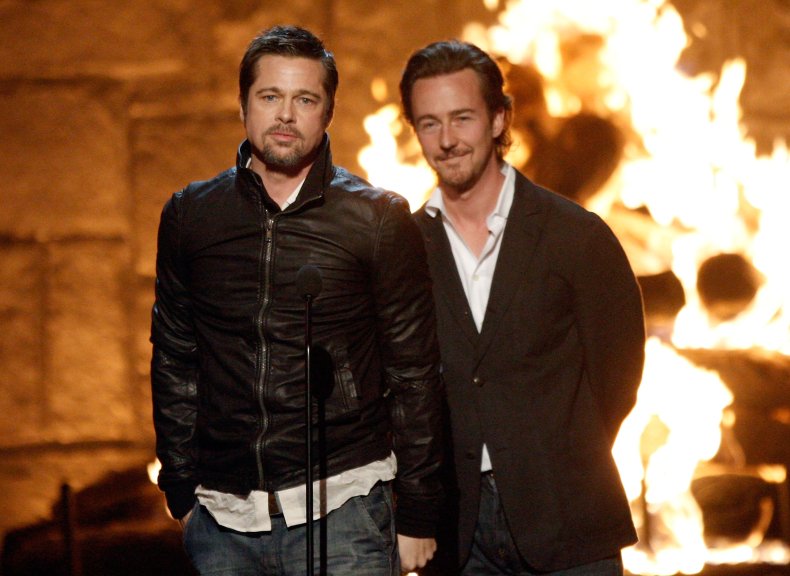 The stark contrast angered some viewers who had seen pirated versions of the film or were aware of the actual ending.
On Weibo, the popular Chinese microblogging site, one user wrote that there "is no point watching this film without that scene," according to a Vice report.
Another pointed out that other films that feature criminals, such as Ocean's 11 or The Godfather, would have also seen their main characters arrested or end up in jail if faced with similar changes.
It was not immediately clear if the altered ending was directed by China's government, which has been increasingly cracking down on pieces of media and entertainment deemed unsuitable or unclean for society. The Cyberspace Administration of China announced on its official WeChat account Tuesday that it would be holding a "clean cyberspace campaign" over the course of a month that would consider content platforms, among other things.
Tencent declined to comment on the film's changes to Newsweek.
Fight Club is not the first film that has been altered in order to be screened in China. Some of the bloodshed and violence depicted in the original version of Quentin Tarantino's 2013 film Django Unchained was cut out in an attempt to bypass any Chinese censorship. However, it was still abruptly pulled out of theaters in the country without an explanation on the day it was supposed to open, Newsweek previously reported.
Update 1/25/22, 12:06 PM ET: The story has been updated to state that Tencent declined to comment to Newsweek.