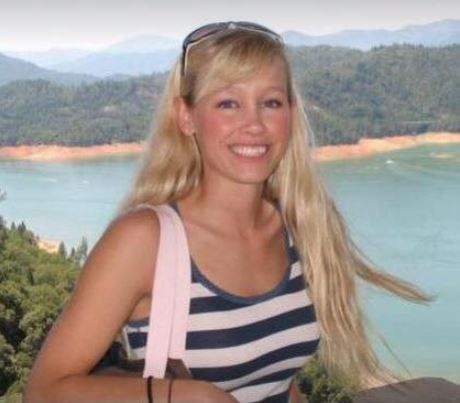 New footage released Tuesday shows Sherri Papini moments after the California mother was released from her alleged kidnappers—the first piece of visual evidence released in the mysterious, year-old case, which many have said is based on a lie.
The dark, grainy footage from a nearby church in Yolo County, California shows Papini running down an interstate in the middle of the night November 24, 2016, then about a minute later running in the opposite direction. No vehicles are seen in the video and no one else is seen in the frame.
Authorities say no other surveillance footage captured Papini after she was thrown from a vehicle—possibly a dark SUV—on the side of the road.
She was found by a passerby along the interstate about 4:22 a.m.—seven minutes after the footage was recorded. Papini was covered in bruises, was bound and had been branded with a message on her shoulder.
Her trademark long, blonde hair had also been chopped off. Papini claimed two women abducted her November 2—22 days earlier—as she was jogging in her neighborhood near Redding, California.
It's been a little more than a year since Papini went missing and the case caught worldwide attention.
But, along with the attention came questions on the validity of the alleged kidnapping. Papini had previous run-ins with police and her mother once reported Papini to authorities for harming herself then blaming her mother for it.
The Shasta County Sheriff's Office released more details last week, which seemed to lead to even more questions and point out that some aspects of the case simply didn't add up.
Papini claimed two Hispanic women help her captive over the almost month she was missing—but DNA found on her skin and clothing tested as male and female.
Her husband, Keith, was not a match to the DNA.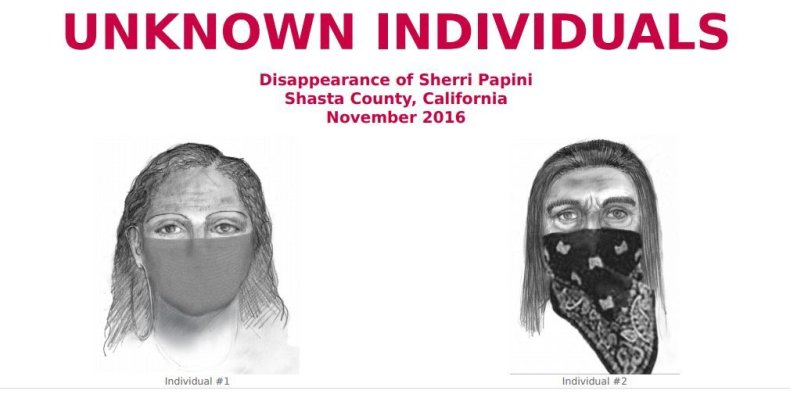 Another inconsistency: Papini claims to have cut her foot while fighting off one of her captors, but hospital workers couldn't find any trace of an injury.
"I totally understand the perception that there are inconsistencies," Shasta County Sheriff spokesman Sergeant Brian Jackson previously told Newsweek. The case, he added, is just "weird."
Experts agree and said all the coincidences and the out-of-the-ordinary suspects simply make the case unbelievable.
"In my 25 years I've never seen a case like this where someone was kidnapped, held captive for 20 something days then just released," said Ken Ryan, a law enforcement expert, who worked 25 in the industry and now teaches criminology at California State University. "None of it makes sense."
He said women usually do not commit a crime like this and if they had—another similar kidnapping should have happened since last year since they were able to get away with it.
While the footage helps to shed another light on the bizarre case, it doesn't answer the question of whether Papini was indeed kidnapped.
It's hard to clearly see her in the footage because it's dark, grainy and she's far from the camera. Investigators have told Newsweek they don't anticipate releasing any other evidence in the case, but hope the new details might lead to some new leads in the case.