Is Sherri Papini a Victim or a Liar? 1 Year Later, Details Don't Line up in California Mom's Kidnapping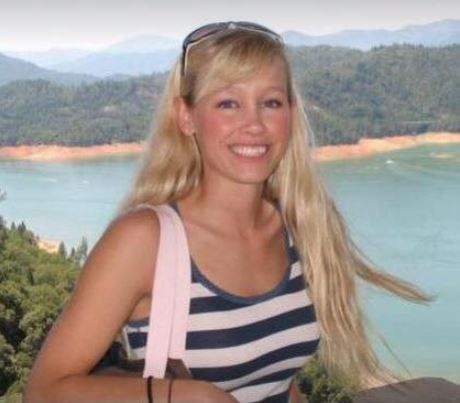 Bruised, chained and branded.
Even a year later, the story of how a California mother of two vanished then reappeared weeks later seems like something out of a mystery novel. A beautiful, blonde-haired 35-year-old who claimed she was kidnapped while jogging in her neighborhood continues to stump police as many details of the alleged crime simply do not add up.
"I totally understand the perception that there are inconsistencies," Shasta County Sheriff spokesman Sergeant Brian Jackson told Newsweek. The case, he added, is just "weird."
Sherri Papini's puzzling disappearance on November 2, 2016, led to a massive search, with federal, state and local authorities, plus volunteers, taking to the streets to find her. The curious kidnapping got international attention.
She was found 22 days later on a highway 150 miles south from her home. Her arms were bound, her long, trademarked blonde locks had been chopped off and she had apparently been branded on her shoulder. Papini said two women abducted her. No one has been arrested. Many don't believe the story.
She now lives in secret. Her neighbors say they never see her or her children. On occasion, they'll see her husband, Keith, who initially reported her missing, driving down the rural road past the rows of homes in Redding, Calif., a midsized city in northern California.
She's afraid of the media, which still stalk her like a celebrity, occasionally snapping photographs of her very rare outings. Her long blonde hair has grown back. The bruises that covered her body have healed but the brand still remains, a poignant reminder of the nightmare she claims to have gone through for nearly a month with two Hispanic women, who she says targeted her, kept her captive then randomly freed her nearly 150 miles from her home.
MORE: New Video Shows Sherri Papini Moments After California Mom Was Released From Alleged Kidnappers
When Papini was found on Thanksgiving Day, she had clamps around her ankles and a chain around her waist. She hasn't shared her story publicly but has continued working with law enforcement to find the two female suspects.
"She doesn't come out of the house," said Joyce Allison, a neighbor recently told Newsweek. "I don't see the kids out playing in the yard. I honestly don't know if the story is true. If it is, I'm sure we'll find out. If it's fake, we'll find out soon enough."
Allison isn't the only one who's pondered Papini's claims over the months. The questions intensified after police calls surfaced showing she had several run-ins with authorities, including one call where her mother said Papini was harming herself and trying to blame her for it.
The Shasta County Sheriff released a three-page update in the case last week, which deepened the mystery further and showed details of the case simply weren't adding up, including Papini's claim that it was two women who took her and held her captive.
The DNA found on Papini's clothing and skin tested as male and female—a curious detail since Papini said she was only with two women. The male sample did not match her husband's DNA.
"It's one of those little pieces that's just a weird anomaly of information that I can't explain," Jackson said. "It is just weird."
Another inconsistency: Papini claims to have cut her foot while fighting off one of her captors, but hospital workers couldn't find any trace of an injury.
Ken Ryan, a law enforcement expert, who worked 25 in the industry and now teaches criminology at California State University, said he was "amazed by the coincidences" and thinks the story is most likely false, but at this point police don't have enough evidence to completely prove it.
"The thing is that they had to take this story as true and investigate it even though they were misled," Ryan said. "I think it would be irresponsible to clear your hands of this and say it was a hoax without clearly laying out the details."
Ryan said one of the biggest issues in this case is the two suspects. He said not only do they not meet the normal profile in a kidnapping and torture case because they are women, but since the suspects were able to get away, a crime like this should have happened again.
"In my 25 years I've never seen a case like this where someone was kidnapped, held captive for 20 something days then just released," he said. "None of it makes sense."
But Sheriff spokesman Jackson said "it's not abnormal" for people going through a traumatic situation to not remember exact details or for them to say things that don't "come out right" when trying to explain in the immediate aftermath.
The Sheriff's Office only recently released its first sketches of the suspects, both women with their mouths covered. One is younger, has thin eyebrows, curly hair and is wearing large hoop earrings. The other woman is older, has straight hair and bushy eyebrows.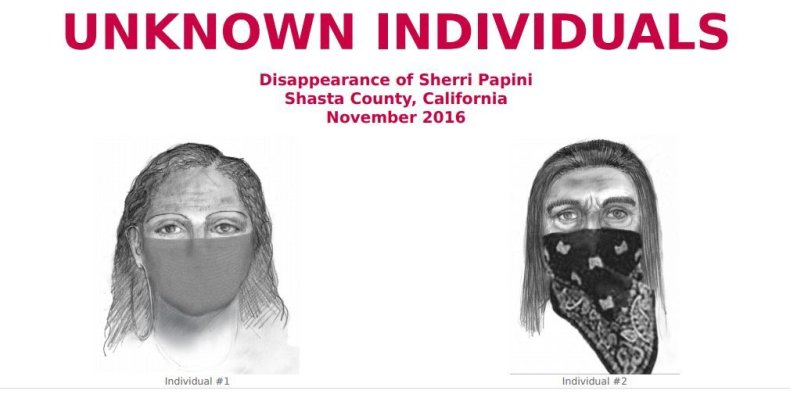 At first Keith Papini was investigated in his wife's disappearance and passed a polygraph test, Jackson said. His wife, though, was never given one.
"It wasn't asked because it's not proper to ask a victim of a crime to take [a polygraph]," Jackson told Newsweek.
The Papini family and their friends declined to be interviewed for this story, but in a statement, Keith thanked the "many people who have publicly and privately supported us over the last year" and said they are working to put "our lives back together."
He also said he hoped the new information released by police would lead to arrests.
Meanwhile, Redding residents and leaders are left wondering what to make of the "weird" case, while also taking something away from it.
"Anytime something like this occurs, you're going to have people who want to see the negative and pick apart the story...but it's made everyone more aware of their surroundings," said Redding Mayor Brent Weaver, adding that the case did bring together the community as it struggled in the early days to find Papini.
He doesn't question Papini's story because, he said, "it's important to show compassion for victims."
Another neighbor, who lives two doors down and requested anonymity, just wants Papini, and her community, to find closure.
"I hope if her story is really true that she's getting along alright and getting counseling so she can live with it and get better," the neighbor said. "But, is it a real story? I don't know. I hope one day we'll all have the answers."