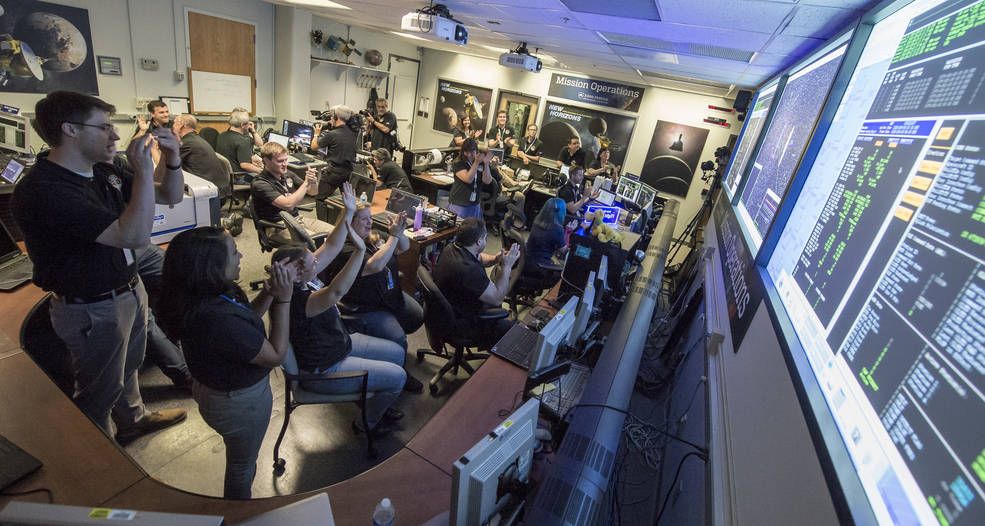 The team behind the New Horizons spacecraft anxiously waited over 13 long hours to hear whether it had survived its historic flyby of Pluto. But just before 9 p.m. EDT on Tuesday, applause erupted and hugs were exchanged in the mission operations center after the 9-year-old probe sent back its first post-flyby signal.
"PI, MOM on Pluto 1, we have a healthy spacecraft," Alice Bowman, New Horizons mission operations manager (MOM), announced to principal investigator Alan Stern—and the world—after checking the status of the various subsystems. NASA TV broadcast footage from the control room as Bowman and her colleagues received the long-awaited "call." "We've recorded data on the Pluto system, and we're outbound from Pluto," she said.
"I can't express how I feel," Bowman said. "Just like we planned. Just like we practiced. I mean, we did it!"
New Horizons zoomed past Pluto on schedule Tuesday at approximately 7:49 a.m., coming within 7,800 miles of the dwarf planet's surface. The spacecraft had been programmed not to communicate with Earth in the hours closest to the historic flyby. Instead, all of the instruments on board New Horizons would be busy collecting data they could only gather during the crucial window of time around the moment of closest approach.
"We always talk about the spacecraft being a child, a baby, a teenager," Bowman had said at a Tuesday morning press briefing at at the Johns Hopkins University Applied Physics Laboratory in Laurel, Maryland.
After the operations team lost signal, as planned, at 11:17 p.m. Monday, all Bowman and her colleagues could do "was just to trust that we had prepared it well to set off on its journey on its own," she said. "I am feeling a little bit nervous just like you do when you set your child off. But I have absolute confidence that it's going to do what it needs to collect that science and it's going to turn around and send us that burst of data and tell us that it's OK."
New Horizons was scheduled to send a roughly 15-minute series of status messages on Tuesday afternoon to let those on the ground know it had survived the passage past the Pluto system. Because of the billions of miles between the spacecraft and Earth, data sent takes more than four hours to arrive.
"We're counting on that [signal]," Stern said, explaining that the probability of losing the spacecraft (for example, to a debris strike) was at most two in 10,000. "But there is a little bit of drama," he added. "We always caution that we are flying into the unknown."
The probe will be the first to capture data about Pluto from such close proximity. The trove of information returned to Earth over the next 16 months will help map Pluto's composition, take sophisticated measurements of its atmosphere and provide images in high definition and color. Stern and his colleagues promised spectacular images would be released Wednesday, with resolutions approximately ten times that of the image released Tuesday morning.
The New Horizons mission marks a new phase of exploration in the icy Kuiper Belt—which lies beyond the terrestrial planets and the gas giants—as well as the completion of an initial reconnaissance of our solar system.
"Following in the footsteps of planetary exploration missions such as Mariner, Pioneer and Voyager, New Horizons has triumphed at Pluto," Stern said at a press briefing Tuesday night, after the "phone home" data was successfully received. "The New Horizons flyby completes the first era of planetary reconnaissance, a half-century-long endeavor that will forever be a legacy of our time."
The historic flyby moment Tuesday morning prompted a range of responses from celebrities and politicians, including Prof Stephen Hawking, who said "the solar system will be further opened up to us, revealing the secrets of distant Pluto," and that "the revelations of New Horizons may help us to understand better how our solar system was formed."
Like Hawking, Google, Hillary Clinton, Marco Rubio, Scott Kelly and others, President Barack Obama tweeted his congratulations Tuesday morning. He did so again after the "phone home" signal came back Tuesday evening, and the post-signal press briefing wrapped up with John Grunsfeld, former astronaut and now the associate administrator for the Science Mission Directorate, sharing Obama's note:
Though the flyby and "phone home" moments have come and gone, Grunsfeld reminded those at the evening briefing that "this is just the beginning".
"Wait until tomorrow and the next day," he said. "We haven't seen anything yet."