New Initiatives in Colorado Could Make Performing Abortions Past 22 Weeks 'On Par With Second-Degree Murder'
Two anti-abortion activists are in the process of submitting six new proposals this week that would ban abortions in Colorado past 22 weeks, except in cases where the woman's life is at risk. If they pass, they will be on the ballot for the 2020 election. Their first attempt to pass the ballot initiative was rejected by the Secretary of State's Office for a procedural error.
There has been an outcry on these new initiatives by pro-choice activists and women across Colorado. A post on the subreddit "intended for women's perspectives," TwoXChromosomes, gained momentum on Tuesday, the same day as the second Democratic debate. The post declares that, "Reproductive freedom is under attack in Colorado." It implores Coloradans to make sure they have registered to vote in the 2020 election to vote against the initiatives if they end up on the ballot.
This potential 2020 initiative in Colorado comes at a time that is viewed by many as a way of establishing conditions for a legal challenge to Roe v. Wade. It is joined by other states like Alabama and Georgia, where there are similar efforts by anti-abortion activists and law-makers.
The proposals submitted by well-known conservative activists, Erin Behrens and Giuliana Day, would designate performing an abortion in Colorado for any other reason then saving a woman's life as a class 3 felony, on par with second-degree murder or vehicular homicide and punishable by up to a dozen years in prison, according to The Denver Post.
One of the draft initiatives contains a "provision for survival" that would require any approved abortion past 22 weeks be performed in a way that "provides the best opportunity for the fetus to survive."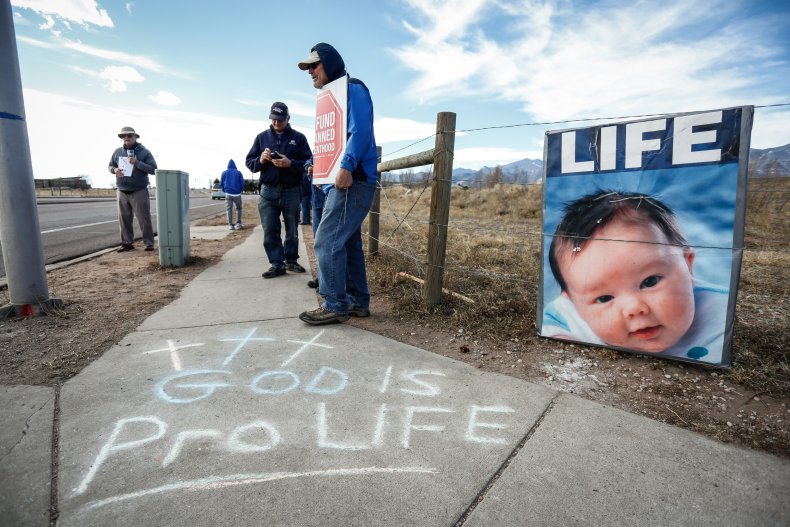 The initiatives come at a time when Planned Parenthood is considering expanding both its numbers of Colorado clinics and abortion services to those seeking the procedure later in pregnancy because many women have been traveling for out-of-state abortions.
Colorado is one of the few states that has no legal restrictions on when an abortion can be performed.
"Our initiative will not restrict a woman's right to an abortion in the first five months of pregnancy," Behrens, a Republican activist from Arvadd, Colorado told Westword in June. "Instead, this proposed law would place limits on late-term abortion similar to those in forty-three other states and the rest of the world. We hope to bring Colorado law up to the same legal standard as California or New York."
Behrens' more recent social media activity, according to the Colorado Times Recorder, includes a photo of her pregnant belly — that has been widely shared — while holding a sign that reads, "It's my due date today. My baby's healthy. I'm healthy. In Colorado, it is Legal for me to get an ABORTION today. Our legislature has failed."
Gena Ozols, political director for NARAL Pro-Choice Colorado, said that while procedures at 22 weeks are "incredibly rare," there's no rational basis for these gestational limits, according to Westworld.
"Clearly, this is part of a well-coordinated effort to bring cases to the Supreme Court," Ozols continued. "This is what they've been trying to do for years, and we're finally starting to see it for what it is."