New Jersey College Student Crafts Face Shields Between Classes to Help Nursing Homes, Hospitals Fight Coronavirus
Newsweek's "Heroes of the Pandemic" series features everyday heroes showing service, sacrifice or kindness in the time of COVID-19.
Like any college student, 22-year-old Dominic Dell Antonia sometimes steps away from his classes that are now online, thanks to the novel coronavirus. But he has a good excuse.
The undergraduate chemical engineer ventures to the basement of his grandparents' house in northern New Jersey, just down the street from his home. That's where 11 employees work virtually around the clock to fulfill a massive demand spawned by the coronavirus pandemic.
Those employees are Dell Antonia's 3D printers, which he's using to create and distribute medical face shields with 3D-printed headbands to at least a dozen health care facilities and nursing homes in New Jersey and New York.
"I live 20 to 30 minutes from New York. It's really bad here, it's frightening and sobering," the Stevens Institute of Technology student told Newsweek. "It was time to turn on all the machines and see what I could do. It turns out I could do a lot more than I thought I could."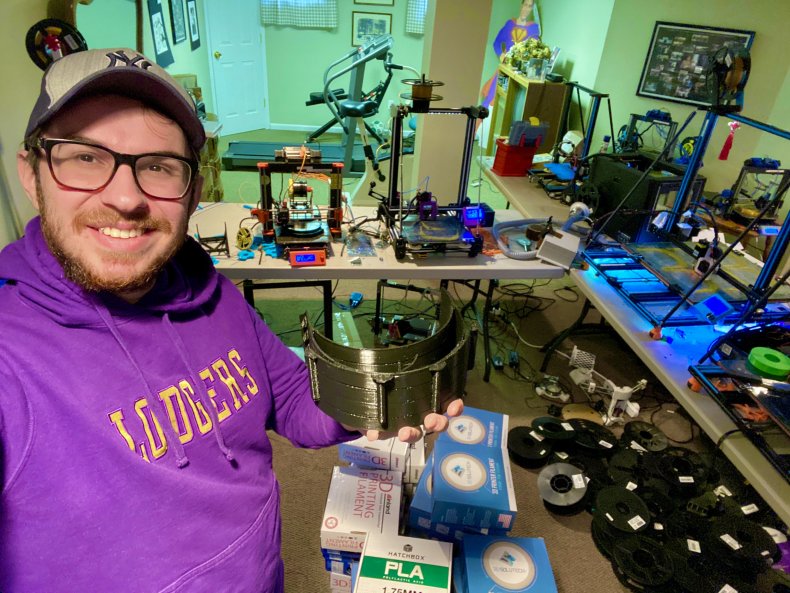 In the last three weeks, Dell Antonia has produced more than 1,600 pieces of personal protective equipment (PPE) to medical professionals battling the virus on the frontline. With gear such as masks, gloves and gowns in short supply, health care workers are turning to whomever they can to acquire the potentially life-saving equipment.
Dell Antonia's college is located just across the Hudson River from New York, the epicenter of the virus in the United States. As of Monday, more than 9,300 people in New York and more than 2,300 in New Jersey had died from the illness.
"I'm doing this because this needs to be done—bottom line," Dell Antonia said. "The strain is significant. If there's some way I can fix this in the slightest, this is what I'm gonna do."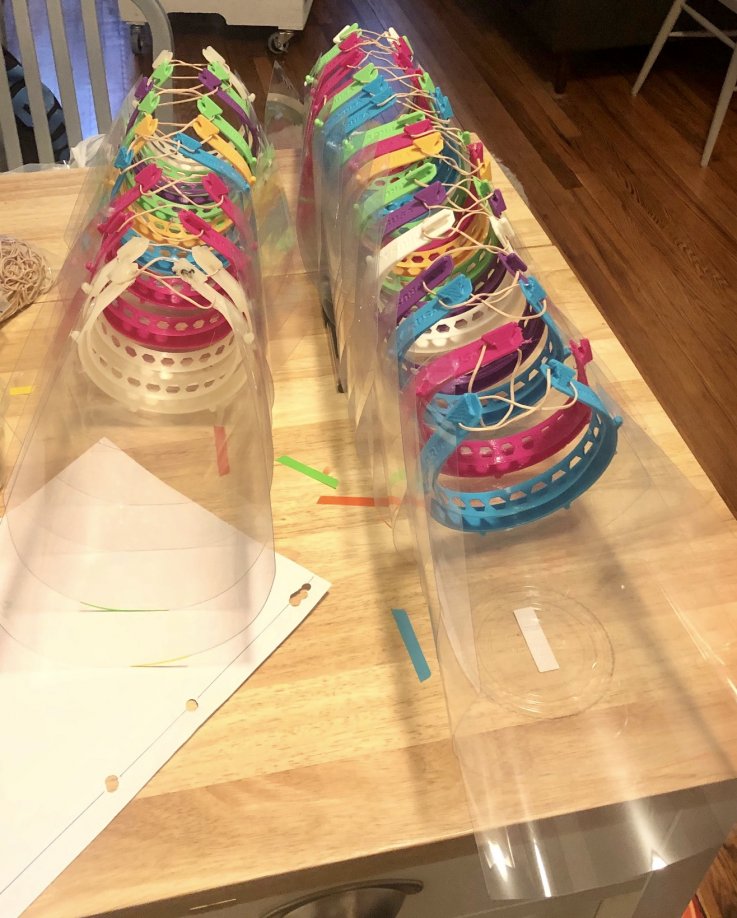 More than 1,600 face shields, pictured above, have been created and distributed by Dominic Dell Antonia in the last three weeks to medical facilities and nursing homes in New Jersey and New York.
Courtesy of Dominic Dell Antonia
The PPE shortage has forced some facilities to get resourceful. Employees at Victoria Mews Assisted Living in northern New Jersey were at one point resorting to ski goggles as they struggled to acquire protective gear for their faces. That's when Dell Antonia stepped in to provide about 20 3D-printed face shields last week, which the nursing home graciously accepted with open arms.
"We were in desperate need and at that point, we couldn't find any shields," Victoria Mews Executive Director Anne Ortega told Newsweek. "Not being able to get what we needed quickly, we had to rely on the support and help from our families and people we knew in the community."
Ortega said she discovered Dell Antonia's operation by word of mouth. Since getting the shields last week, she said it's becoming easier to order the PPE they require and local emergency funding has assisted. Much like nearly every facility in the state, Victoria Mews has confirmed COVID-19 cases.
"We do what we gotta do to survive. We're optimistic that we'll get through this. Things are looking up at this point," Ortega said. "People have been incredible."
Dell Antonia first discovered the health community's dire need for PPE on local social media pages. Since launching his endeavor March 21, the number of requests for shields has "exploded," he said. On a good day, Dell Antonia produces 110 3D-printed headbands required for the face shields and 80 on a bad day.
His efforts are similar to other 3D-printer owners and companies across the country, who've used their devices to make everything from 3D-printed respirator masks to components for ventilators to testing kit swabs.
What was once a side business repairing and selling the machines has turned into an expensive hobby, especially for a full-time student preparing for graduate school. Each finished product costs Dell Antonia anywhere from 90 cents to $1.20, depending on the filament used to create the headband and the cost of plastic shields, which he purchases online. At the rate he's producing the shields, the costs to operate adds up fast. But thanks to online donors, he's managed to raise close to $6,000 to fund his initiative.
It's also time-consuming, despite the machines doing the brunt of the work. Dell Antonia checks on them constantly, having to reset them throughout the day as the eleven printers churn out headband after headband. Late into the night, often until 1 a.m. or later, he's resetting the machines so that by the time he checks on them around 9 a.m., Dell Antonia is ready to "do it all over again."
"I'm tired as hell. I can't wait for this to be over," he said. "But I'm gonna be part of the solution until it is."
This story is part of a new series by Newsweek, Heroes of the Pandemic. Know a hero you want to nominate to be featured in our series? Drop us a line at heroes@newsweek.com.