New Jersey Passes Freedom of Reproductive Choice Act as Future of Abortion Remains Uncertain
A bill affirming abortion rights has passed in New Jersey while a looming U.S. Supreme Court decision means that the future of choice remains uncertain nationwide.
The Freedom of Reproductive Choice Act passed by a vote of 46 to 22 in the New Jersey General Assembly on Monday, hours after passing in the state Senate by a vote of 23 to 15. The bill will be sent to the desk of New Jersey Governor Phil Murphy, who signaled that he would promptly sign it into law.
"A bill to codify a woman's right to choose into state law and expand access to reproductive health care for all just passed both houses of the Legislature," Murphy, a Democrat, said in a statement posted to Twitter. "I will sign this bill into law this week. With Roe v. Wade under attack, the need for this bill is more urgent than ever."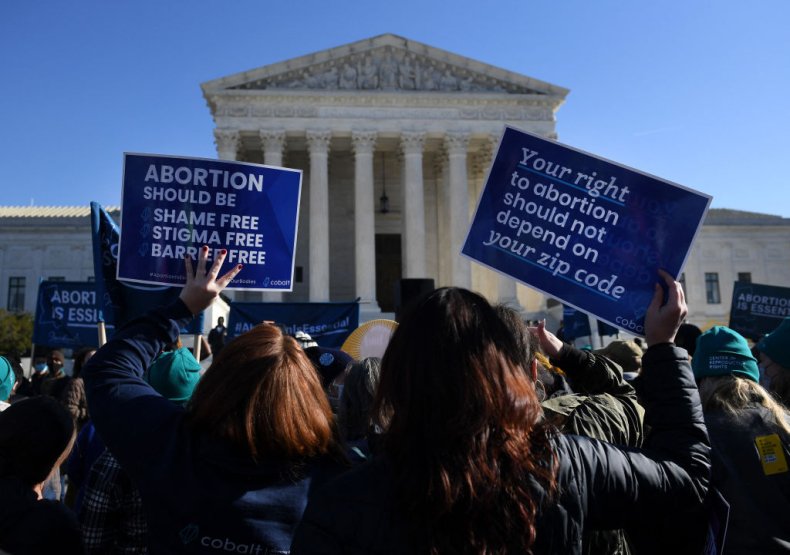 The bill guarantees "the fundamental right of reproductive autonomy" and allows "qualified health care professionals," including some non-physicians, to perform abortions. It was introduced last week as a scaled-back version of a previous bill known as the Reproductive Freedom Act.
Some abortion-rights advocates have criticized the bill for not going far enough. The original proposal, which lost some support from Democrats after the party's power diminished in last year's elections, included a provision that required insurance providers pay for abortions with no out-of-pocket costs.
The new bill allows New Jersey's Department of Banking and Insurance to optionally conduct a study on the need for insurance coverage. While such a study could lead to regulations being added to require insurance coverage later, religious exemptions could also be requested by employers who want to deny coverage.
"At a time when reproductive freedom is on the line, we need to guarantee that abortion is not just legal, but accessible," Sarah Fajardo, policy director of the American Civil Liberties Union of New Jersey, said in a statement. "We must go beyond the status quo and guarantee that abortion is affordable for all New Jerseyans, regardless of insurance access, immigration status, or income."
While calling on the state to pass additional legislation protecting abortion rights, the New Jersey chapter of the National Organization for Women (NOW) hailed the bill as a "strong declaration of the full range of reproductive rights."
"This is a great first step and we should celebrate the passage of this legislation," NOW-NJ President Anjali Mehrotra said in a statement. "But New Jersey can and must do more to improve access to reproductive health care and remove stigma."
"We need to pass more protections for New Jersey's vulnerable and marginalized populations, such as removing cost barriers for abortion, ensuring medical abortion remains accessible, and allowing access to hormonal contraception without a prescription from a doctor," Mehrotra added.
Abortion rights advocates and opponents have been pushing for state legislation in anticipation of the possibility that the Supreme Court could eliminate or severely limit national protections by overturning Roe v. Wade later this year.
Legal access to the procedure could vary significantly across the country if the decision is overturned. Although New Jersey and some other blue states have taken steps to protect access, at least 20 other mostly southern and midwestern states are poised to limit or ban abortion.