New Jobless Claims Jump to 1.4 Million as Congress Debates Stimulus Checks
New first-time unemployment claims jumped to 1.4 million, the highest-level since mid-September, as lawmakers in Washington, D.C. continue to debate how much federal unemployment to provide jobless workers—as well as whether or not Congress should provide Americans with another round of stimulus checks.
Lawmakers have been at an impasse since summer over a new round of financial stimulus as the economic fallout of the COVID-19 pandemic persists. Although the stock market has rebounded, millions of Americans remain unemployed and new jobless claims have ticked upward in recent weeks—even as additional federal benefits are set to expire this month.
The Labor Department's latest report released Thursday showed that a total of 1.4 million Americans filed unemployment claims for the first time last week. This was an increase from the previous week, and the third uptick in the past four weeks.
"These new claims come on top of the 18.9 million Americans filing ongoing claims for benefits. Among this group, 13.1 million are on two federal CARES Act programs—PEUC (4.5 million) and PUA (8.6 million)—that both expire on December 26," Andrew Stettner, a senior fellow at The Century Foundation and a leading expert on unemployment insurance, said in an email to Newsweek.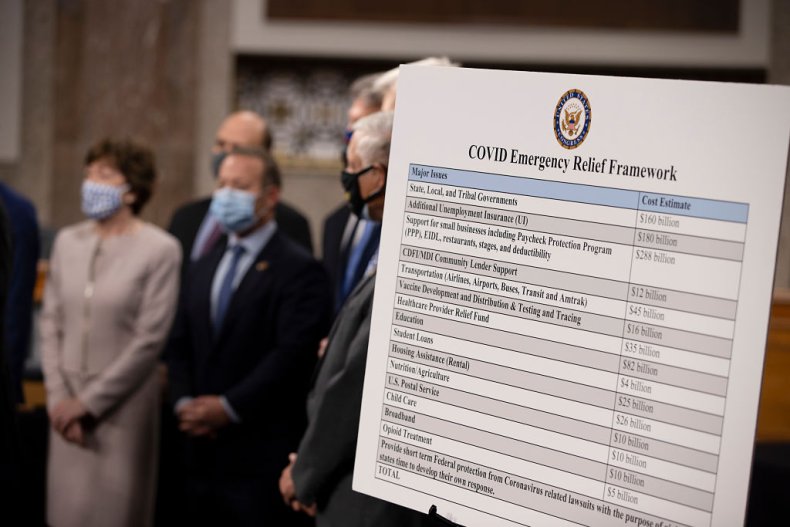 Lawmakers remain at odds over the shape of a new stimulus package. In March, Congress came together in a bipartisan way to pass the $2.2 trillion CARES Act. That legislation provided an additional $600 per week in federal unemployment insurance to jobless workers, as well as one-time $1,200 direct payments to most Americans. It additionally provided forgivable loans to businesses to keep employees on payroll despite lockdowns and economic hardship through the Paycheck Protection Program.
The additional $600 payments to jobless workers expired at the end of July. And most Americans have long ago used up their $1,200 stimulus checks. But even as the economic fallout hits millions of Americans, with a growing number of them facing hunger and evictions, Congress has failed to act.
"The failure of elected officials to agree to another round of economic relief legislation amounts to a kick in the teeth to millions of unemployed and struggling businesses," Mark Hamrick, senior economic analyst for Bankrate, said in an email to Newsweek.
A group of Republican and Democratic senators and representatives have converged around a new $908 billion stimulus proposal. While the bill would provide an additional $300 in weekly unemployment payments, it does not include $1,200 stimulus checks. Some progressives and conservatives have voiced their opposition to any bill that does not include additional direct payments.
Senator Josh Hawley, a Missouri Republican, has lobbied President Donald Trump directly to back an additional round of stimulus checks.
"I said, 'I think it's vital that any relief include direct payments, and I'm not gonna vote for it if it doesn't.' And I also urged him to veto any bill that did not have direct payments in it," Hawley told Politico on Monday.
Senator Bernie Sanders, a Vermont independent, has also repeatedly advocated for including additional checks alongside fellow progressives.
"With so many people facing economic desperation, Congress cannot recess until we pass a COVID-19 relief bill that includes at least $1,200 in direct payments for adults, $500 for kids, expanded unemployment benefits and emergency aid for states and cities to prevent mass layoffs," Sanders tweeted on Wednesday.
The White House put forward a proposal this week that would provide $600 stimulus checks, while reducing the overall amount of money set aside for unemployment insurance. Speaker of the House Nancy Pelosi, a California Democrat, described the Trump administration's proposal as "unacceptable."
Updated 10:01 AM ET, with additional information.