New 'Medical Freedom' Law Bans Requiring COVID Vaccination to Access Public Spaces
New Hampshire Governor Chris Sununu signed into law a "medical freedom" bill that bans requiring state residents to have taken a COVID-19 vaccine to access public facilities or services.
The law states that "every person has the natural, essential, and inherent right to bodily integrity, free from any threat or compulsion by government to accept an immunization."
It continues: "Accordingly, no person may be compelled to receive an immunization for COVID-19 in order to secure, receive, or access any public facility, any public benefit, or any public service from the state of New Hampshire, or any political subdivision thereof, including but not limited to counties, cities, towns, precincts, water districts, school districts, school administrative units, or quasi-public entities."
Some exceptions are laid out in the law, however.
It does not supersede the requirement for vaccination to attend schools and childcare agencies, or the emergency admission process into the state's mental health system. It also does not apply to county nursing homes, and the state's department of corrections "may mandate medical treatment or immunization for inmates when a direct threat exists," according to the text of the bill.
The bill, signed into law late last week, does not say anything about private businesses.
Newsweek reached out to the office of Governor Sununu, a Republican, for comment but had not heard back by Monday evening.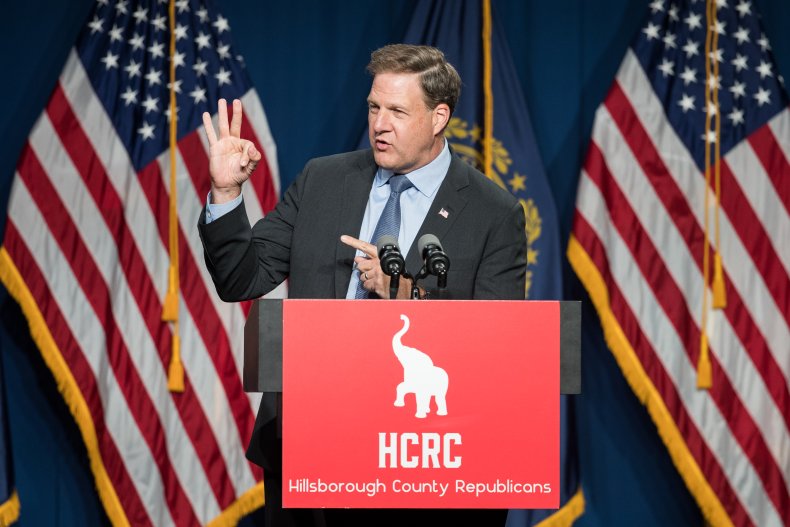 Republican state lawmaker Timothy Lang, one of the bill's sponsors, celebrated it becoming law, writing on Facebook: "This new law says that the State cannot mandate vaccinations, nor can State Government set rules to participate in society based on an individual NH Citizens private medical status."
Nearly 75 percent of adults in New Hampshire have received at least one dose of COVID-19 vaccine, according to data from The New York Times.
Cases remain low in the Granite State, even as they surge across the country. On Sunday, the state reported 20 new cases, compared to 18 on June 25, according to data from Johns Hopkins University. Cases in New Hampshire peaked at 870 on December 6.
Sununu has been a proponent of the COVID-19 vaccine. He again urged residents to get vaccinated during a briefing on the virus last week, according to local WMUR-TV.
"It's very real, and it's not going away anytime soon," he said. "We have the power. All of us have that individual power to really beat this virus back, and you do that with the vaccination. It's safe."
He said he expects any surge would mostly impact unvaccinated people.
"The surge that we talk about that is likely to come in the fall, the vast majority is, my guess is 99 percent of that is going to be of the remaining unvaccinated population," he said.