New Mexico Solar Observatory to Reopen after Mysterious Closure, But With Extra Security
The Sunspot Solar Observatory in New Mexico is set to resume operations Monday, nearly two weeks after the facility was evacuated over an unexplained security issue.
The Association of Universities for Research in Astronomy (AURA) and the National Science Foundation (NSF) made the decision on September 6 to vacate the 170-strong workforce from the research institute, a move that led to intense speculation—and conspiracy theories.
In a statement Sunday, officials said residents forced from their homes close to the site could now return and all employees will now come back to work. The center was shut due to concerns a suspect in a police probe "posed a threat to the safety" of those on Sacramento Peak, where the observatory is located.
"The decision to vacate was based on the logistical challenges associated with protecting personnel at such a remote location, and the need for expeditious response to the potential threat," an AURA statement said. "AURA determined that moving the small number of on-site staff and residents off the mountain was the most prudent and effective action to ensure their safety."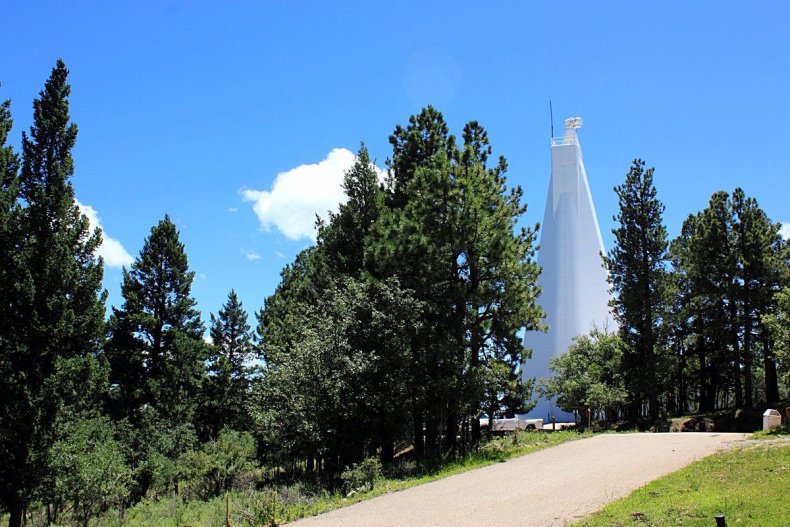 It has now been determined there is no risk to staff, officials said. As a precautionary measure amid the heightened attention, the researchers will have extra security teams on-site.
"Given the amount of publicity the temporary closure has generated, and the…expectation of an unusual number of visitors to the site, we are temporarily engaging a security service while the facility returns to a normal working environment," AURA confirmed.
It remains unclear what the initial security issue involved. It was described in the statement as "criminal activity."
Funded by the NSF, the observatory operates a series of powerful telescopes with the aim of "unlocking the mysteries of the sun and its effects on the Earth." The closure gained widespread attention because of officials' lack of transparency at the time.
AURA conceded on Sunday that this was "frustrating" but said the lack of communication was necessary for security reasons. "Our desire to provide additional information had to be balanced against the risk that, if spread at the time, the news would alert the suspect and impede the law enforcement investigation," the release noted. "That was a risk we could not take."
The FBI was on the scene at the time of the evacuation, eyewitnesses said.
Local sheriff Benny House told Newsweek that his department was also in the dark about the incident. "Basically, they told us there's a threat just by their actions, but they refuse to tell us what to look for," he said. "That's not fair to us."
Experts were quick to shut down suggestions from conspiracy theorists and tabloid media that aliens had been involved in the sudden closure.