New Migrant Caravan of 2K Moves North as Efforts to Contain in Southern Mexico Fail
A migrant caravan of roughly 2,000 people from Central America and the Caribbean left the Mexican city of Tapachula near the border of Guatemala on Sunday, Reuters reported, following a string of groups that have left the city as of late.
On Monday morning, the caravan had reached the town of Huehuetan, 15 miles north of Tapachula, according to Reuters. Most of the people in the group are reported to be fleeing "violence, poverty and growing hunger crises" in their home nations. Some said they could no longer face the "prison-like" conditions in Tapachula.
"In Tapachula, there's no life for migrants. We don't have work, we don't have money to pay for housing," Atis, a migrant from Haiti, told Reuters while waiting in an hours-long line at a Mexican immigration processing center. "We're waiting here at immigration, but if there's no other option, then we'll leave here on foot, in another caravan."
Over the past few months, migrants have departed Tapachula by the thousands.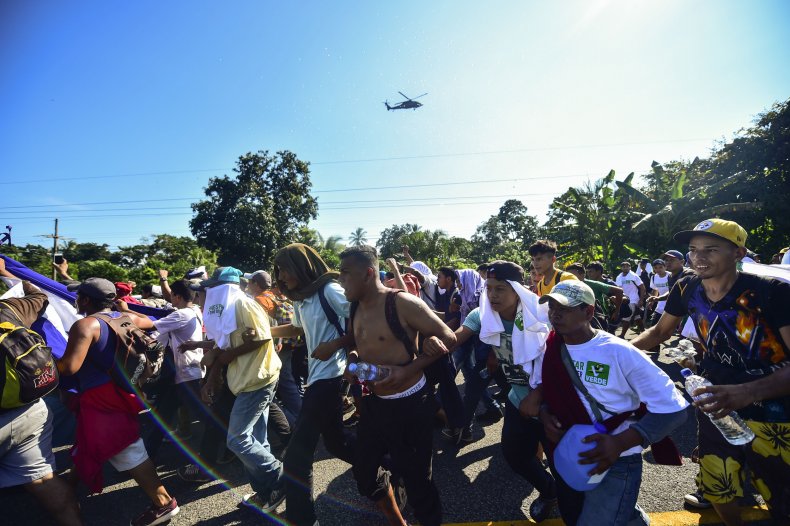 Two weeks ago, a caravan of 3,000 left Tapachula with intentions of heading north to meet with another caravan of 1,400 that left the city in October. The leaders of these caravans said they intended to reach the U.S.-Mexico border.
These groups left Tapachula after they spent time waiting in the city to receive permits to move through Mexico and eventually became fed up with the slow speed of processing. Caravan organizer Irineo Mujica, who led the October group, called the city an "open-air prison," and said waiting for the immigration processing system to play out left too many unknowns.
While he expressed discontentment over the Mexican government's perceived lack of progress in processing paperwork, Mujica also criticized the U.S. at the time for its handling of immigration.
"They're just in denial of their own fault. They haven't been able to handle immigration," he told reporters in October. "If I tell you the truth, I believe at least with Donald Trump we knew what we had. With Biden, we don't know. He doesn't seem to have a clue what to do with immigration because he says one thing and does another."
Since President Joe Biden took office, U.S. Customs and Border Protection has reported more than 1.6 million encounters at the southern border. A recent report by the Migration Policy Institute and two other human rights organizations attributed the flow to economic insecurity brought on by the pandemic. However, climate change and violence were also cited as concerns.