Caravan of Thousands of Migrants Breaks Past Mexican National Guard During Journey North
A caravan of 3,000 to 4,000 migrants from Haiti, Central and South America left Tapachula, Mexico, on Saturday morning for Mexico City, with some of them planning to continue on toward the U.S.-Mexican border, according to the website Border Report.
During this trek, the caravan ran up against a roadblock of Mexican National Guard officials brandishing riot shields. Videos shared on social media show caravan members running toward the guard and easily breaking through the barrier.
Migrants chanted "Libertad! Libertad! [Freedom! Freedom!]" as they made their way through. Members of the caravan then slowed their run to a walk, continuing their journey north as National Guard stood by watching, declining to pursue them.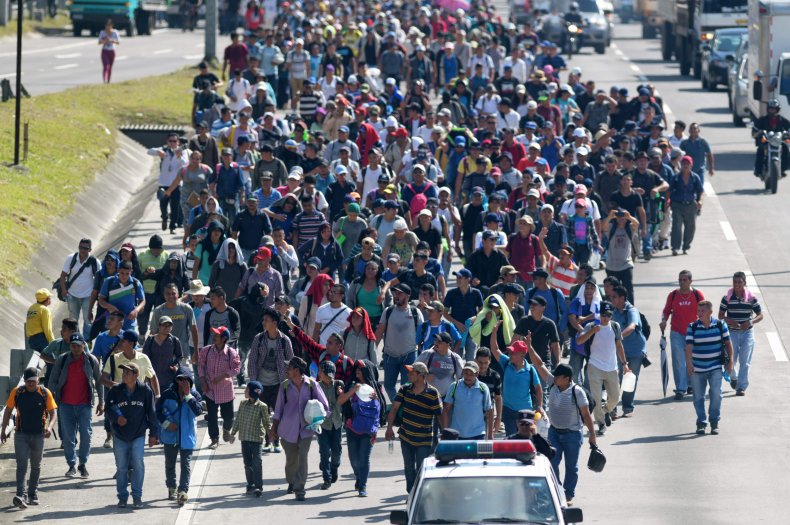 Newsweek reported last week that this caravan had planned to move on Saturday after migrants found themselves waiting in Tapachula to receive permits that would allow them to travel beyond the city.
Caravan organizer Irineo Mujica compared the restrictions confining the migrants to Tapachula to being detained in an "open-air prison." Mujica criticized this and other unknowns that surround the international migration system. In particular, he condemned the United States for its role in handling migration at its Southern border.
"They're just in denial of their own fault. They haven't been able to handle immigration," he said. "If I tell you the truth, I believe at least with Donald Trump we knew what we had. With Biden, we don't know. He doesn't seem to have a clue what to do with immigration because he says one thing and does another."
Approximately, 1.7 million people were encountered at the Southwest border over the course of the 2021 financial year. September data reported over 192,000 people were encountered by U.S. Customs and Border Patrol. August numbers indicated nearly 209,000 people rant into CBP. July data reported almost 214,000 encounters, with the prior numbers having risen each month going back to April 2020.
While Biden has raised the country's refugee cap, his administration has moved to reinstate the Trump-era "remain in Mexico" policy, known formally as Migrant Protection Protocols, that forces asylum-seekers to wait in Mexico as the U.S. processes their asylum claims. The move received heavy criticism from activists who say migrants can become victims of crime as they await processing, often without formal housing, at the border.
"More than a dream, America is a need," Yadira, a migrant from Honduras awaiting processing at the Tijuana–San Diego border, told Newsweek in April. "We need protection. I need a better life for my family."