Fury As Older Woman Reads Fiancé's Text on Trading Her for 'Younger Model'
A woman whose partner allegedly said he's "moving onto a younger model" in five years' time has received backlash on Mumsnet, the U.K.-based online forum.
In a post shared by under the username whenlifehandsyoulemon, the 40-year-old woman, who shares an 18-month-old son with her 32-year-old fiancé, said that since giving birth, "I've not been able to obviously do as much taking care of myself as I used to" and "my body has changed post birth, breast feeding etc. so I already feel crap in myself."
The user had "a bit of a disagreement" with her partner before she later looked through messages on his phone and discovered he had been "messaging a friend of his about a night out."
The friend allegedly said "oh it's grab a granny after, you'll like that," to which her partner allegedly replied: "I've got a 5 year plan and then I'm moving onto a younger model."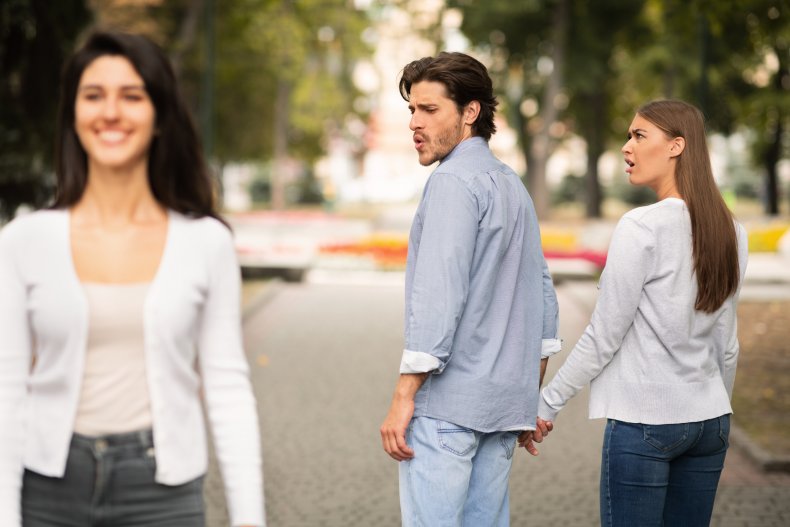 The woman said: "I feel sick. I wish I'd never seen it as I already feel so unattractive."
A woman's dissatisfaction with her body after giving birth has been linked with their spouse's view of their body.
A January 2021 study of 300 Iranian women with a mean age of around 30, published in the peer-reviewed journal BMC Pregnancy and Childbirth, found that body dissatisfaction had a "statistically significant association" with several variables, including the "spouse's views on the shape of a woman's body," as well as body mass index (BMI) at six months postpartum and "the receipt of information about body shape."
The study said: "Women whose spouses were very satisfied with their body shape expressed higher body satisfaction" and that "in the postpartum period, spouses play a major role in supporting women by providing positive feedback on the physical changes of the woman's body."
The study also reported a "clear link between body shape dissatisfaction and intimate relationships," adding that "postpartum intimacy for a woman might be related to her husband's satisfaction with the shape of her body."
The user in the latest Mumsnet post, said she has been with her partner for seven years and she'd "always been in shape" and looked after herself physically, "whereas he has been less worried about that, but I've never been bothered as I love him."
However, since she's had their baby, the user feels "he thinks he can get away with saying things about my age etc. even if it's a joke, it still upsets me."
She said: "I genuinely feel like it's the truth, I feel that insecure. He also hates living where we live and I know he wants to move where all his friends are, but logistically with a child it's just not viable atm [at the moment], so I think the 5 year plan is the truth."
Several Mumsnet users shared messages of support for the original poster, criticizing her partner for his "unacceptable" and "disrespectful" comments.
Some gave him the benefit of the doubt but advised the user should also hatch her own "escape plan."
User Gonewiththewindbeforelong said: "That's totally s*** and unacceptable…I'd be very hurt by this, even if it was a stupid, flippant comment."
ShreddedMarmalade agreed, stating: "What a truly disrespectful thing to say. Maybe he was trying to engage in laddish humour with his immature mate but that's no excuse. Personally, I couldn't move past this and would not want to be with someone so misogynistic and immature…You deserve better."
They said perhaps the partner's comments came "from a place of insecurity…but it's still appalling and sounds (from his friend's message) like this is not a one off. If it was me, I would have to confront him about it…I certainly would be looking at going back to work asap and forming an escape plan."
Error012345 advised: "I'd get yourself a plan...one that doesn't involve him. If he wants to go, show him the door!"
User pictish agreed the woman should confront her partner, stating: "I'd be tempted to pack him a bag with the essentials, then tell him there's no need to wait five years, he can leave now. Watch his face as it registers...You can't rely on him after this."
Dotcheck also suggested speaking to the partner directly, as "clearly the relationship has hit an unhealthy low for both of you. I would not be able to get past it, and you looking at his phone does not erase what he said. It isn't a 'both as bad as each other' situation."
Newsweek was not able to verify the details of this case.
Have you noticed any red flags that made you end a relationship? Let us know via life@newsweek.com. We can ask experts for advice, and your story could be featured on Newsweek.