Netflix has unveiled a new teaser video for All of Us Are Dead, a new "spine-chilling" K-drama zombie thriller set in a high school where apocalyptic chaos ensues following the outbreak of a mysterious virus.
Coming fresh off the heels of a record-breaking year in 2021 for Netflix K-dramas (led by the runaway hit Squid Game, Hellbound and The Silent Sea), the pressure is on for the first new Korean series to be released by the streamer in 2022.
Based on the webtoon of the same name by Joo Dong-geun, the original Netflix series also features Squid Game actor Lee You-mi (who played Ji-yeong, player no. 240, paired with player no. 067 in the Marbles game round).
All of Us Are Dead Release Date
All of Us Are Dead will be released on Netflix on January 28, 2022.
All of Us Are Dead Plot
Featuring a sea of blood-thirsty students-turned-zombies thrashing about on top of each other in blood-drenched uniforms and the disturbing sounds of dissonant music and a phone line gone dead, the latest teaser captures the "spine-chilling suspense" and horrific mayhem to unfold in the series.
Trapped inside Hyosan High School, with no food, cell phone service or adults and no rescue in sight, one student says: "We're the only ones who can save us."
The students join forces to keep each other alive and take on the growing horde of zombies, an army of which is later seen with blood-filled mouths wide open, charging towards a wall of police force members in full protective gear.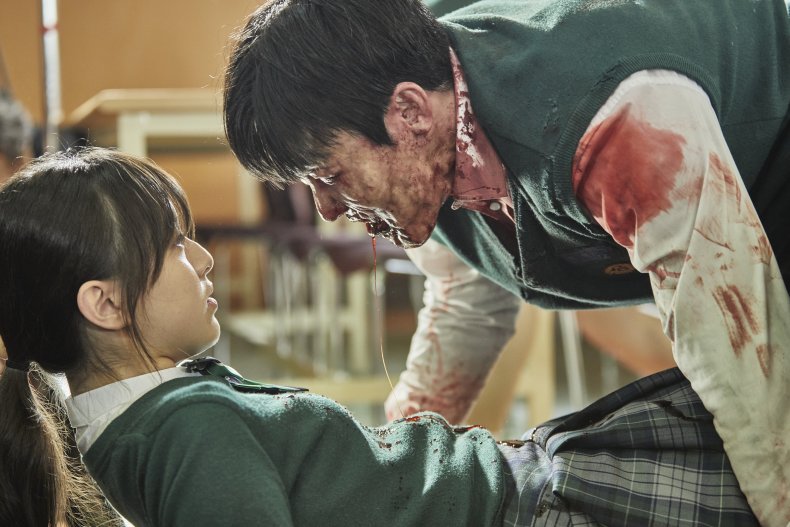 All of Us Are Dead Cast Members
The series features a host of new young actors, who Lee J.Q. (a co-director of the series) had cast with a hope to help create a more realistic picture of the show's dramatic storyline and shocking setting, according to HuffPost Korea.
Below are some of the main cast members in All of Us Are Dead.
Lee You-mi: The Squid Game actress is featured as a student, reported South Korea's Koreaes.com, and appears in the first episode, according to IMDb.
Park Ji-hu: The Korean actress plays student On-jo, who makes use of the survival skills she's learned from her firefighter father. Park is known for her 2019 debut in House of Hummingbird, which won her the award for Best Actress in an International Narrative Feature Film at the 18th Tribeca Film Festival in New York City.
Yoon Chan-young: The Korean actor plays student Cheong-san, a quick thinking, composed character "who makes clever decisions," as per Netflix.
Cho Yi-hyun: The Korean actress plays Nam-ra, the "cold-headed" student class president dubbed the "smartest kid in school," according to the streamer.
Park Solomon: The Korean actor plays Su-hyeok, a "reliable supporter who puts himself on the line in dangerous situations," Netflix says.