New Orleans, Gulf Coast Bracing for Tropical Storm Ida to Become Hurricane
Hurricane watches have been issued by the National Hurricane Center (NHC) for several Gulf Coast states this weekend, as Tropical Storm Ida is expected to strengthen as it makes its way to the U.S.
In an advisory at 11:00 p.m. ET on Thursday, the NHC announced that hurricane watches had been issued for parts of several states, including New Orleans in Louisiana and the border between Mississippi and Alabama.
According to the NHC, a hurricane watch is issued when hurricane conditions are possible within 48 hours of the announcement being made, i.e. wind speeds of more than 74mph.
A tropical storm watch has also been issued for parts of Alabama and Florida, which is announced when tropical storm conditions are possible somewhere in the predicted area within 36 hours.
In the update on Thursday evening, the NHC confirmed that Tropical Storm Ida was located 65 miles west of the Grand Cayman Island in the Caribbean Sea, with wind speeds of up to 40mph, but said that it is expected to experience "rapid intensification," before it reaches the U.S. coast on Sunday.
The NHC said that by the time the storm makes landfall in Louisiana and Mississippi on Sunday morning, it is likely to be "at or near major hurricane intensity," which is defined by the agency as any Category 3 Hurricane recording wind speeds between 111 and 129 mph that are expected to cause "devastating damage."
The storm is expected to bring rainfall of between 8 and 12 inches to parts of the Gulf Coast from Sunday to Monday, after dropping between 6 to 10 in Jamaica and 8 to 12 in the Cayman Islands and Western Cuba on Friday and Saturday.
The National Weather Service (NWS) in New Orleans warned that "dangerous impacts will be possible" from Ida, as it urged residents in the Gulf Coast region to have a "hurricane plan ready."
In response to the advisories from the NHC and NWS, Louisiana Governor John Bel Edwards declared a state of emergency in the state, which authorizes "the use of state resources to aid in storm response efforts."
"Unfortunately, all of Louisiana's coastline is currently in the forecast cone for Tropical Storm Ida, which is strengthening and could come ashore in Louisiana as a major hurricane as Gulf conditions are conducive for rapid intensification," the governor said in a statement.
"Now is the time for people to finalize their emergency game plan, which should take into account the ongoing COVID-19 pandemic."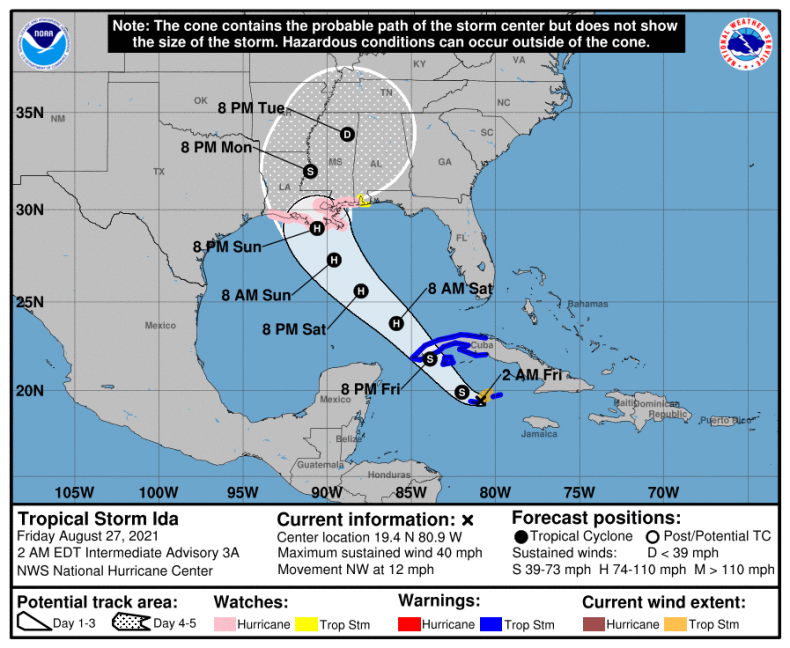 Ida is predicted to hit the U.S. Gulf Coast just a week after Hurricane Grace made landfall in Mexico as a Category 3 hurricane, killing at least eight people as it caused devastation across the country's Yucatán Peninsula.
The storm is also expected to hit Louisiana 16 years to the day since Hurricane Katrina made landfall in the state as a Category 3 hurricane, bringing devastation to the region and taking the lives of close to 2,000 people.
Katrina caused around an estimated $161 billion worth of damage, while the storm left about 80 percent of New Orleans underwater, with the NHC confirming that it was the costliest and one of the five deadliest hurricanes to ever strike the U.S.
Earlier in August, Storm Fred caused issues across eastern states in the U.S. after dumping heavy rainfall in Florida and neighboring areas. It made landfall as a tropical storm before being downgraded to a tropical depression.
The storm hit the Florida panhandle with wind speeds recorded of up to 65 mph, just short of the 74mph needed to be classified as a hurricane, bringing flooding to several parts of Florida, as AccuWeather reported that several people had to be rescued from flooded homes in the state as power lines fell.
Tropical Storm Henri also made landfall in eastern states earlier in August, bringing heavy rainfall, damaging winds and dangerous storm surges, but the region avoided major damage from the severe weather.