Omicron Variant Has Democrats Really Alarmed, Republicans Not So Much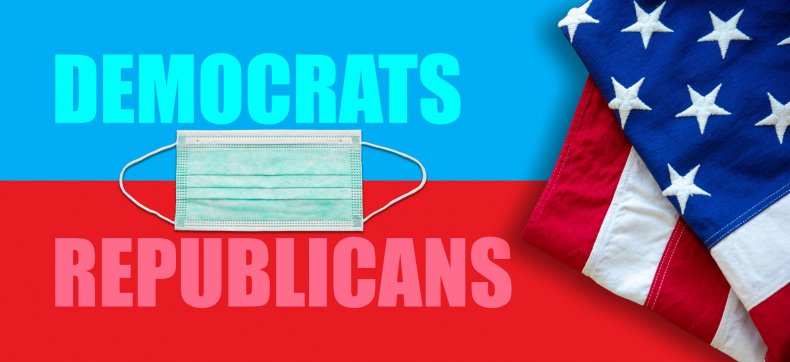 Political party identification plays a large role in predicting concern about the new Omicron variant of COVID-19, according to the results of a new poll.
A poll released on Tuesday by YouGov found that Democrats were much more likely to be concerned about the new variant than Republicans. Although 80 percent of Democrats said they were "somewhat concerned" or "very concerned" about Omicron, only 35 percent of Republicans agreed.
A 59 percent majority of Republicans said that they were "not very concerned" about the variant or "not concerned at all," far more than the 14 percent of Democrats who said the same. A Democratic majority of 56 percent said that Omicron "poses a serious risk to all Americans," a statement of which only 24 percent of Republicans agreed.
Awareness of the variant did not seem to differ significantly by political party, with similar numbers of Republicans, Democrats and independents all saying they had "a little" or "a lot" about Omicron. Only 8 percent of Democrats, 11 percent of Republicans and 12 percent of independents said that they "haven't heard anything" about the variant.
The questions about levels of concern and awareness of Omicron were conducted during a survey on Monday and Tuesday among 9,938 U.S. adults. The question about whether the variant poses a "serious risk" was part of a separate survey conducted on Tuesday among 2,477 U.S. adults. No margin of error was listed for either survey.
Medical experts have warned that Omicron could spell a difficult new phase of the pandemic because the variant includes multiple mutations that could make it more transmissible and resistant to vaccines and natural immunity. Vaccine makers are currently testing resistance, with results expected in mid-December.
Democratic leaders like President Joe Biden have sounded alarm bells over the variant. Biden warned that the variant would be detected in the U.S. "sooner or later" on Monday, urging Americans to "wear your mask when you're indoors, in public settings around other people." Democratic New York Governor Kathy Hochul declared a state of emergency last week in anticipation of Omicron's arrival.
In contrast, GOP lawmakers have seemed significantly less eager to express concerns about the new variant. Some, like Representative Ronny Jackson (R-Texas), quickly began to push evidence-free theories suggesting that Omicron could be part of a Democratic conspiracy.
Jackson, ex-physician to former presidents Barack Obama and Donald Trump, called Omicron "the Midterm Election Variant" in a tweet on Saturday. The Texas Republican baselessly suggested that the variant, which was first detected in South Africa, was part of a Democratic plot "to CHEAT during an election."
Senator Ted Cruz (R-Texas) backed up Jackson's highly implausible narrative in a tweet on Tuesday, insisting that the doctor-turned-GOP-politician had made an "accurate diagnosis."
Newsweek reached out to the Republican National Committee and the Democratic National Committee for comment.