New home sales tumbled 12.6 percent in July, reporting a new record low after reaching their lowest level since April 2020 last month, according to data released on Tuesday by the Census Bureau.
The numbers reveal that the housing market is "in a sorry state," a Pantheon Macroeconomics expert told Newsweek.
The economic research consultancy led by economist and founder Ian Shepherdson conducted its own analysis of the housing market and forecasted new home sales to drop from 590,000 to 550,000 units in July. The data now shared by the Census Bureau paints an even grimmer picture.
Sales of new single-family houses in July were at a seasonally adjusted annual rate of 511,000 units, 12.6 percentage points below June's estimate of 585,000. On a year-to-year basis, sales dropped 29.6 percent last month.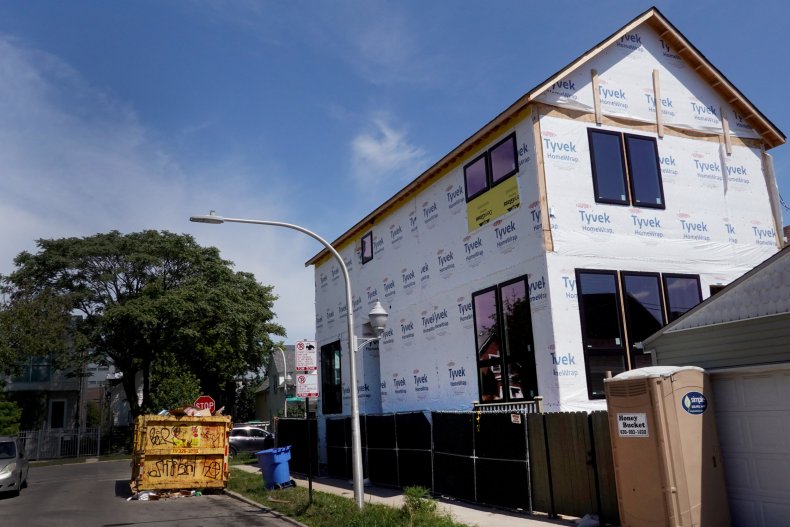 The median sale price was $439,400, higher than June's $402,400 but lower than May's $449,000. The average sales price was $546,800, higher than both June's $456,800 and May's $511,400.
Why Are New Home Sales Plunging?
New home sales aren't falling due to a lack of potential buyers. In fact, there are plenty of people in the U.S. who would be willing to buy a home. But amid record home prices —which in May were up 34 percent compared to the previous two years ago—soaring mortgage rate and high inflation, many can't afford to enter the market.
"The pullback in new home sales activity has been significant over a relatively short time frame," Alan Ratner, Senior Homebuilding Analyst at Zelman & Associates, told Newsweek.
"In a matter of eight months, the annualized pace of new home sales activity has plummeted nearly 40 percent, while current activity is down more than 50 percent from the cycle peak set in August 2020," he added.
David Auerbach, Managing Director at real estate investing company Armada ETF Advisors told Newsweek that "interest rates have almost doubled since the beginning of this year."
"With mortgage rates going from 3 percent to just under 6 percent, homebuyers have seen the cost of that mortgage and initial down payment rise drastically," he said.
Auerbach added that, compared to previous negative housing cycles experienced by the U.S. market, this time the country is experiencing high employment rates, so demand for housing isn't dropping. "Job formation leads to household formation and thus there is an abundance of demand for properties out there," he explained.
However, "affordable product doesn't exist for all homeowners across the country. As interest rates continue to rise, with Federal Reserve officials discussing another 75 bps interest rate hike on the table for the September meeting, the cost of that mortgage is about to get more expensive," Auerbach said.
"It is clear that the increase in mortgage rates combined with consecutive years of double-digit home price appreciation has significantly reduced the demand for new homes as potential homebuyers either struggle with affordability constraints or are worried about buying at the top of the market," Ratner said.
The stable demand for homes, which has fed the pandemic-era housing boom, is keeping home prices high even as sales have started dwindling, Armada's portfolio manager Al Otero noted.
"Home prices remain near a record high, even with sales cooling and inventories coming off their lows," Otero told Newsweek. "With some of the froth coming out of the sales market, this could be a 'healthy pause,' with no indication that we are setting up for a nationwide free fall in home prices. Some would argue falling home sales suggest demand for housing is waning, but possible that it is simply an affordability issue."
What Does This Mean for the Housing Market?
Many experts expect a "price correction" to take place in the real estate market as sales for both new and existing homes have waned in recent months, while a market crash is considered a less likely possibility.
This prospect, which is likely to offer some relief to many potential home-buyers, is bad news for homebuilders, who have recently increased the number of houses under construction after a lack of supply caused home prices to skyrocket over the past two years.
"At the same time sales activity is plunging, the supply of completed speculative inventory and spec homes under construction continues to climb, setting the stage for a meaningful increase in incentives across the new home market in the months ahead," Ratner said.
"For now, the supply of standing, completed inventory remains modest, but it is rising at an accelerating rate, and as the significant number of speculative homes under construction approaches completion, we expect homebuilders will become more aggressive in discounting in order to spur activity."
Shepherdson agreed. "Surging existing home supply will add to homebuilders' woes," he said.
"Our final chart shows that year-over-year growth in new home prices normally moves inversely with supply, but this relationship broke down at the start of last year as the lack of existing homes forced buyers towards new construction and sent prices through the roof," he added.
"That was never sustainable, though, and now that existing home supply is rocketing—albeit from a low level—prices are coming under pressure. Our measure of seasonally adjusted median new home prices was unchanged in the second quarter, after rising by 18 percent in the year to the first quarter."
According to Shepherdson, "the worst is yet to come" for homebuilders and the real estate market.
"Demand has yet to reach a floor—even though mortgage rates have now stopped rising—and the supply of existing homes likely will rise much further from here," he said.
"No one wants to be the last one to sell in a falling market. Accordingly, we expect a further increase in new home supply and declining sales. Prices will fall substantially, and likely won't hit bottom until mid-2023."
But for potential home-buyers, those same homebuilders' woes might mean halting the process which has eroded affordability in the past 12 months, and the possibility of finally being able to get a mortgage.
"It is just beginning," Ratner said.
"For now, homebuilders are generally providing financing incentives such as mortgage rate buy-downs as a way to entice homebuyers. While actual price cuts are beginning to happen, they are not widespread at this point. We do expect price declines to materialize as more speculative inventory gets completed."