Supreme Court Justice Stephen Breyer formally announced his retirement on January 27, giving President Joe Biden the opportunity to choose the next justice to sit on the bench of the highest court in the land.
Biden said he will announce his nominee by the end of February, and he reiterated his campaign promise that he will choose a Black woman for the position.
Aside from making potentially making history, Biden's pick could also help unite a Democratic Party that's seen high-profile division, according to experts on the Supreme Court contacted by Newsweek on Thursday.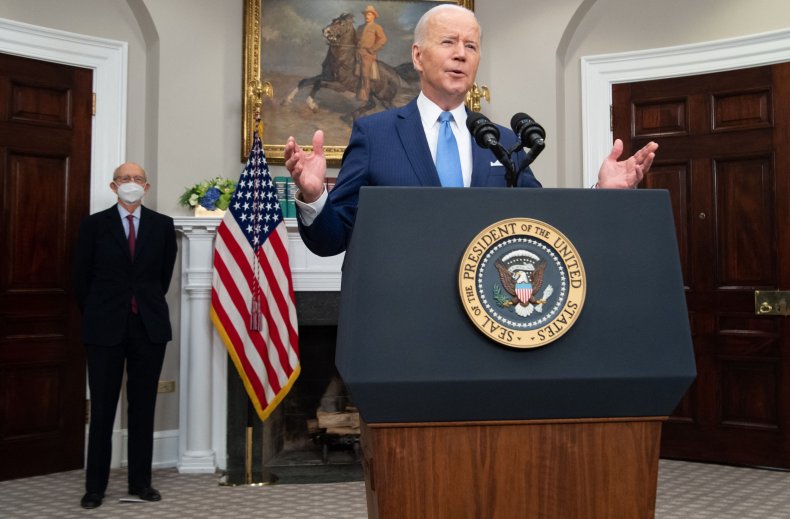 While Senate Democrats were not able to come to an agreement regarding the Build Back Better Act (BBB) and rules regarding the filibuster, Biden's Supreme Court nomination could be something for them to agree on, according to Nicole Huberfeld, a professor of health law, ethics and human rights at Boston University.
Huberfeld told Newsweek that "Democrats can confirm a new justice if they vote together, and I think that could happen in this circumstance. So far, Democrats have moved lower federal court nominations without the kind of separation that has occurred over bills like BBB."
However, Huberfeld said that while it might make for a "unifying moment," she is "not confident it would have a spillover effect into other policy areas."
Doron M. Kalir, a clinical professor of law at Cleveland State University, told Newsweek that Biden's choice may not just be a win for Democratic legislators, but the nomination could "galvanize the voters" who support Democrats.
Kalir said the court issue could "become a serious midterm issue that will unite the Democrats to start realizing that it's not only Mitch McConnell who can turn Supreme Court nominations into a serious, national question for the ballot."
The issue, he said, could also make Democrats "realize that losing the Senate will mean the loss of a chance to nominate another Supreme Court justice should an opening occur again."
For these reasons, Kalir feels "Biden will make the the most political fortune he can make out of this opportunity."
The law professor also said he "would be very surprised" if any of the 50 Democrats in the Senate would "sound the dissenting alarm" for Biden's eventual choice.
Bruce Peabody, a professor of government and politics at Fairleigh Dickinson University, cited the example of how the Supreme Court has helped mend rifts within the Republican Party.
"When the Democratic party has been successful, it has found laws and policies that bridge these groups: health care is a good example," Peabody said. "Whoever Biden picks to replace Breyer is likely to, at least temporarily, bring together a party that is divided on generational and economic issues among others."
"Some scholarship has argued that for decades the Democratic party has been a coalition of interest groups while Republicans have been more ideologically unified (brought together over such matters as free trade, small government, national security, etc.)," Peabody continued.
Though the GOP has seen some changes in recent years, members of the party manage to keep a united front when it comes to matters of the high court, Peabody said.
"The ideological unity of Republicans since the 1960s has become more complicated and contentious in the 21st century (in part because of Donald Trump, of course), but the goal of putting conservatives on the federal bench has helped bring the party together," he said.
The professor said that this solidarity in regards to the Supreme Court even extended to two of the most visible members of the Republican Party when they were at odds.
"We know McConnell and Trump are at loggerheads over so many issues, but the judiciary and the appointments process has helped to smooth their disagreements, or at least give them some common ground," Peabody said.