There's Another New 'Star Wars' Trailer and It's No Different From Any of the Others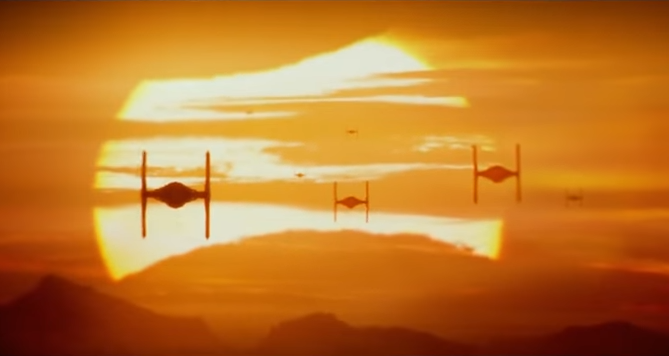 In October, YouTube user Science v. Cinema compiled all of the Star Wars: The Force Awakens footage we'd seen thus far into an elongated supercut trailer. No longer would we have to parse together disparate clips of the Millenium Falcon barrel-rolling through wreckage and lightsabers being activated in ominous settings into a coherent estimation of what to expect come December 18.
But now, with just over a week to go until the big day, that first official trailer Science v. Cinema used as its base of footage seems like it was released ages ago. Trailers and TV spots continue to roll out, the latest being this Chinese trailer that was released on Thursday.
The Internet continues to grasp for ways to bring new relevancy to each newly packaged reorganization of footage we've already seen. Uproxx says it "may reveal too much." Cinemablend says it has "loads" of new footage. Collider says you "probably shouldn't watch" it. (We're obviously guilty of grasping, too—hence this post.)
But in reality there is absolutely nothing about this latest trailer that is truly "new" or "revealing." Some of the Rey and Finn footage is presented with a little more intimacy. We also hear Han pleading with the Falcon to not let him down, which was kind of cool.
This isn't the end, either. Yes, the film hits theaters December 18, but don't be fooled: Disney will continue to release TV spots and God knows what else until the last possible moment. The rollout will continue ad infinitum, and when we reach the end of infinity, it will be time for the franchise's next installment. Star Wars is simply a part of our lives now, and in a far more active way than most of us are used to. A recent—and actually revealing—Wired piece pointed out that it will likely continue to be part of our lives even after we're all dead.
Will our enthusiasm ever wane? Will fans be lining up outside of theaters a week before the release for Episode IX of the Boba Fett spin-off franchise in 2041? Will Star Wars become so regular that each new film is celebrated with the same low-frequency enthusiasm with which we now approach Christmas every year? It's impossible to know what form the new Disney-fied era of Star Wars will ultimately take, only that it will forever help entertainment bloggers pay their rent.