Donald Trump Impeachment Trial Sparks Violent Threats Against Lawmakers
Thousands of National Guard troops will remain in Washington D.C. as federal law enforcement officials investigate new threats against members of Congress ahead of the second impeachment trial of former President Donald Trump.
Law enforcement agents are tracking a number of threats that vary in specificity and credibility, an unnamed federal official briefed on the matter told the Associated Press. Predominantly posted online, these threats include plots to attack members of Congress as they travel to and from Capitol Hill during Trump's trial.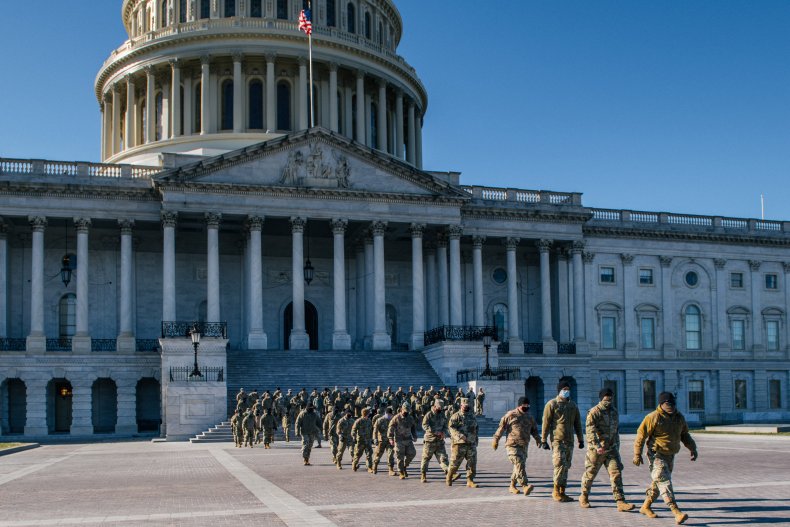 These threats, combined with fears of a second insurrection after the riot on January 6, have led the U.S. Capitol Police and other federal agencies to insist thousands of National Guard remain in the capital.
The Guard Bureau said that just under 20,000 members of the National Guard remained in D.C. on Sunday, after much of the security apparatus put in place following the January 6 violence, including military checkpoints and additional law enforcement personnel, had been dismantled.
Around 7,000 National Guards will stay in the capital to assist with any unrest that might accompany Trump's second impeachment hearing, which begins on February 8. This number will reduce to 5,000 personnel expected to stay in D.C. until mid-March, officials said.
The inauguration of President Joe Biden was accompanied by an unprecedented law enforcement lockdown and went ahead without a hitch. However, the renewed threats against lawmakers ahead of Trump's appearance at the Senate demonstrated the potential for danger, officials said.
At least five people who are facing federal charges over the Capitol riot claim they believed they were following orders from Trump to challenge the ratification of President Biden's victory. Those comments, to reporters and federal agents, will become the subject of scrutiny as the impeachment trial begins.
More than 130 people have been charged for their role in the riot, including a Proud Boys supporter who allegedly threatened to deploy "three cars full of armed patriots to Washington D.C." and pledged to harm Sen. Raphael Warnock (D-GA). A Texas man was arrested this week for his part in the riot and for issuing a death threat against Rep. Alexandria Ocasio-Cortez (D-NY).
More than 800 Trump supporters stormed the Capitol building in the riots that followed a Stop the Steal protest in Washington D.C. on January 6. The violence resulted in the deaths of five people, including a Capitol police officer.
The official spoke to the Associated Press on condition of anonymity, claiming they were not authorized to discuss an ongoing investigation.