New U.S. Coronavirus Cases Decreased by Nearly 20% Over Past 2 Weeks
New cases of the novel coronavirus fell by nearly 20 percent in the U.S. over the past two weeks, according to figures maintained by the New York Times.
The database, which tracks diagnoses, hospitalizations and related fatalities across all 50 states connected to COVID-19, showed an average of 53,772 people tested positive for the respiratory syndrome each day during the week preceding Sunday, August 9.
The figure represented an 18 percent decrease from average daily cases diagnosed across the country two weeks earlier, when infection rates surged to double those seen in April, at the outbreak's initial peak.
At the end of July, the Times data indicated that health officials diagnosed between 65,000 and 66,700 average infections per day nationwide during the second half of the month. Its April statistics were significantly lower, placing average daily cases at about 30,000.
States have expanded diagnostic testing efforts since then, as businesses and public gathering spaces began to reopen throughout May and June.
The steady drop in daily cases reported after April's spike started to trend upward again in the weeks following Memorial Day. Early outbreak resurgences, observed in states like Arizona, Florida, California and Texas, pushed governors and local leaders to tighten health measures in their respective regions.
California Governor Gavin Newsom issued a statewide face mask mandate in June and suspended operations at indoor establishments across 19 of the state's most populated counties at the beginning of July.
Texas Governor Greg Abbott implemented a mask order around the same time, which applied to all counties where more than 20 COVID-19 cases were reported. A number of counties in Arizona and Florida imposed similar measures in efforts to curb further virus transmission.
As outbreak curves moved past their respective peaks in those four states, virus cases climbed in more than a dozen others. By the end of July, the White House Coronavirus Task Force labeled 21 states with a "red zone" designation, meaning each had identified more than 100 new infections per 100,000 people during the preceding week.
Recommendations for additional mitigation measures were issued to governors alongside the Task Force's data.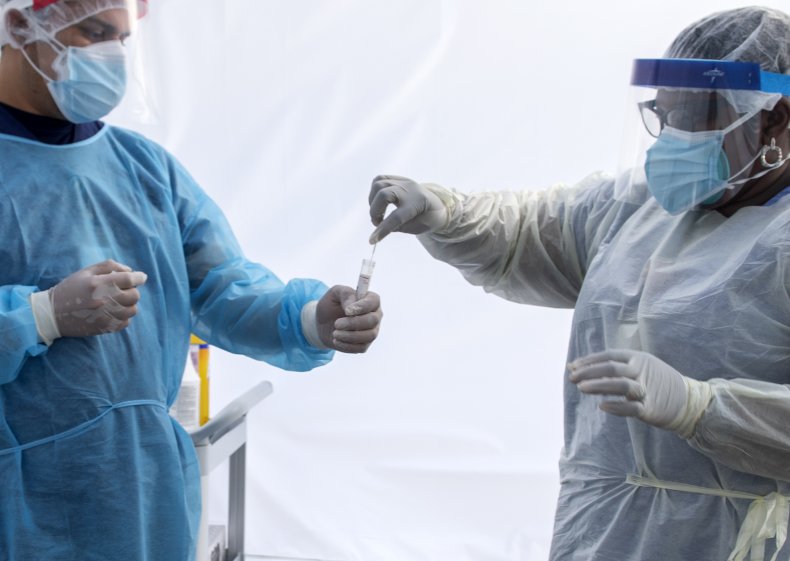 While the Times data indicated a decrease in outbreak curves among states hardest hit by the summer's resurgence, it also showed per capita increases in states where diagnosis rates were previously steady.
According to the database, Virginia, Illinois, Hawaii, South Dakota, Rhode Island, Massachusetts, Puerto Rico, Guam and the U.S. Virgin Islands are currently seeing rising incidences of COVID-19. Another 26 states are reporting numbers generally in line with those reported in recent weeks.
Meanwhile, other states continue to confirm significantly more daily cases than they were during the first few months of the pandemic.
As of Monday, August 10, more than 5 million people had tested positive for COVID in the U.S. since March, according to Johns Hopkins University. Of those diagnosed with the respiratory illness, at least 163,100 people have died.
Newsweek reached out to Johns Hopkins University's public health team for comment, but did not receive a reply in time for publication.