America's July Coronavirus Cases Are More Than Double April Peak—and They're Still Rising
Health officials across the U.S. identified twice as many new cases of the novel coronavirus during the last two weeks of July than they did in April, when the nation's outbreak curve reached its first peak.
After a dip in infections prompted numerous states to lift stay-at-home orders and start to reopen businesses, case counts across the country rapidly began to rise. California, Florida, Texas and Arizona experienced sharp spikes in virus cases, hospitalizations and deaths throughout June and July, with outbreak resurgences in at least 17 other states causing increasing concern in recent weeks.
The U.S. saw its highest single-day increase in infections on July 16, when health officials reported nearly 75,700 new cases nationwide, according to a New York Times coronavirus database.
Nationwide, the U.S. confirmed between 65,000 and 66,700 average infections per day during the latter half of June. Those numbers were almost double the averages reported in April, during the country's initial surge in cases. The Times' data shows average daily diagnoses were roughly 30,000 per day over the course of the month, with numbers starting to fall after the first week of May.
More than 4.4 million have tested positive for the virus in the U.S. as of Thursday morning, July 30, according to a Johns Hopkins' University tracker. Of those diagnosed with the respiratory disease COVID-19, at least 150,700 have died nationwide.
The U.S. death toll surpassed 150,000 on Wednesday afternoon, July 29, a sobering milestone consistent with the White House coronavirus task force's early estimates. In April, task force members warned the U.S. would see between 100,000 and 240,000 deaths from COVID-19 if strict physical distancing measures were enacted and closely followed.
The task force used data projection models published by the University of Washington's Institute for Health Metrics and Evaluation as the basis for its estimate. The institute's current estimates suggest another 75,000 people will die from COVID-19 in the U.S. by November 1. In addition, the institute's model now estimates the U.S. will see more than 224,500 deaths from COVID-19 by that date.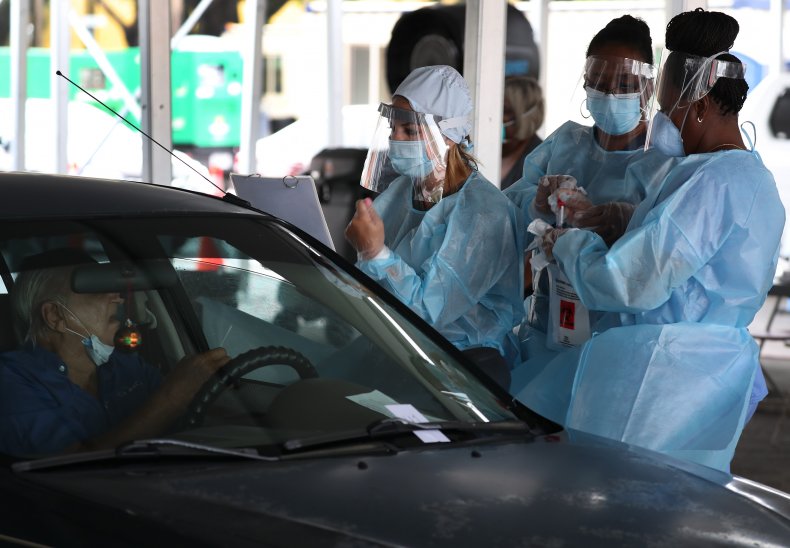 Fatality numbers are climbing in a handful of states seeing upticks in new virus cases. On Wednesday, health departments in California, Florida and North Carolina confirmed they have recorded increases in daily deaths attributed to COVID-19.
In June, North Carolina Governor Roy Cooper and California Governor Gavin Newsom announced broad face mask requirements in an effort to curb the virus's spread, but Florida Governor Ron DeSantis has pushed back against calls to do the same. Local officials have issued mask orders in some hard-hit Florida counties, such as Miami-Dade.
Newsweek reached out to the health departments in North Carolina, Florida and California for comments but did not receive replies in time for publication.