New Year's Eve Livestream 2021: Watch Times Square Ball Drop Online and on TV
For many, the end of 2020 will be a welcome sight, and although there won't be thousands of revelers lining the streets of New York's Times Square, the show must go on and people at home can still tune in for the festivities.
People have been flocking to Times Square for New Year's Eve for more than 100 years. This year there will be performers, despite the lack of a live audience because of the pandemic. Along with watching the musical acts, viewers can see the iconic ball drop at midnight.
The live broadcast from the Times Square website will begin at 6 p.m. Eastern time on Thursday. It can be streamed on Times Square's Facebook and Twitter pages, as well as on the website. Those looking to watch on their phones can tune in here, here and here.
"No one needs to be reminded of what the dominant news of 2020 has been so far: COVID-19 and a host of racial, economic and climate crises," Tim Tompkins, president of the Times Square Alliance, which co-produces the event with Countdown Entertainment, said in a statement.
"Through a limited number of honored guests, we will note where we've been. but more importantly we will honor and celebrate the courageous and creative spirits who have helped and will help us travel through these challenging times into the New Year," he said.
Ryan Seacrest, Lucy Hale and Billy Porter will host Dick Clark's New Year's Rockin' Eve, which can be streamed on ABC TV beginning at 8 p.m. Performers will include Gloria Gaynor, who will sing her hit "I Will Survive"; Jimmie Allen; Machine Gun Kelly; Cyndi Lauper; Jennifer Lopez; and Andra Day.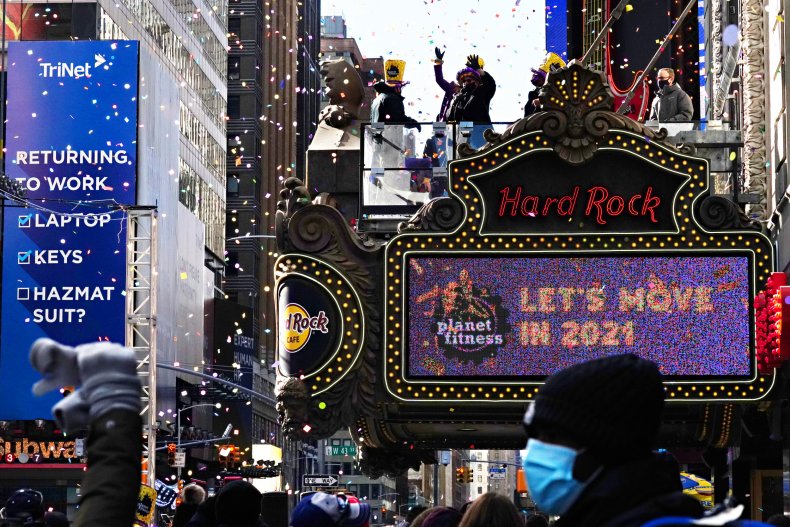 In another area of Times Square, people can also catch Anderson Cooper and Andy Cohen on CNN, beginning at 8 p.m., as they host the network's celebration. It's the fourth time Cooper and Cohen, who are good friends, will ring in the new year together in front of the camera. Performers at their celebration will include John Mayer, Snoop Dogg, Patti LaBelle, Jimmy Buffett, Josh Groban, Leslie Jordan, Dulcé Sloan, Desus & Mero, Kylie Minogue, Aloe Blacc, the Goo Goo Dolls and Jon Bon Jovi.
Another face to grace the Times Square celebration is one that captivated Netflix viewers at the start of the pandemic—Carole Baskin. Baskin became a household name as the Netflix series Tiger King rose in popularity, and she has since appeared on ABC's Dancing With the Stars.
Along with airing the celebration in its television channel, CNN will air it live on the CNN.com home page, on mobile devices through the CNN app and on CNNgo on desktops, smart televisions and iPads.
Shortly after midnight, at 12:30 a.m., Cooper and Cohen will hand off the hosting reins to CNN's Brooke Baldwin and Don Lemon, who will keep the party going as those in the Central Time Zone ring in 2021.