'Mayo Clinic': Questions Surround NYC Building Overflowing With Mayonnaise
The internet is baffled by a seemingly empty building in New York which is just filled with pallets of mayonnaise.
Big Apple resident Tanooki Joe snapped a photo of the interior as he walked past one day, after revealing the establishment usually has its shutters closed.
Joe, 40, shared the photo to Twitter last week, under @TanookiKuribo, saying: "I've passed by this store that was closed for months, today the metal gate was a little open and I saw inside and it's just full of mayo."
The photo shows dozens and dozens of pallets of large Hellman's mayonnaise bottles, which could number in the hundreds.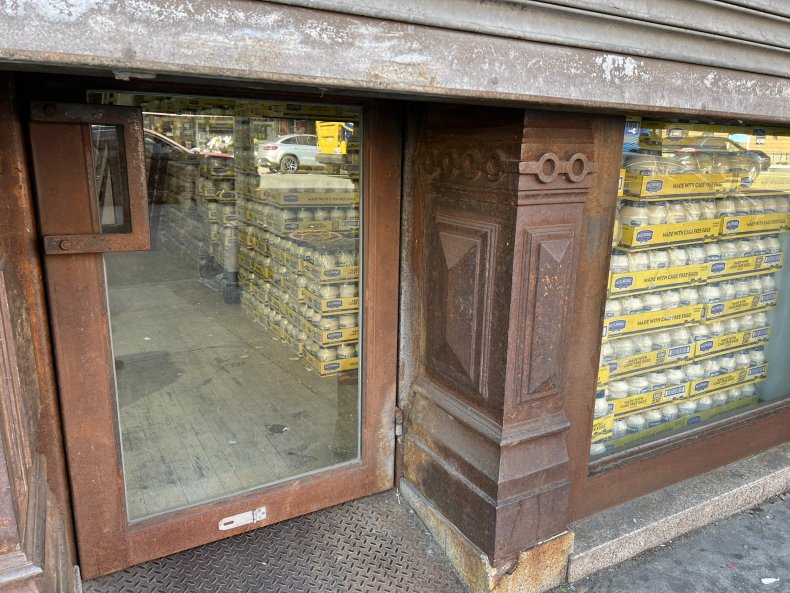 Since being shared the tweet blew up, amassing nearly 175,000 likes, and owing to the popularity of the tweet, he added an update, revealing the mysterious mayonnaise haul was in East Harlem.
"I don't know the exact address, but it's somewhere between E110 and E112 on 3rd Ave in NYC. The gates are usually down but if you're lucky maybe you'll get to see the mayo too. Let me know how it goes if you do!" he added.
Joe, who has lived in the city all his life, told Newsweek: "I didn't pass by it again but after it blew up on Twitter I wanted to go back and maybe check the status of the mayo.
"I think it's just weird. Like, it's not uncommon to see supplies or something in an empty store but, that much mayo? It's really strange."
He added he was unsure as to the exact amount of pallets, but said it was enough to be "weird."
Sharing his own theory behind the mayonnaise mountain, Joe continued: "I actually thought maybe a restaurant closed during the pandemic and maybe their mayo supplier just never stopped shipping to them? I don't know. I kept trying to think of theories and nothing really made sense."
People fielded wild theories over the condiment surfeit, as Longer Elk joked: "That's not a store that's the Mayo Clinic."
WilliAMnot, Esq. wrote: "You fell for it. It's actually a speakeasy that only makes cocktails that are made with egg whites. Second pallet of Mayo on the right is a false door to the basement. It's called 'Ma Yo's.' It's owned by Yo-Yo Ma. Try the Gin Sour."
TWGeorge added: "Great, now *everyone* is going to know where the Strategic Mayonnaise Reserve is. How will Karen make her fruit salad for the Sunday brunch if the SMR is breached?!"
Alexa O'Brien asked: "What is happening here? Lol."
Operation Sadio quipped: "You laugh now, but just wait til the dollar crashes and the country switches to a new mayo-based currency."
Chris Carvalho pointed out: "There's only 24 days until Cinco de Mayo, when the gate opens & the party starts."
Dawn Of Roses claimed: "I know this area. Now I'm going to see if I can find the mayo wonderland."
Robert A Range quipped: "It's a portal to Hell, Man...."
Cpl added: "Hellman's kitchen?"
DoorZone added: "People think it's things like Times Square and Central Park that make nyc great but it's actually things like this secret mayo depot that do the heavy lifting."
Twitter users pointed out the markings on the building matched 2026 Third Avenue, which is a former shoe store. It's not immediately clear who the current owner is.
Listings suggest the location was once home to Moe's Sneaker Spot, which has since closed. Reviews on Yelp go up to 2018 for the store.
While StreetEasy has more information about the four-story building, claiming it houses six units and was built in 1910, citing the commercial space as boasting 5,955 square feet.
The property appears to have been renovated in 2011, as the site stated: "This building features beautifully renovated large full kitchens with dishwashers, stainless steel appliances and Gas ranges. Apartments have clinging fans, recessed lighting and Granite/Stale wall features."
The site details the various apartments are rented out, at around $2,000 a month, while the last information for the commercial let dates back to 2014.