New York City Medics, Scarred by Coronavirus Fight, Fear Second Wave After George Floyd Protests
As protests following the death of George Floyd continue in New York City, doctors are concerned about the threat of a second wave of novel coronavirus cases that could put renewed pressure on local hospitals as a result of the mass demonstrations.
Among the large protests in New York City, some individuals appeared not to be following social distancing guidelines and other safety measures to mitigate the spread of infection.
"Watching large groups of protesters concerns me very much in light of the current pandemic and all of the effort that has been required to reduce the spread of SARS-CoV2," Dr. Marta Feldmesser, chief of infectious diseases at Lenox Hill Hospital in Manhattan, told Newsweek.
"Even for those trying to wear masks properly, chanting loudly may increase droplet production and dissemination, resulting in increased spread through contact."
Dr. Robert J. Femia, chair of emergency medicine at NYU Langone Health, said the big gatherings are "a significant risk."
"It is likely that many people showing up may be asymptomatic carriers or are infected and not yet showing symptoms, and unwittingly spreading the virus to others," Femia told Newsweek.
"We will know more a few weeks from now as it may take a couple of weeks for symptoms to become apparent."
Dr. Teresa Amato, chair of emergency medicine at Long Island Jewish (LIJ) Forest Hills hospital in the New York City borough of Queens, said the increase in person to person contact at these protests could lead to "another outbreak of COVID-19 in the very communities that were most affected by the virus."
While an increase in cases since the protests has yet to be reported at LIJ Forest Hills hospital, Amato said "we have to be vigilant as we may have a delay in increase cases due to the incubation period which can be as long as 14 days from exposure."
Dr. Bonnie Litvack, president of the Medical Society of the State of New York, echoed the concerns raised by other doctors, fearing the crowds seen over the Memorial Day weekend as well as the protests "could lead to spikes in the infection rate of COVID-19."
A spokesperson for NYC Health + Hospitals, which operates the public hospitals and clinics in New York City, told Newsweek that should there be a resurgence of the virus, the hospital system is prepared to re-activate strategies implemented in late March and early April to respond to the pandemic.
"This includes redeploying and reassigning existing clinicians throughout our system, recruiting additional clinical support to meet patient demand, nearly tripling ICU capacity, and more," the spokesperson said.
The Centers for Disease Control and Prevention (CDC) and its federal partners are closely monitoring the demonstrations across the nation, a spokesperson for the CDC told Newsweek.
"Protests and large gatherings make it difficult to maintain our recommended social distancing guidelines and may put others at risk. It is too early to know what, if any, effect these events will have on the federal COVID-19 response," they said.
"Every local situation is different. State and local officials will make decisions to protect public health and safety based on circumstances on the ground."
On Thursday, New York Gov. Andrew Cuomo announced testing facilities would be opened up statewide for those who attended a protest to get tested.
Cuomo said: "Our numbers have been going down every day, but now we have tens of thousands of people who have been protesting statewide that could lead to new spread of the virus."
The governor told a press briefing on Monday: "If you start to overwhelm hospitals again you have to close again. That was the Italy situation. You die on a gurney in a hallway because the doctors and the nurses are too busy. It overwhelmed the hospital system. That's what we were looking at."
New York City Mayor Bill de Blasio extended the citywide curfew, which will be in effect from 8 p.m. to 5 a.m. local time every night through to Monday morning, the mayor confirmed in a post on his Twitter account.
New York City is expected to begin the first stage of its reopening on June 8. Western New York and the capital region have entered the second phase of the state's reopening.
On Wednesday, New York City marked a milestone with no new COVID-19-related deaths reported for the first time since March 12, according to the city's health department.
Earlier this week New York state recorded its lowest rate of positive test results since the pandemic began, Cuomo confirmed on Monday. Last month, the state saw its daily death toll drop below 100 for the first time since the outbreak began.
New York has reported 375,133 confirmed cases, including 204,406 in New York City, according to the latest report Thursday from the governor's office.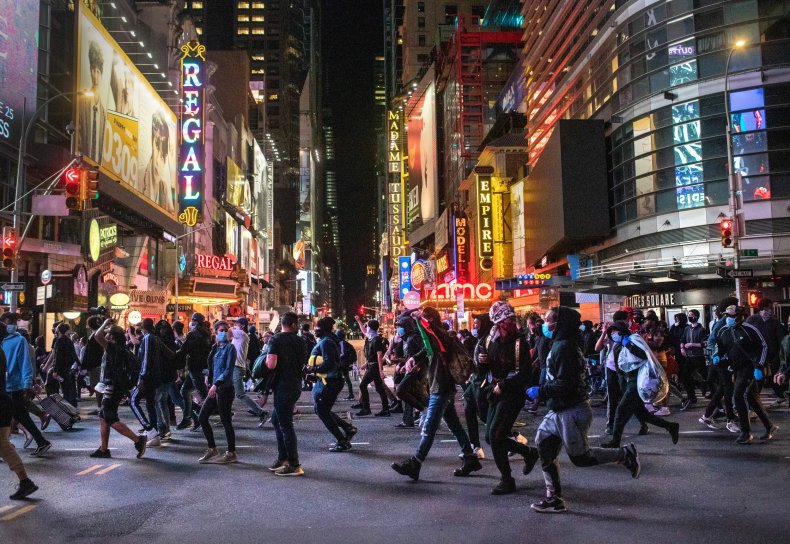 The novel coronavirus, which was first reported in Wuhan, China, has infected 6.6 million people across the globe, including over 1.8 million in the U.S. Over 391,400 have died, while more than 2.8 million have reportedly recovered from infection, as of Friday, according to the latest figures from Johns Hopkins University.