New York City Mayor Bill de Blasio Lifts Curfew Amid Intense Criticism of His Handling of Protests
The curfew enacted across New York City last week will end one day earlier than originally planned, Mayor Bill de Blasio announced Sunday morning.
"We are lifting the curfew, effective immediately. Yesterday and last night we saw the very best of our city," he wrote on Twitter. "Tomorrow we take the first big step to restart. Keep staying safe. Keep looking out for each other."
In additional comments to Newsweek, de Blasio's office said the decision to lift curfew followed another night of predominantly peaceful demonstrations, which have surfaced in New York and dozens of other global cities to protest police violence after George Floyd's death in custody almost two weeks ago. Large-scale rallies have taken place daily since then, with some providing a backdrop for various crimes, including looting.
The mayor implemented a citywide curfew on June 1 in response--initially effected for one night only—but reinstated the next day as a standing order meant to last through Sunday night.
"After a largely peaceful night, the curfew no longer seemed necessary," de Blasio's press secretary told Newsweek Sunday morning. "We must now focus on reopening, rebuilding and healing."
De Blasio notified New Yorkers of the curfew's early termination as public criticism against him grows, largely due to his handling of protests and comments about city police officers' actions during them. On Thursday, The New York Times reported that de Blasio was booed while appearing at a memorial for Floyd in New York City. By Friday, a Change.org petition calling for his impeachment surpassed 120,000 signatures.
New York City's curfew in itself was also controversial, and several local advocacy groups moved to sue the mayor on grounds the restrictions were unconstitutional on Friday, Politico and other outlets reported.
"We respect the city's legitimate need to enact reasonable, targeted measures to ensure public safety, but the week-long, city-wide curfew unconstitutionally restricts individuals' rights to free speech, assembly, and free movement," read a letter from attorneys written on behalf of the New York Immigration Coalition, addressed to de Blasio.
De Blasio became subject to increasing censure last weekend, before curfews were announced, as a result of remarks made during a May 31 press conference. Discussing the New York City Police Department's behavior shortly after two NYPD vehicles were seen advancing toward a group of peaceful demonstrators on video, de Blasio condemned those involved in the specific incident but said most officers showed "tremendous restraint" during protests. NYPD officers have used force to disperse crowds on multiple occasions since then, in addition to arresting thousands of demonstrators.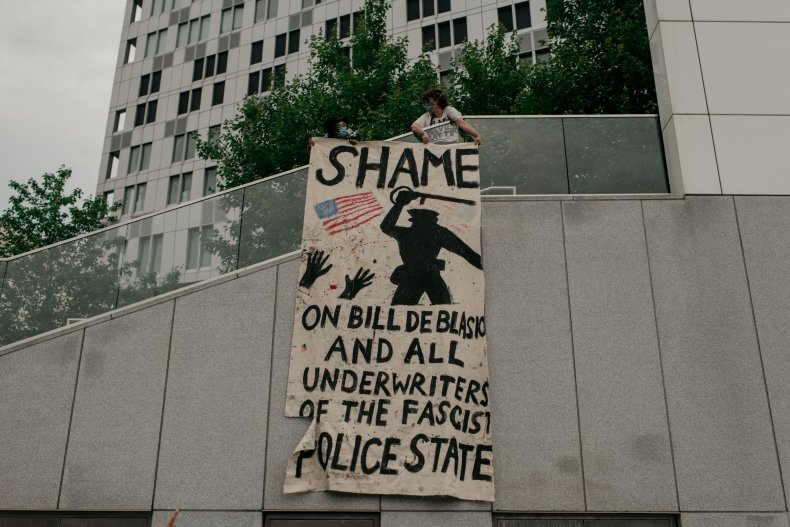 De Blasio denounced police abuses during public addresses and on Twitter throughout last week, and re-tweeted a statement from NYPD Commissioner Dermot Shea on Saturday confirming two officers were suspended and one supervisor reassigned for misconduct. The incidents, which Shea called "troubling," involved officers pushing a protester to the ground and removing another's face mask to assault him with pepper spray, respectively. All three individuals are under investigation.
Newsweek reached out to the NYPD for additional comments but did not receive a reply in time for publication.