New York City Mayor Eric Adams warned residents on Thursday to brace for steep budget cuts that will "hurt a lot" due to the influx of migrants arriving in the city.
"This crisis was created [by the federal government]," Adams has previously said, who accused the White House of failing to provide the increased funding he says is necessary for the Big Apple to cope with the growing population of migrants.
The Democratic mayor's comments come just days after revealing that he ordered his city's agencies to prepare to see their budgets slashed by up to 15 percent, and following his comments last week that the influx of migrants would "destroy" New York City.
Adams has been sounding the alarm about the influx of migrants and has called on state and federal officials for help as his city has struggled to find housing for the high numbers of asylum seekers that have arrived. The issue of immigration has dominated the headlines in recent months, as states such as Texas struggle to deal with a flow of migrants and asylum seekers coming into the United States by crossing the U.S.-Mexico border.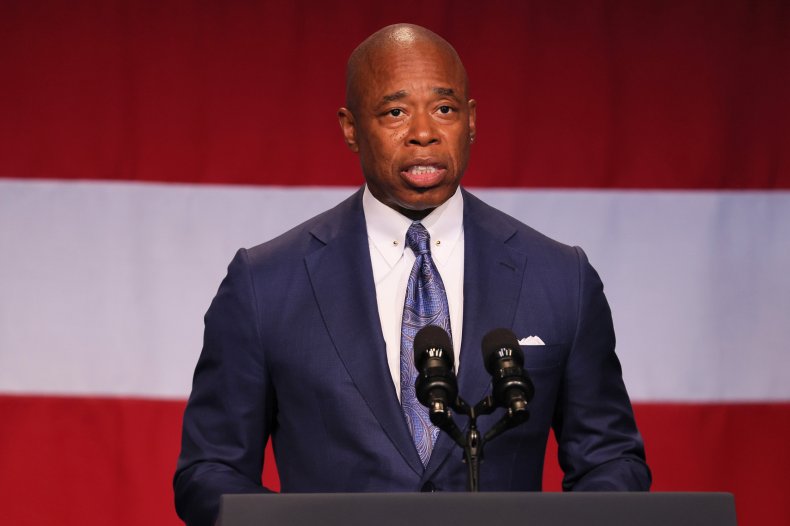 A White House spokesperson told Newsweek in an emailed statement on Friday: "At the request of the city and state, the National Park Service and local officials are finalizing a lease for portions of Floyd Bennett Field, this will serve as one of the largest shelter spaces available to the city. The Federal government has provided the City and State of New York more than $140 million in federal funding this Fiscal Year and we have requested an additional $600 million for the Shelter and Services Program in our Supplemental request. We continue to call on Congress to fulfil that request and provide communities across the country the support they need."
More than 110,000 asylum seekers have now arrived in New York City, according to The New York Times, with housing and care for them set to cost the city more than $12 billion over three fiscal years, according to official estimates.
On Saturday, Adams revealed he had told the city's agencies to dramatically slash their spending. Bosses must find 5 percent savings before an upcoming budget plan in November. And they may be asked to cut a further 5 percent before a budget plan in January 2024, and again in April, to trim a total of 15 percent of their budgets by next spring, the New York Post reported.
"The simple truth is that long-time New Yorkers and asylum seekers will feel these potential cuts and they will hurt," the mayor said in a video he released on YouTube. "New Yorkers are angry and frustrated, and they are right to be. I am too. I want to be clear: these tough decisions are a direct result of inaction in Washington and in Albany.
"But the die is not yet cast, and we can still avoid these cuts if Washington and Albany do their part by paying their fair share, and coming up with a decompression strategy that reduces the pressure on New York City, so we are not forced to manage this crisis almost entirely on our own."
A report by the independent Fiscal Policy Institute (FPI), released on Tuesday, claimed the 15 percent savings were equivalent to around $10 billion, which is more than the $6.5 billion that the institute said was needed to cover the cost of the migrants. However, a City Hall spokesperson disputed the FPI's figures, telling AM New York Metro: "FPI's calculations are based on incorrect assumptions and are therefore inaccurate."
Meanwhile, a letter from the Department of Homeland Security (DHS) that was published last month and obtained by local news station PIX11, says New York City officials could make improvements in terms of "issues of authority, structure, personnel, and information flow... data collection, planning, case management, communications, and other aspects of day-to-day operations."
Newsweek has reached out to Adams via an email to his City Hall spokesperson, seeking further information and comment. Newsweek also reached out to New York Governor Kathy Hochul's office via email for comment.