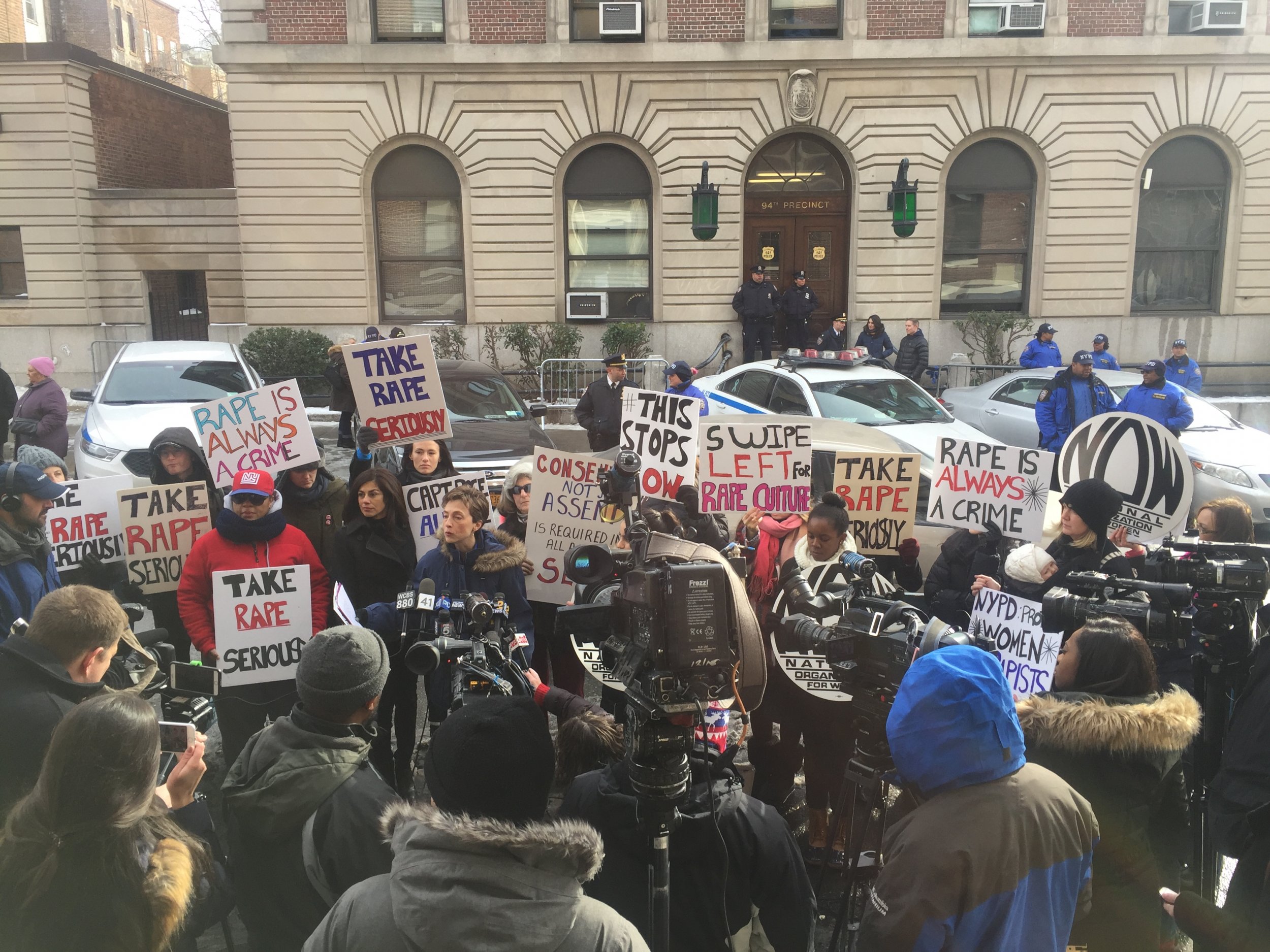 Updated | The National Organization for Women's New York City chapter is calling on the city's police department to reopen 10 unsolved rape cases from 2016 in response to a police captain making comments about sexual assaults that many found to be offensive.
About two dozen people braved low temperatures on Tuesday to protest in front of the 94th Precinct, which covers the northern Brooklyn neighborhood of Greenpoint, holding signs declaring "Take Rape Seriously" and "NYPD: Protect Women Not Rapists." The protest was organized by the National Organization for Women and Women's Justice Now, a charitable organization that partners with NOW and provides services to sexual assault victims.
Last week, Captain Peter Rose of the 94th Precinct told DNAInfo that a 62 percent increase in sex crime cases in the area is "not a trend that we're too worried about because out of 13 [sex attacks], only two were true stranger rapes." Such "stranger rapes," he said, occur when "a random guy picks up a stranger off the street, those are the troubling ones. That person has, like, no moral standards."
Related: Women's March on Washington: What you need to know
In 2016, 10 women living within the 94th precinct reported being raped by men whose identities they knew, including two taxi drivers. The overall number of reported sex crimes was 13, but not one arrest was made in the 10 "acquaintance rape" cases. Rose made the comments while attempting to reassure his constituents and explain why no arrests had been made. Officals blamed the lack of arrests on the women knowing the attackers, saying many women stopped cooperating with police.
At a community meeting on Wednesday night, Rose said acquaintance rapes were "not total-abomination rapes where strangers are being dragged off the streets." The comment sparked widespread outrage, with a tweet by Huffington Post reporter Ben Walsh getting 6,700 retweets.
According to the Centers for Disease Control and Prevention (CDC), nearly one in five women reported being rape victims at some point in their lives, while one in 20 women said they experienced some form of sexual violence other than rape.
"The protest is being held to express our outrage at Captain Rose's comments, but also to address the failure to arrest any of the sexual predators who targeted women they knew in that precinct for an entire year," says Jane Manning, director of advocacy for Women's Justice Now and a former sex crimes prosecutor.
"This belief that acquaintance rapes don't matter is a belief that was carried out for an entire year in this precinct," she says. "The idea that acquaintance rape is not a serious crime is unfortunately a prevalent attitude in our criminal justice system."
Manning adds: "Most rapists target women they know. They do this because they think it'll be easier to get away with the crime by claiming consent. When law enforcement officials fail to take acquaintance rape seriously, they reward rapists for this tactic."
Sonia Ossorio, president of the National Organization for Women New York chapter, said she is trying to arrange a meeting with the city's police commissioner, James O'Neill, to discuss what went wrong in the 94th Precinct and to collect better data on the number of rapes carried out across New York by strangers and acquaintances. In addition to reopening the 10 unsolved cases, Ossorio said the group wants a department-wide commitment to realizing that "acquaintance rapes are real rapes" and to believing in victims who come forward. Those victims and witnesses "should get respectful treatment and prompt, thorough investigations," the group said.
The NYPD has not yet commented on the possibility of reopening the cases.
Captain Peter Rose on Monday afternoon tweeted his "sincerest apologies" for his comments and said he "failed to communicate accurately how I respond to reports of rape and the actions the department as a whole takes." Rose added that every rape, "whether it is perpetrated by a stranger or someone known to them is fully investigated." In response to Rose's comments, O'Neill said in a New York Daily News editorial published on Tuesday that the NYPD takes all rape and sexual assault allegations seriously.
Manning told reporters at the protest: "It's good that he apologized, by the apology doesn't fix the problem."
Standing opposite the 94th Precinct on Meserole Avenue on Tuesday was Krista Chambers, with Tegan, her six-month-old daughter, strapped into a carrier underneath her coat. "I've been wanting to become more active in all things concerning women's rights, women's health, certainly our freedoms and ability to feel safe in the current environment," she says. "I have my fears that [Rose's comments are] indicative of a larger attitude, not just in this institution but in our culture. Anything I can do to stand up that, I will."
Chiffon Abney, who works for Herunivercity, an organization that aims to empower young girls, also attended the protest. "It's a complete travesty that we live in a society where people still don't take rape seriously. I think it's a huge break in education," she says. "There is not a system in place to really educate people on the broad spectrum of trauma and pain that's associated with people that experience [sexual violence]."
"His comments were ignorant, and he needs to be told and taught," says Abney. "Maybe one day we can come here and teach him how to process things such as sexual assault."
This article has been updated to include comments from NYPD Police Commissioner James O'Neill.