New York City Police Union Endorses President Trump's Reelection Campaign
President Donald Trump's reelection campaign was endorsed by the Police Benevolent Association of the City of New York (NYCPBA) on Friday.
Trump has strongly supported law enforcement officers across the U.S. in the face of nationwide protests against racism and police brutality. In June, Trump referred to himself as "your law and order president." Trump's administration has staunchly rejected the movement to defund police departments. In July, the New York City Council approved $1 billion in budget cuts for the New York Police Department. Police groups and President Trump decried the move.
NYCPBA President Patrick Lynch said he could not remember a time in 36 years when the NYCPBA had endorsed any presidential candidate "until now."
"Many times, people say that a union like ours, law enforcement groups, give endorsements," Lynch said to Trump. "Not in the New York City PBA, sir. In the New York City PBA, sir, you earn the endorsement and you've earned this endorsement. I'm proud to give it."
Trump thanked Lynch for the endorsement.
"I assumed it was given out," Trump said, "because I see a lot of things given out and they shouldn't be given out."
Lynch criticized local and state government leaders for "passing this false narrative that New York City police officers and law enforcement are evil. How absurd is that? That they blame us for society's ills?"
Lynch referred to members of the NYPD "the most compassionate people on the face of the earth."
Newsweek reached out to the Trump campaign for comment.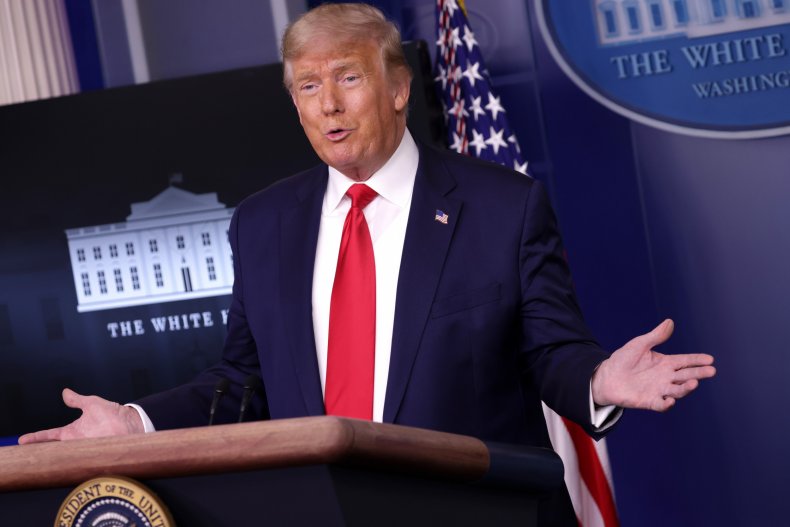 President Trump told attendees that his agenda is "anti-crime and pro-cop all the way and that's what it's gotta be." Trump said that if presumptive Democratic presidential nominee Joe Biden wins the election, Biden's police strategy would be "modeled on the Bill de Blasio catastrophe" in New York City.
In July, de Blasio said the cuts to the NYPD budget were the "right thing to do." In order to affect the reduction in police funding, NYPD is expected to remove 1,163 officers from its ranks.
"It will take work," de Blasio said. "It will take effort and we're going to be reforming that work in the meantime."
Trump said in June that his administration would not allow any defunding of the police. "There won't be dismantling of our police, and there's not going to be any disbanding of our police," Trump said. Trump has claimed that Joe Biden supports the movement to defund the police, a claim Biden has denied, instead calling for police to receive more funding.
Former New York City Mayor Rudolph Giuliani, who also spoke at the NYCPBA meeting on Friday, attacked the prosecutorial record of Biden's running mate California Senator Kamala Harris. Giuliani said that when Harris was California's Attorney General, "she prosecuted little people but she wouldn't prosecute big people."
"Tell me this isn't a horrible person," Giuliani added, referring to Harris.