New York City Schools Close Again, Return to Remote Learning as COVID Cases Increase
New York City's schools will close their doors again, after rising cases of coronavirus sparked concerns about transmission risks among students and staff members. The city's public school system is the nation's largest, serving more than 1 million students across the five boroughs.
Mayor Bill de Blasio confirmed on Wednesday afternoon that the city's latest test-positivity rate has reached 3 percent, a threshold officials previously said would force a broad return to all-remote learning. Schools will suspend in-person instruction beginning Thursday, according to the mayor, who explained that the order comes "out of an abundance of caution."
"We must fight back the second wave of COVID-19," de Blasio wrote on Twitter.
The upcoming closures will take effect less than two months after schools resumed in-person classes for the 2020-21 academic year. Following a lengthy hiatus from physical instruction first ordered in the spring, at the onset of the pandemic, school buildings reopened under New York City's hybrid attendance program in September.
On Wednesday, Richard Carranza, chancellor of the New York City Education Department, said the school closures will continue until further notice.
"The Mayor & I have been clear-eyed since the beginning that we needed to get students back into classrooms as soon as it was safe," Carranza tweeted. "And we carry that same urgency with us today as we announce this temporary closure: we will get students back in buildings as soon as we can, safely."
New York City began to report increasing virus cases around the same time its students returned to classrooms during the final weeks of September. The steady uptick trailed an extended dip in outbreak numbers, seen throughout the summer.
Although the city's most recent statistics show daily virus cases, hospitalizations and fatalities remain much lower in November than they were in March and April, at the peak of the outbreak, climbing numbers reported over the past six weeks have raised concerns about a severe resurgence.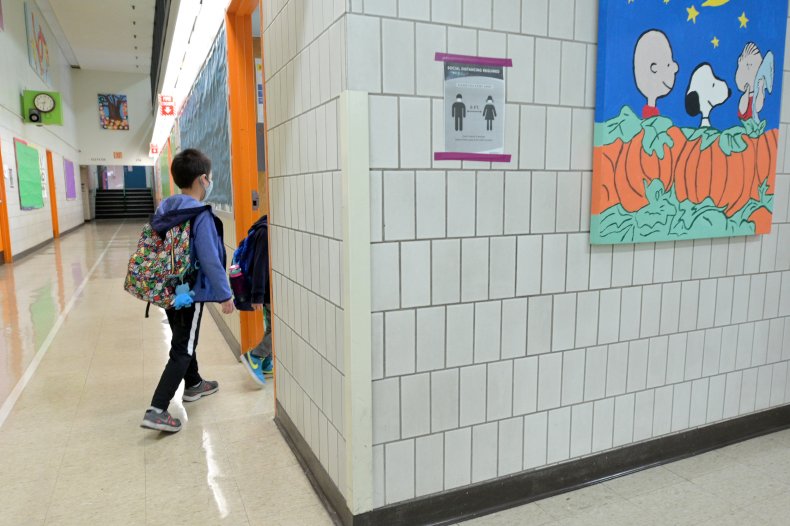 On Monday, de Blasio warned families with students enrolled in the city's school system that buildings could close, as the city's test-positivity rate, a rolling average that accounts for data collected over seven days, neared 3 percent late last week.
On Friday, New York implemented a statewide curfew requiring bars and restaurants to close at 10 p.m., although takeout and curbside delivery services are permitted to continue after that. Gyms are also required to close at that time, and group gatherings, in general, are limited to 10 attendees.
Newsweek reached out to de Blasio's office for additional comments but did not hear back in time for publication.
This story was updated with additional information.