Despite having one of the best vaccine rollouts in the country, the state of New York has topped 1,300 COVID hospitalizations for the first time in three months.
On Tuesday, New York recorded 1,367 hospitalizations, 288 of whom are in ICU. The last time the figure reached more than 1,300 was on May 23.
The number of hospitalizations in the state has been steadily rising over the past few days, rising from 788 on August 1 to 1,162 on August 7.
In fact, the hospitalization figures from Tuesday are almost quadruple what was recorded exactly a month ago on July 10, where they were 339 people in hospital with COVID.
The current number of ICU patients is also around four times what was seen in July 10, where 74 people were in New York's hospitals with severe symptoms.
This rise in hospitalizations comes as the Delta variant continues to spread through the state and the rest of the country.
Hospitals across the country have been urging people to get their vaccine as ICU units hit breaking point due to the influx of new patients infected by the more infectious variant, including children.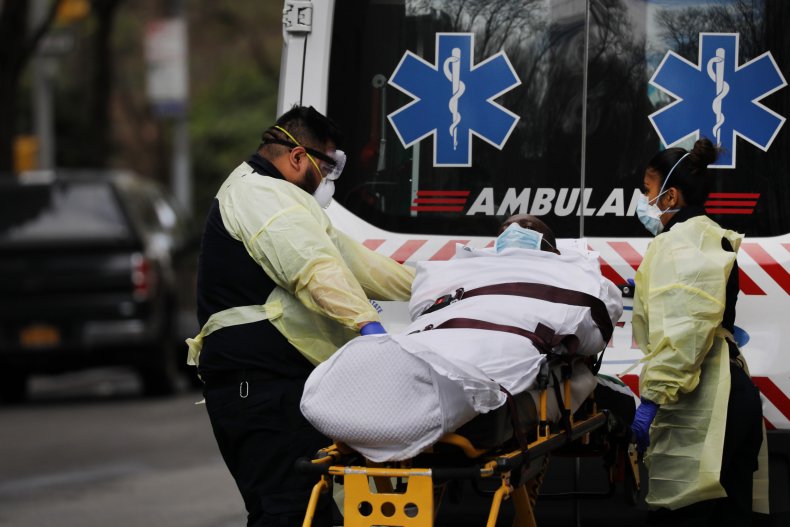 "In our recent analyses of our local health system samples, the Delta variant has completely taken over the hospitalized COVID patient population," Dr. David Reich, president of Mount Sinai Hospital, told FOX 5 NY.
However, Dr. Reich said that despite the rise of new cases and hospitalizations, people in New York should not be concerned as vaccines still appear to be overwhelmingly protecting people.
"I want to put things in perspective. On April 9, 2020 there were over 2,000 patients with COVID in the hospital in the Mount Sinai health system and as of today we are at 101," said Dr. Reich.
According to New York health officials, more than 11.2 million people have received both vaccine doses in the state, amounting to more than 56 percent of the population.
New York is listed at number 10 in terms of states with the highest percentage of its population fully vaccinated, according to Becker's Hospital Review, with Vermont (68 percent), Massachusetts (64) and Maine (64) making up the top three.
Reich urges people who have not yet received the vaccine to get one, noting that 74 percent of COVID patients in Mount Sinai's ICU are unvaccinated. Reich also stressed that most COVID patients at Mount Sinai Hospital are not in the ICU.
"We have daily discussions about how to manage as the numbers increase. We have learned lessons from the work we did a year and a half ago about how to organize that, how to turn rooms of the hospital into facilities appropriate for a patient with an infectious disease," Reich said.
This graph, provided by Statista, shows the vaccination rates in states across the U.S. as of August 9.