Unvaccinated COVID Patient Relearning to Walk Urges People to Get Vaccine
A man in Florida who spent weeks hospitalized in an intensive care unit (ICU) after contracting COVID is urging others to get the vaccine.
Lawrence Johnson, 67, spoke to the media after spending more than 20 days in UF Health Jacksonville's ICU suffering from severe COVID symptoms.
Just like 90 percent of all new COVID patients, Johnson was not vaccinated against the virus, something that he now regrets.
"I was inconsiderate and stupid and dumb for not getting the vaccination," Johnson told First Coast News. "If I had somebody to talk to me and explain to me the importance of the vaccine and all of that, I probably would have got it."
Johnson said that before getting COVID he was reasonably healthy and did not drink or smoke. However, since contracting the virus he will need to learn how to walk again because he became so critically ill.
"This virus will almost drain the life out of you," he said.
The 67-year-old added he believes that God wanted him to "be his ambassador" and urge others to get vaccinated in the state, which is experiencing the worst seven-day average COVID death rates in the entire country.
"I don't care if they have to shoot you in the eyeball, in the ear, go get the shot. Please. Save your life. Save your family's life. Save your friend's life," Johnson said.
"Jacksonville, Florida is a hotbed," he added. "So, you need to go get vaccinated so you won't be laying up in a bed for 20 days like me. It is better to be vaccinated than to be on the slab in the morgue or laying up in a hospital for 20 days."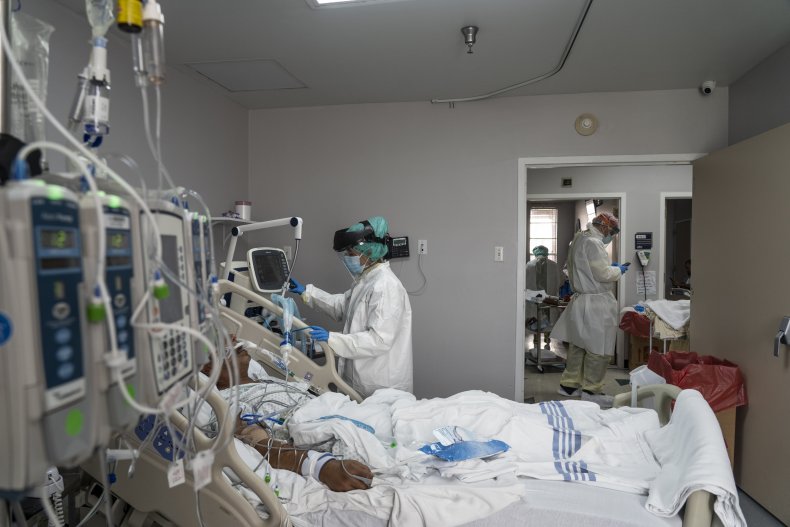 The Florida Department of Health says more than 12.1 million people have received at least one dose of the vaccine in the state.
According to The New York Times' COVID tracker, Florida is currently recording a seven-day average of 122.1 deaths COVID, a figure larger than 32 other states combined.
"You do not want this virus. Get vaccinated, please. You do not want this virus. There's a lot of things you might want in life. This is not one of them," Johnson said.
"Do not listen to all of that stupidity, and that foolishness that these people are saying, and come up with all kinds of dumb excuses. All that is is a doggone pathway to the graveyard."
Johnson also spoke of his regret over not getting the vaccine to NBC earlier in August. He told the network, having then spent 22 days in ICU, that he did not get vaccinated because he listened to "foolishness."
"Every day I get on the phone: 'Please do not play. Get the vaccination.' If I wasn't stupid, I wouldn't be in this predicament," he said. "Don't listen to foolishness. Go get vaccinated."
This graph, provided by Statista, shows the percentage of fully vaccinated residents in each state.