New York Governor Cuomo Issues Executive Order Requiring People to Wear Masks in Places Where Social Distancing Isn't Possible
New York Governor Andrew Cuomo issued an executive order Wednesday requiring all individuals wear masks or other facial coverings in spaces where social distancing is not possible.
"If you're going to be in public and you cannot maintain social distancing, then have a mask and put the mask on when you are not in socially-distanced places," Cuomo said during his daily coronavirus briefing.
The order covers public areas where it is not possible to follow social distancing guidelines recommending people leave six feet of space between each other. Cuomo listed modes of public transportation, parks and even busy sidewalks as examples of public spaces covered by the order. The executive order requiring masks takes effect Saturday. Cuomo said bandanas, cloths and other materials that cover the nose and mouth are also acceptable forms of facial coverings.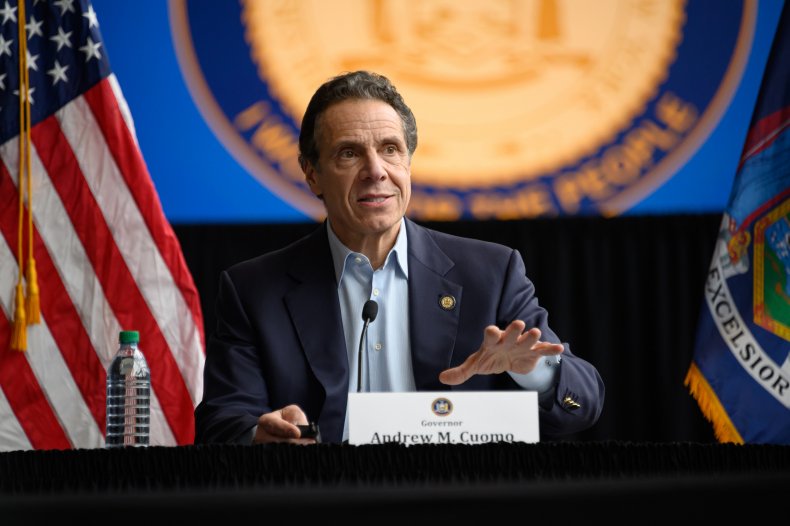 Cuomo also said New York would send 100 ventilators to Michigan and 50 to Maryland. Both states have reported recent spikes in COVID-19 cases. Though New York continues to report high daily numbers of COVID-19 deaths, Cuomo announced last weekend the state was beginning to flatten its curve.
The new facial coverings rule is part of Cuomo's plan to begin slowly reopening the state's economy. During the briefing, Cuomo said increasing New York's testing capacity and continuing to follow social distancing guidelines were both essential to bringing the pandemic under control, until a vaccine is available.
In the meantime, Cuomo said businesses would be evaluated to determine how soon they can reopen. Workers' risk levels and the kinds of services provided will be the two most important factors in deciding if a business can reopen.
The Centers for Disease Control and Prevention recommended all Americans wear facial coverings while in public earlier this month. Several state governors have issued similar orders, with many—including New York—requiring essential businesses to provide employees with masks they can wear while on the clock.
"The harm done if someone gets the disease, the number of people impacted, the healthcare workers—wear the mask. What's the big deal?" he said. "The risk/reward is life."
Though Cuomo says he hopes the order will not need to be enforced, he will leave that decision to local authorities. Instead, Cuomo says he expects that the order to rely on individuals' personal responsibility and social pressure.
"People will enforce it," Cuomo said. "They'll say to you, if they're standing next to you on a street corner, 'Where's your mask, buddy,' in a nice, New York kind of way."
According to data released Tuesday, more than 202,000 patients have tested positive for COVID-19 in New York. More than 10,800 have died after contracting the virus. "We are not out of the woods yet," Cuomo said Wednesday. "Coronavirus is still a monumental public health crisis and we are losing New Yorkers every day to this virus."