New York Governor Cuomo Says State No Longer Needs USNS Comfort As Coronavirus Hospitalizations Fall
Democratic New York Governor Andrew Cuomo said his state no longer needs the Navy medical ship USNS Comfort any longer since hospitalizations in New York City have begun trending downward. The governor reportedly told President Donald Trump that the ship should be sent anywhere else where it's needed.
"It was very good to have in case we had overflow, but I said we don't really need the Comfort anymore," Cuomo said while speaking to MSNBC anchorwoman Nicolle Wallace on Tuesday.
"It did give us comfort but we don't need it anymore, so if they need to deploy that somewhere else, they should take it," Cuomo added.
Cuomo says the ship is no longer needed because of declining hospitalizations due to the virus. The city's hospitalizations have reached around 1,300 a day, the lowest rate since March 25, when the city was still experiencing a rising number of cases, according to Forbes.
While the state's cases have been declining, Cuomo mentioned a "dramatic increase" of new cases in Western New York. However, he added that hospitals in less-effected parts of the could soon resume "elective outpatient treatments and surgeries."
By April 20, the number of coronavirus cases statewide had reached 4,726, the state's lowest number since the 3,254 cases reported on March 21.
Cuomo mentioned the ship while recapping conversations he had with Trump during their meeting in the Oval Office on Tuesday afternoon.
The USNS Comfort arrived in Manhattan's Pier 90 on Monday, March 30. It was initially intended as an overflow facility for non-coronavirus patients, to help alleviate strain on the city's hospital from the viral epidemic.
The ship began admitting coronavirus patients on Friday, April 3. However, despite its 1,000-bed capacity, the highest number of patients on board during the epidemic was 146, and only 90 of those were coronavirus patients, according to The New Yorker.
In short, the ship never reached close to full capacity during its three weeks in New York City's harbor.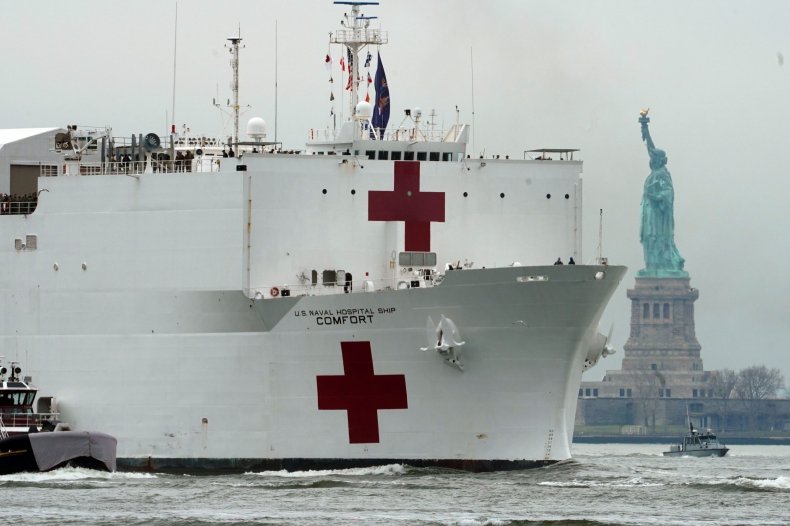 On April 6, New York City Comptroller Scott Stringer criticized the ship's accessibility during a televised appearance with CNN anchor Anderson Cooper about the recent death of his 86-year-old mother, Arlene Stringer-Cuevas, due to complications with coronavirus.
"[Trump] sent us that hospital [ship] that's right here in the Manhattan harbor," Stringer said, "and no one can get on that hospital, which is something that is just outrageous, and so it's very tough to mourn under these circumstances."
Patients were only allowed on board after first receiving an evaluation at an outside hospital. They could then board the ship but only if they transported by a hospital vehicle. Additionally, the ship listed 49 medical conditions that would exclude patients from being admitted on board.
At the time of Stringer's comments, the ship only had 20 patients onboard. Three of the ship's personnel also reportedly contracted the virus although all eventually recovered.
Newsweek has reached out to Governor Cuomo's office for additional comments. The office hadn't responded by the time of publication.
During his MSNBC appearance, Cuomo mentioned that he emphasized to the president the need for increased testing.
"I wanted to have a face-to-face conversation. This is about testing and who does what on testing but we had to get this ironed out, so to speak. This is a very big issue," Cuomo said.
Despite Trump's desire to quickly reopen states for economic recovery, Cuomo said that the president seemed deferential and inquisitive during their Tuesday meeting. Trump never "editorialized" on when he thought New York state should reopen its businesses, Cuomo said.