NYC Official Blames Government After Mother's Coronavirus Death: 'Donald Trump Has Blood on His Hands'
On Monday, New York City Comptroller Scott Stringer spoke with CNN anchor Anderson Cooper about the recent death of his 86-year-old mother, Arlene Stringer-Cuevas, due to complications with coronavirus. Stringer said, "I've got to tell you, Donald Trump has blood on his hands and he has my mom's blood on his hands."
Stringer-Cuevas was a grandmother, a former teacher of English and English as a second language in the Bronx and was the first woman to represent Washington Heights as a Democratic New York City Councilperson in the late '70s.
Stringer said of his mother, "She was a New York original. She was somebody who raised two boys as a single parent... She was tough and she loved the city, and she believed in government, and she raised us to believe in government."
Stringer then said Trump had "blood on his hands" for the death of his mother and for other families whose members have died due to coronavirus.
"[Trump] sent us that hospital [ship] that's right here in the Manhattan harbor," Stringer said, "and no one can get on that hospital, which is something that is just outrageous, and so it's very tough to mourn under these circumstances."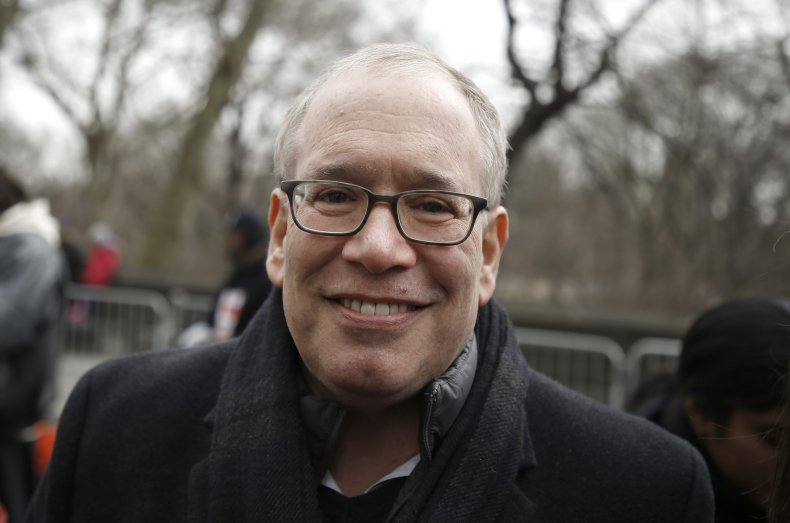 Stringer was referring to the Navy hospital ship USNS Comfort which, as of last week, had admitted only 20 patients despite having a capacity for 1,000, according to The New York Times.
The ship was originally meant as an overflow facility for non-coronavirus patients, but it began admitting patients with coronavirus on Friday, April 3. Patients are only allowed aboard after getting a lengthy evaluation at a hospital first and then being transported to the ship by a hospital vehicle. The ship also disseminated to local hospitals a list of 49 medical conditions that prohibit patients from being allowed on board.
String isn't the only political figure to criticize Trump's handline of the coronavirus. It has also been criticized as "pretty deadly" by Democratic House Speaker Nancy Pelosi and as "pretty confusing" by Maryland's Republican Governor Larry Hogan.
"I think we all are [angry]," Stringer told Cooper. "I mean, government is supposed to protect our people and we're supposed to be able to protect our parents and grandparents the way they protected us, and we're not able to do that."
"The thing I struggle with most is," Stringer continued, "how do you mourn at a time when you can't connect with people? There can't be a funeral. There can't be a traditional shiva. There's no way to reach out to my stepfather and see him personally because he's quarantined. My little kids can't say goodbye to their grandma."
Cemeteries, religious institutions and the funeral industry have all grappled with changes to funerals at this time, especially since government orders overseeing gatherings vary by state, travel is discouraged and mourners are encouraged to keep their distance from both the deceased and each other.
Newsweek has reached out to Stringer for additional comment. He had not yet responded at the time of publication.
In a Twitter post from the morning of April 3, Stringer wrote, "My mom showed me at an early age the importance and the great challenge of public service.... If there is any silver lining it's that her memory—and the example she set for so many people—will be a legacy that lives on."