Nancy Pelosi Says Trump's Response to Coronavirus Has Been 'Deadly': 'As the President Fiddles, People Are Dying'
Democratic Speaker of the House Nancy Pelosi strongly criticized President Donald Trump's handling of the coronavirus pandemic, arguing that he had made "deadly" decisions over the past couple months.
Pelosi, who represents California's 12th district, raised the criticism during a Sunday morning interview with CNN's State of the Union, noting that the death toll from COVID-19, the disease caused by coronavirus, had doubled–from 1,000 to more than 2,000–since Trump signed bipartisan economic stimulus legislation on Friday.
"This is such a very, very sad time for us," the Speaker said. "So we should be taking every precaution."
The top congressional Democrat then took aim at Trump directly. "His denial at the beginning was deadly. His delay of getting equipment to where–it continues his delay in getting equipment to where it's needed, is deadly," she said.
"And now I think the best thing to do is to prevent more loss of life rather than open things up," Pelosi added. Trump has repeatedly pushed to get Americans back to work soon, despite the number of infections from coronavirus and the death toll from COVID-19 ballooning nationwide. Meanwhile, health experts continue to advocate for stringent social distancing to prevent the pandemic's spread.
"As the president fiddles, people are dying. We just have to take every precaution," Pelosi added. She also suggested that there would later be a review of the president's management of the national health crisis.
Hogan Gidley, the White House Deputy Press Secretary, dismissed Pelosi's criticism in a statement emailed to Newsweek.
"While President Trump was protecting the American people by taking aggressive historic action to prevent the spread of Coronavirus, Speaker Peloisi and the media refused to acknowledge the severity of the virus at all, choosing instead to focus on the petty politics of an illegitimate sham impeachment hoax," Gidley said.
"It's rich for the Speaker to now criticize the President, who's actually been fighting this silent killer for months, because when she was faced with offering immediate relief to real Americans who are struggling, she blew up negotiations on the Coronavirus relief bill with a shameful political attempt to tack radical leftist programs on to the bill – that had absolutely nothing to do with Coronavirus," he added. "America is coming together in the face of this crisis like never before, and it's disgraceful that instead of praising the American spirit, Speaker Pelosi seeks to stoke hatred and fear for political gain."
Pelosi also told CNN that there would be further legislation to help working Americans and the economy as the pandemic crisis continues. She noted that the $2.2 trillion stimulus package passed and signed into law last week was just a "down payment," arguing that state and local governments had not received enough support.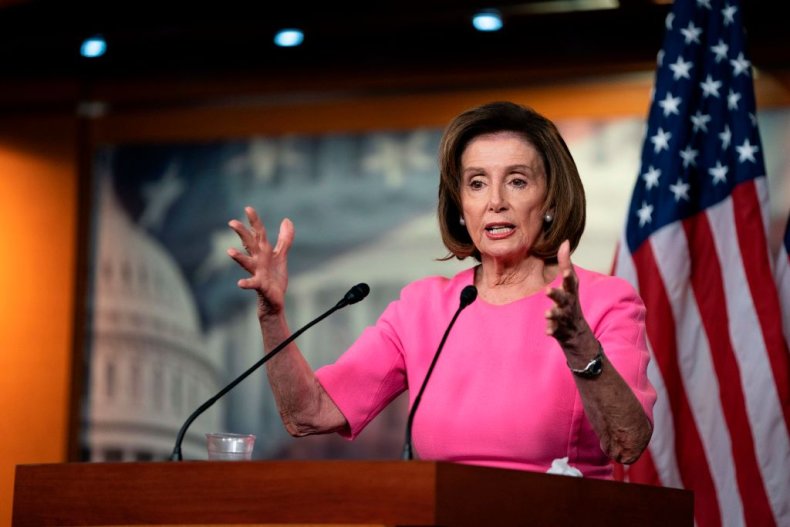 The U.S. has far surpassed China, where coronavirus first arose, and all other countries with the highest number of confirmed cases. As of Sunday morning, more than 124,000 cases had been reported in the U.S., while more than 2,100 people had died of COVID-19, according to a tracker updated by John Hopkins University. Health experts have projected that the peak in new infections is still several weeks away, as the number of new confirmed cases continues to increase at a rapid rate.
Trump has faced substantial criticism for his administration's response to the crisis. The president took early precautionary action to bar foreign nationals from entering the U.S. if they'd recently visited China, which health experts have said likely bought the country some time to prepare. However, the government failed to roll out testing quickly and efficiently, making it difficult to track the spread of the virus and quarantine infected individuals.
Many critics have pointed to the example of South Korea, which discovered its first case of coronavirus at the same time as the U.S. Now, just over two months later, the Asian nation has less than 10,000 cases of coronavirus and only 152 deaths. They managed to curb the rapid spread of the virus through large-scale testing, public awareness and isolating those infected.
Trump, instead of raising awareness about the seriousness of the virus, repeatedly referred to the concerns raised by many experts and lawmakers as a "new hoax" from the Democrats. He also appeared to downplay the potential impact of the coronavirus by repeatedly comparing it to the common flu, which experts have estimated is at least 10 times less deadly.
This article has been updated with a statement from Trump's Deputy Press Secretary Hogan Gidley.